Rock'n with Win'E - Sept / Oct 10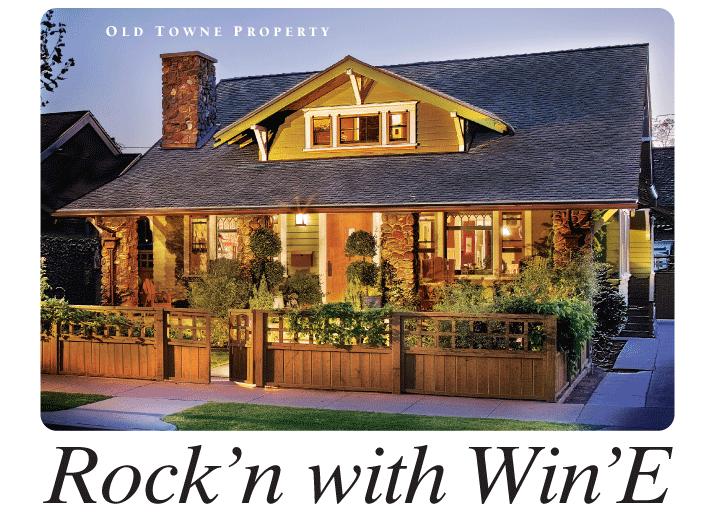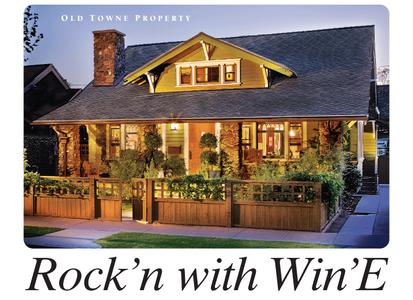 The 1910 craftsman home showcases original architectural elements including pillars made from river rock that came from nearby Santiago Creek, which runs through
Orange
. The home's new owners, Rick and Debi Win'E transformed the previously run–down residence into the showplace that it is today.
When Rick and Debi Win'E (pronounced win-ay) purchased their 1910 craftsman home in Old Towne six years ago, the charm home they live in today was previously in a considerable state of disrepair.
Converted into a three–unit rental property years ago by a previous owner, the old home at 264 North Shaffer was truly a diamond in the rough, with the emphasis on "rough." Until the Win'Es came along and thoroughly transformed it, that is.
"When Rick first drove me by the house, I took one look at it and said, "No way," recalled Debi. "But we realized it had good bones, so our plan was to take the home back to its original configuration."
The huge undertaking involved removing all walls that were not original to the home. In the process, the couple discovered many hidden architectural elements that were still intact. Unfortunately, much of the hardwood flooring was permanently damaged and had to be replaced. Likewise, the kitchen was in such poor shape, the couple decided to gut it completely and start anew.
A mason, Rick rebuilt the home's original fireplace, adding new stone above the mantel to match the existing stone. The newly reupholstered sofa, ottoman and chairs were purchased at a yard sale 38 years ago for under $25. The hanging lamp came from George II in Old Towne.
"Rick always said he wanted an old house that needed a little attention, but this needed a lot of attention," Debi said. "It was a labor of love. We love old homes because they have such character. We are living our dreams."
As it turned out, the project provided an important outlet for the couple after a family tragedy. Three days after escrow closed in 2004, their beloved son Trevor – a soldier with the Army – was killed in the Iraq war when his truck was hit by an IED.
"We miss him every day," Debi said. "It was a good thing we had this house to work on at the time because it gave us something to put our energy into. The renovation involved a lot of hard, hard labor that we did ourselves, but it was also our therapy."
Debi says that she and her husband first discovered Old Towne more than 30 years when visiting the area to shop for antiques. Longtime residents of Costa Mesa, they dreamed of someday living here, but never thought they could afford it. Eventually they did move into a small home on Cleveland, but soon thereafter, wanted to expand.
Gutting the original kitchen, the homeowners created a new space featuring double–hung windows, Manoleum floors, granite countertops and a farmhouse sink purchased from Ferguson's Plumbing in Irvine.
In the dining room, an antique table features a centerpiece made from an old milk carrier, with flowers from Debi's garden. The room also features original wainscoting and and window seats, which Rick lined with cedar.
Now the entire extended family lives in Old Towne. With their daughter Tracy living two blocks away and their son Todd living three blocks away, everyone resides within walking distance of one another.
"It's a real source of comfort for all the family to be close by," says Debi. "We get to see our four grandkids just about every day."
According to Debi, the home's original owner worked at a Harley–Davidson dealership located in the Plaza in the early 1900s. When it was divided into rental units, the home became a boarding house of sorts for university students through the years. As Rick and Debi began their renovation, they based their design choices on an old photograph of the residence they found at the records department in Santa Ana.
A masonry contractor, Rick was able to do much of the renovation himself. In the bathroom, for example, he reproduced the look of the era, utilizing black–and–white hexagram tiles. In the living room, he rebuilt the fireplace, adding new stone he found near the property to match the existing stone below the mantel. The dining room still retains the original wainscoting and window seats, which Rick lined with cedar.
From their back patio, Rick and Debi Win 'E host a going–away party for their longtime neighbor, Jodi Bullock (right), who had lived next door ever since the Win 'Es moved into their home six years ago. In the summer months, the backyard serves as a central gathering place for friends and family.
"We had to redo the original master bath because of the kitchenettes that had been installed back in the day," says Debi. "We have a den off the living room that used to be a fake hallway. We took it all down and were able to salvage some of the trim that the previous owner had cut into. Upstairs, we maintained a distressed look on the floors. When my son Todd started sanding down the original flooring up there, we found this cool paint color underneath. We decided to give it a whitewash seal to keep that original color."
Throughout the rest of the home, the couple had to replace most all of the hardwood flooring, which had been damaged through the years by pets. Paul Cahill, a flooring contractor and native of Orange, helped them match the floor, which is oak.
Meanwhile, the exterior needed a cosmetic makeover as well. When Rick power–washed the home's defining stone pillars to clean them, some of the stones fell off, so he had to reinstall them. Because it looks so new, people mistakenly thought he's installed new pillars.
In the well–manicured yard, Debi gets her inspiration from friend and neighbor, Bobbi Mertz, whose garden she tries to emulate. Rick and Debi also rebuilt a patio deck in the backyard, where a pair of original doors leads to the outdoor gathering spot.
A collection of crosses grace the wall of the screen–in porch. One of the crosses is a soldier's cross, in memory of their late son, Trevor, who was killed in Iraq while serving in the Army
For the backyard swimming pool, Rick obtained custom hand–pounded fencing made by an Italian craftsman from Giovanni Metal Art in Costa Mesa. The fence can be easily removed and relocated to different areas of the yard.
Rick enjoys using salvaged materials to create interesting water sculptures like this one, which houses a koi fish, gold fish and a turtle, Darth Maul, named after a Star Wars character.
The master bathroom showcases an array of wooden hand mirrors collected by Debi.
"We eat dinner outside during the summertime," Debi said. "There's also a screened–in porch adjacent to the deck that's original to the home. I sit back there and read sometimes."
For Rick and Debi, their charm house turned out more charming than they could ever have imagined. They truly relish the old–fashioned way of life in Old Towne.
"I love all my neighbors," she said. "We sit on our front porch and chat with passersby. I really enjoy the atmosphere of Old Towne and the people. We've met so many wonderful people and the best part is that our kids are all here and they drop in on us anytime they want."
---
Published in the
Sept / Oct 10
edition of the Old Towne Orange Plaza Review Article Written by Karen Anderson, photos provided by Will Hare
View More Articles