Greg LaRock - May / Jun 19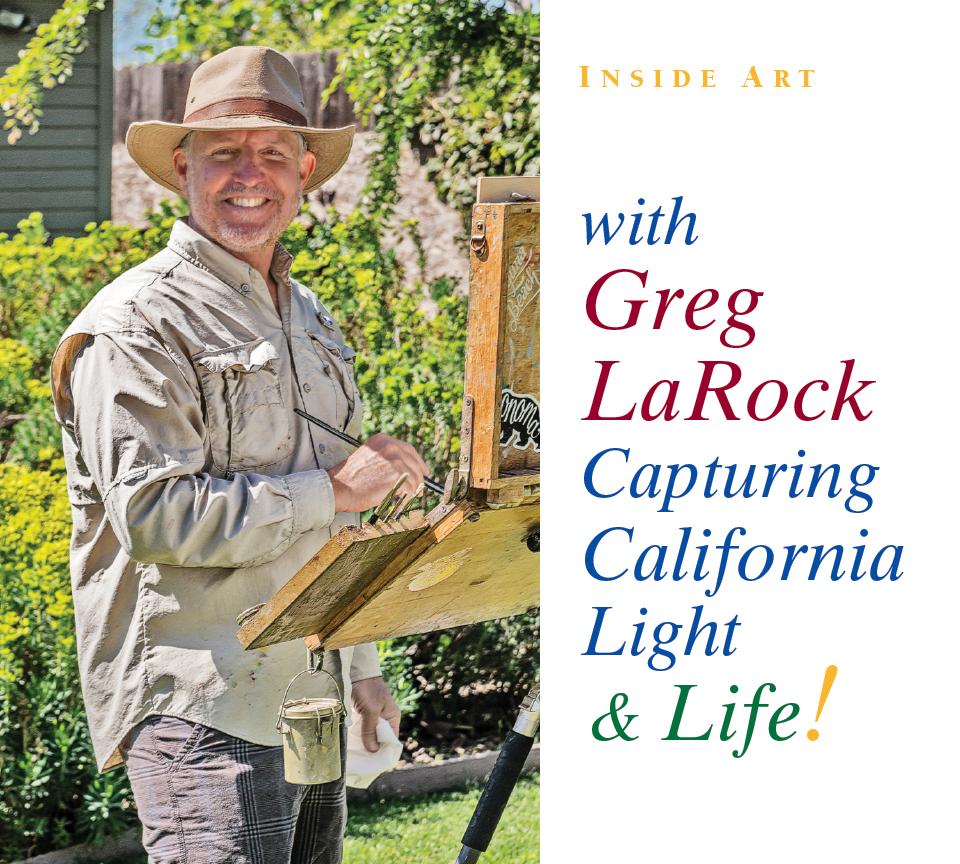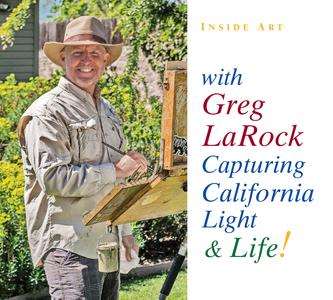 Ask Orange artist Greg LaRock what it is about California that inspires so many painters to attempt capturing its scenery and light, and he has a ready answer: "It's supremely beautiful. I've painted all over the country and overseas, and there is something different here. The air, the color. You go to Italy, and the atmosphere is pink; here, it's golden. When you're painting, you notice such subtle differences in tone and light. Plus, California is where I grew up and like to be."
LaRock and his wife, Laurie, moved to Orange two years ago so he could establish a studio here. He maintains a busy schedule, painting and teaching plein-air (outdoor) painting workshops.
Huntington Beach Beginnings
Born in the Pasadena area and raised in Huntington Beach, LaRock started drawing at an early age. "I didn't think much of it. Drawing was something I enjoyed. My parents encouraged it, so I drew all the time." At Edison High School, he enrolled in an art class, meeting an instructor who would become a lifelong mentor: painter and art teacher Jerry Nicholson.
"Jerry took me under his wing and pushed me to enter student competitions," says LaRock. "He set aside a weekly evening at the school where he worked on his own projects. I would return to school on those evenings and paint with him. Doing so wasn't very cool at the time, but all that solidified things for me. I realized my strength was in the arts."
LaRock stays in contact with Nicholson. "I send him passes to the Laguna Beach Festival of Arts where I exhibit, and he pops up at a few of my local shows. He's still a great influence and a great guy. You don't realize until much later how important such influences were."
Although LaRock's high school and university studies focused on fine art, he took the practical route as his career began.
"I figured I could stick with a paycheck, or try making it as a fine artist, which might mean living on the street and not eating," he says. "I started working for a magazine as a graphic artist while in college at Long Beach State. I continued with that publication for a few years, eventually launching my own freelance graphic arts business that continued for another 18 years."
Initially, LaRock returned to fine art as a hobby after many years in the graphic design business. "I thought it would be nice to get back into painting, although I'd done a few paintings over the years. I signed up for a drawing class at Irvine Valley College to brush the rust off. I decided I had to pay for something or I'd never do it."
He enjoyed the class, taking it twice, and joined the LPAPA (the Laguna Beach Plein Air Painters Association), which at the time offered figure drawing at their facility.
Plein-Air Painting
When LaRock joined LPAPA, he discovered plein-air painting. "I'd only done a few landscapes at the time, but I thought it would be fun to go outside and paint landscapes," he says. "I think it was a mentor paint-out by Ken Auster, and it was on the beach. You got to stick your toes in the sand and paint."
LaRock's resulting painting was "awful," but he enjoyed the experience and kept dabbling—eventually entering shows. Suddenly, everything changed. Someone bought one of his paintings.
"It was the coolest thing that they paid me money for my painting," he says. "I sold three paintings that year and thought maybe I could turn painting into a career."
LaRock quickly found that his landscapes sold the best, so he focused on them. "I buckled down, got outside and painted as much as I could in my free time," he says. "Slowly, over a period of a few years, the more paintings I sold, the fewer graphics I did."
And sell he did. LaRock's popularity as one of Southern California's top plein-air landscapists grew exponentially, until he could hand off his graphics business to Laurie—who incorporated it into her own, already-existing graphic design business —and launch a full-time painting career. Currently, the Chemers Gallery in Tustin, the Forest & Ocean Gallery in Laguna Beach and the Debra Huse Gallery on Balboa Island represent and sell his art. Additionally, he's a Laguna Beach Festival of Arts exhibitor.
Plein-Air Circuit
LaRock is also on the "plein-air circuit." He travels the country to plein-air art shows and competitions. "It's kind of like NASCAR: you show up, and all the same people are always there," he says. "You compete, sometimes winning and sometimes losing; hopefully selling some paintings before you move on to the next one."
His list of show and exhibition awards is impressive and includes winning Artist Choice at Sonoma Plein Air, the Maui Plein Air Painting Invitational, Florida's Forgotten Coast Invitational, first place at the Door County Plein Air Invitational, the grand prize at Plein Air Easton in Maryland and Best of Show at the Los Gatos Plein Air Competition.
In addition to LPAPA, LaRock is a signature member of the American Impressionist Society, the American Society of Marine Artists and Oil Painters of America. Teaching is key to his career, as well. He teaches painting workshops in Orange County and around the country. He's also the landscape instructor at Laguna College of Art and Design.
Among his many fans is Jean Stern, Executive Director of the Irvine Museum Collection at the University of California, Irvine. "I met Greg in 2006 while judging a local art competition," Stern recalls. "I didn't give him a prize that day, but I was impressed by his nascent talent and purchased one of his small paintings. Over the years, I've watched Greg grow into one of our best plein air painters and have presented him awards at some of the most coveted art invitationals throughout the country. I respect his remarkable talent and value his friendship."
Besides the pure landscapes, LaRock's work often includes people, houses, animals and the actions of everyday life. His sunny painting "A Little Stick Time," for example, might have been just another view of houses and a street, but he included a boys' stickball game, which immediately adds action and interest, drawing the eye to the little slice of life in the center of the work.
"Chance of Rain"
The LaRock painting featured on this issue's inside front cover, "Chance of Rain," stars the San Clemente Pier on an overcast day. You can almost hear the American flag snapping in the quickening ocean breeze and the sound of waves breaking under the pier.
"That painting was completed in two or three hours during a 'Quick Draw' competition at the Paint San Clemente Plein Air event, some 10 years ago," he recalls. "It was awarded first place and is currently in a private collection."
What compels LaRock to paint a given scene? "It's about shapes, and composition; light quality, things happening. I observe and think 'that could make a really great painting, the way this plays off that, the way the light falls here, and the shadow.' Whether it's a downtown scene or down at the beach really doesn't matter to me. If the composition comes together, then that's what I want to paint. That's what I'm driven by."
"And," he laughs, "we do live in Southern California where I can paint year-round."
For more information about Greg LaRock, to view his paintings and discover how to participate in his workshops, visit www.greglarock.com.