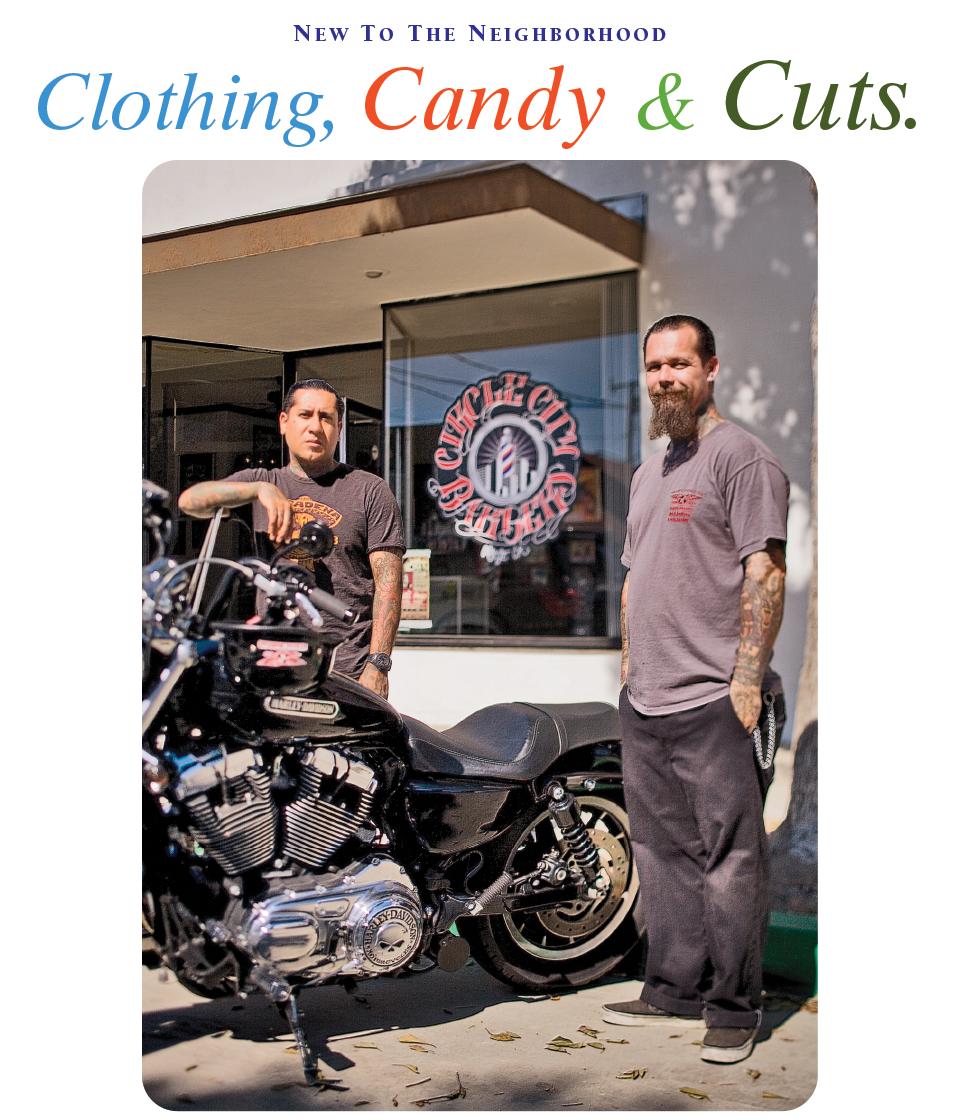 Co-owners of Circle City Barbers, Phil Hernandez (left) and Eric Webb present quality barbershop services in a hip, retro environment highlighted by hot rod memorabilia and tattoo art. Eric's longtime customers from his former Westminster location are flocking to Old Towne to support the new shop.
- - - -
Circle City Barbers
There's a new barbershop in town and it's creating quite a buzz. It's none other than Circle City Barbers, which recently opened its doors at 111 North Olvie St (now 133 West Chapman Ave).
Owners Eric Webb and Phil Hernandez bring their love of style to the contemporary shop, which features colorful, hip décor that showcases everything from hot rod and chopper memorabilia to tattoo art, movie graphics and rock 'n' roll collectibles.
An Orange native, Eric says that he and Phil represent a younger generation of barbers who are up to speed with current styles and trends.
"I grew up in this area since I was a kid," said Eric, who's been cutting hair for 20 years, most recently at a shop in Westminster called The Parlor.
"I've always wanted to open a barbershop in Orange. My longtime customers were excited about the move. They absolutely love this area to begin with, and when they come here for a cut, they make of a day of it in town, whether shopping for fine vintage clothing or dining out at one of Old Towne's many great restaurants."
Offering on-point haircuts and straight razor shaves, Circle City Barbers attracts customers from Los Angeles, Long Beach, Anaheim and the surrounding area. Located next door to Elsewhere Vintage, the shop provides full-service cuts that take a half-hour to 45 minutes each.
"This is about quality, not quantity," Eric said. "We do them right. That's why we have a lot of return customers."
Eric says there no place else he'd rather be than in Old Towne Orange. He enjoys serving new customers and return clients.
"I'd like to think we have impeccable style as whole," Eric said. "When people walk in, they think it's one of the best places they've ever seen."
Circle City Barbers
133 West Chapman Ave, Orange CA 92866 / 714-453-9765