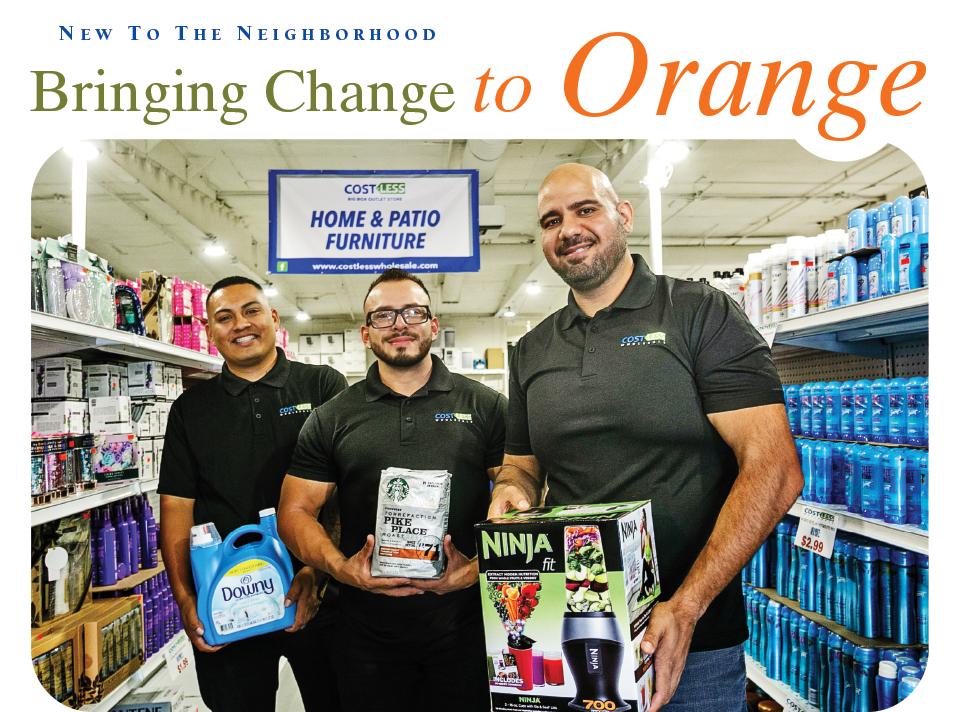 As the largest liquidators of Costco and Sam's Club in the area, the CostLess store has shopping options from endless categories for customers. Posing with for-sale items from CostLess Wholesale's extensive inventory are (from left) Orange Store Manager Gilbert Ortuno, General Manager Kevin Gonzalez and Co-Founder and Chief Financial Officer Dan Barraj.
- - - -
CostLess Wholesale
If you're looking for all the best deals this fall, CostLess Wholesale is ready to help you save money. Opened in March, CostLess offers a wide selection of food and household goods at wholesale prices.
"We're a family-oriented company, and we want to support the community," says Co-Founder and Chief Operating Officer Adel Khatib. "We get the deals and make sure we beat every competitor out there.
In 2016, Khatib opened the first CostLess location in La Habra. After its success, he knew he wanted to expand and serve more customers, especially those in south Orange County unable to visit the La Habra location.
"We picked Orange because we think it's the heart of Orange County," he says. "We love the city." At CostLess, customers can find anything from a wide range of departments, including apparel, food, electronics, home decor and more. After working in the wholesale and liquidation industry for years, Khatib says he has a knack for finding the best deals and categories for his shoppers.
"We get amazing savings, and we want to pass that along to our customers," he says. "If you come check us out, we guarantee we can keep saving you money."
In the months since CostLess has opened, Khatib has found satisfaction in developing intriguing new specials to keep his customers happy. Whether that's a buy one, get one free sale or a limited special on one-dollar hand soaps, he's constantly switching up the inventory to generate buzz.
"It's like a treasure hunt here," says Khatib. "I would encourage everyone to come have that experience."
In addition to the store's stellar prices, Manager Dona Melikian says customer service is another factor CostLess strives to perfect. She takes pride in creating personal relationships with customers and ensuring their shopping experience is exceptional.
"I have loved getting to know the community and watching them become regulars," she says. "It's been great to see how excited they get when they come in to buy one thing and see the variety we offer."
In their first year of business, Khatib and his CostLess team hope to reach Orange residents and inspire them to do their shopping at the store.
"We're taking one step at a time to grow our clientele within the Orange County community," says Khatib. "We want to help the neighborhoods of Orange and give back to others."
Throughout his years of business experience, Khatib says the shoppers are what push him to keep going. He takes the time to receive feedback and customize the CostLess experience for them. And he genuinely cares about the buyers' experience.
"The customers have been the best part of it all," he says. "We want to be there for them as they save money and have a great experience."
CostLess Wholesale
330 South Main St, Orange CA 92868 / 657-223-9039