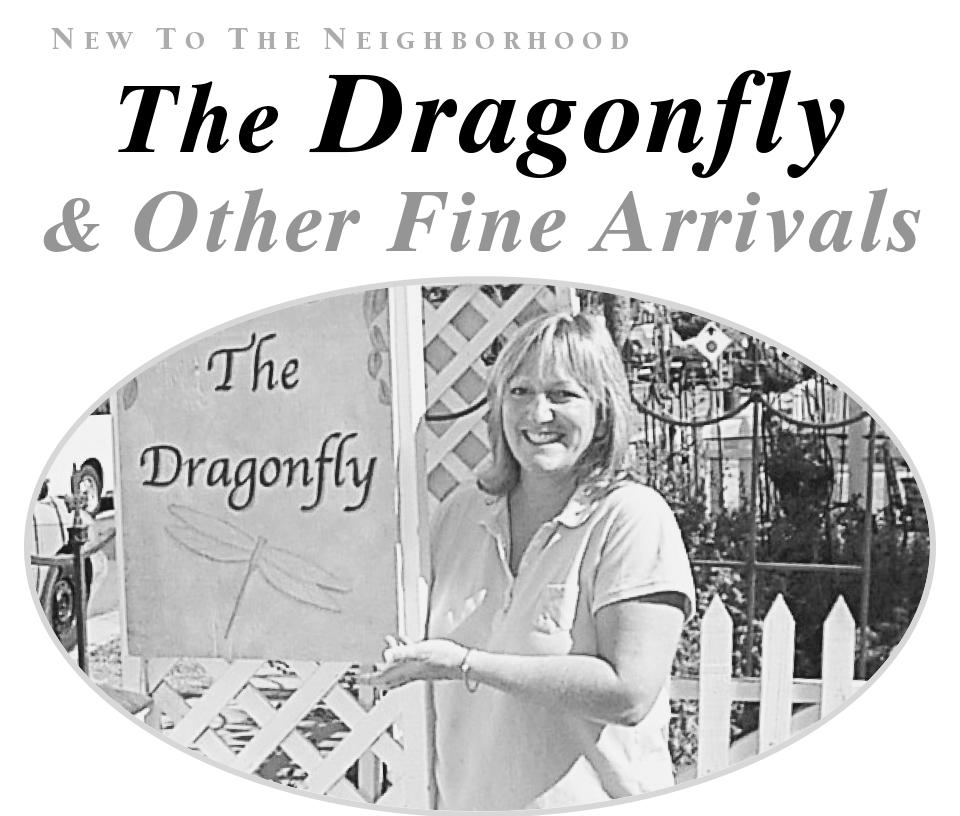 Beth Davidson, owner of The Dragonfly Shops & Gardens, shows off a hand-painted sign created by fellow artist Jeanine Fondacaro, who's artwork is also featured throughout the venue. The vintage 1920s home has been converted into a charming retail boutique.
Beth Davidson of Dragonfly Shops & Gardens knows how to bring folks together. Formerly an executive recruiter for 20 years, Beth has assembled an amazing roster of artisans and retailers under one roof on North Glassell next to Rutabegorz. The result is a fascinating mix of offerings that includes plants, jewelry, stained glass, garden art, homemade shawls and hats, classes, workshops, book clubs, refreshments and a place for old-fashioned gatherings.
"Everything blends together and each vendor we've added is a piece we were missing but didn't know it," says Beth. "It's unique with lots of hidden treasures. There's a little something for everyone."
Converted to a retail store, the vintage 1920 home is the former location of longtime Orange retailer, "Organic Art Plants." When Beth purchased the home, a convergence of talent began to develop. Visitors who stopped by soon became friends and lent their painting and decorating skills to the project. Some even became vendors.
"What has happened is that people who have come here have become part of the Dragonfly story," says Beth. "Bev Klopfenstein and her husband Mark faux-painted the house and created their wall murals. Then Jeanine Fondacaro dropped by and ended up designing our logo and sign. The store is now filled with her artwork."
Like one big family, different vendors occupy different rooms. Annalea showcases beautiful stained-glass pieces, while D.J. Giles, brings lovely wraps, shawls and hats to the mix. Anne is "The Barefoot Gardener" with a nursery in the front, interspersed with garden art & statuary from the Elegant Garden. Linda Kouri Designs features Mark Roberts' beautifully crafted fairies.
A bead jeweler, Beth showcases a bead buffet that also serves as a bead-making classroom and place for beading parties. Featuring monogrammed pieces and wedding accessories, A Room To View offers an infant-clothing line called CEO, or "Chief Executive Offspring."
"Dragonfly is a place for visitors to come and relax and enjoy a glass of lemonade or a bagel," said Beth. "We are also very much into fundraising and plan to offer the venue for events, but mostly, we are a great gathering place that's warm and welcoming for everyone.
The Dragonfly Shops & Gardens
260 North Glassell St, Orange CA 92866 / 714-289-4689