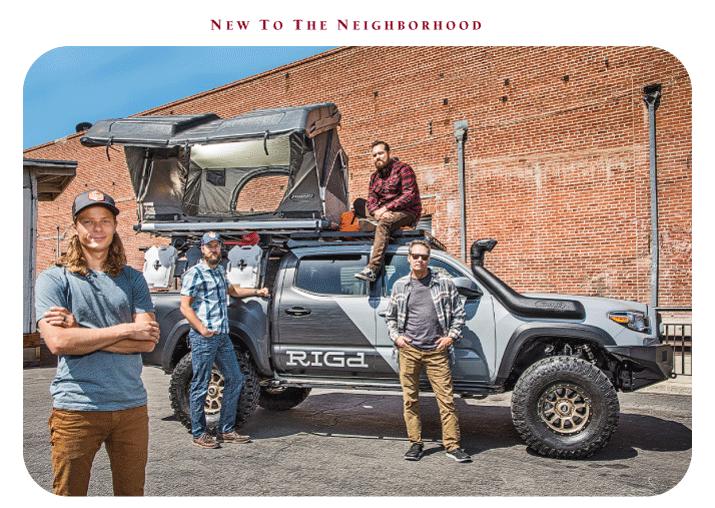 Outdoor enthusiasts Luke Wronski, Ryan Richey, Jason Denney and Mark Wronski, from left, recently launched the online marketplace RIGdSupply.com. Mounted on top of a company vehicle is an all-season, roof top tent, which can be easily accessed by a telescoping ladder.
RIGd Supply
It's summer—a wonderful time to explore the great outdoors—and the recent launch of RIGd Supply is perfectly timed for the season. The start-up connects outdoor enthusiasts with the off-road and overland equipment they might need to get away from it all, whether it's for a weekend or longer.
" 'Overland' is really car camping on steroids. It combines camping gear with a vehicle that's capable of going anywhere off-road," says Luke Wronski, who founded the online retail center in December with Ryan Richey, the company's CFO.
"We wanted to establish a comprehensive marketplace where you can find everything you might need: bumpers and racks, lighting, tents, water systems and more," he adds. "Our goal is to help people build their dream rigs so they can use their vehicles to go off-road to see the world and enjoy any adventure they can imagine."
Outdoors is a passion for the entire five-person RIGd team. Wronski, for example, started camping with his family when he was a month old. Growing up, he recalls many adventures in the Big Bear area, Mammoth Mountain and beyond. Today, he's creating new experiences with his wife and infant son.
While RIGd Supply does not yet have a storefront—it operates out of a small Glassell Street office—the company features products from many top brands in the outdoor space, including Pelfreybilt, Tepui Tents and VTX Wheels.
Awareness and online traffic are the current priorities, says Jason Denney, who handles the company's marketing efforts. As word spreads, he predicts increased sales will follow.
"We're already growing faster than we were expecting," Denney says.
RIGd Supply's website is not limited to marketing products. There also are how-to stories and videos covering a variety of subjects, such as the basics of campsite cooking or more involved topics like recovering an off-road vehicle at the beach after it gets stuck in the sand.
"We want to empower people with as much information as possible," Wronski says. "A lot of our movement is rooted in those Instagram-worthy moments of amazing trucks and crazy places with people saying, 'Wow, I really want to do this.' We help them do just that."
RIGd Supply / 714-244-0714