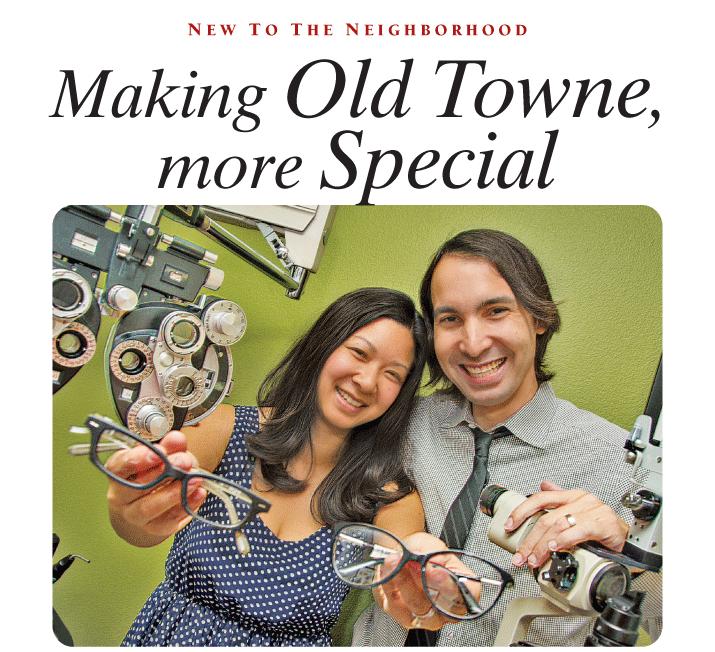 Dr. Ly Nguyen and Dr. Alex Romero recently acquired Orange Circle Optometry on East Chapman. The husband-and-wife team met in Florida at optometry school, but previously lived just 15 minutes apart from each other in Orange.
Orange Circle Optometry
All those in favor of a new optometrist in town, say "eye!"
The husband-and-wife team of Dr. Alex Romero and Dr. Ly Nguyen have recently taken over Orange Circle Optometry in Old Towne Orange. The practice, which previously belonged to longtime optometrist, Dr. Robert Turner, is located across the street from Watson Drugs between Orange and Grand on the same block as the Elk's Club.
According to Dr. Alex Romero, Orange Circle Optometry provides primary eye-care health, including comprehensive eye examinations, contact lens and glasses fittings, laser vision co-management, management of ocular diseases, cataract evaluation and much more. There's also a great selection of designer frames by Prada, Dior, Coach, Gucci, Versace, Armani and Juicy Couture, to name a few.
"We sell unique kinds of glasses and sunglasses that are hip and fun," says Dr. Romero. "We even have wooden frames. The students at Chapman really like our inventory."
Originally from Orange, Dr. Romero grew up here and attended Orange High School. He and his wife, Ly, attended Nova Southeastern University in Florida, where they first met.
"She grew up in the city of Upland and both of us went to college at UC Riverside," he says. "We're both from here, and in fact, we used to live 15 minutes apart from each other in Orange before we met in Florida. We moved back here, got married two years ago and purchased the office. I've always wanted to open a practice in the city of Orange. It's just great to be here."
Modernizing the interior, the couple updated the décor with new paint, furniture, fixtures and hardwood flooring. They also brought in new computer technology and state-of-the-art equipment. Since re-opening in August, the practice has been well received by new and former patients alike.
"Everyone has been very welcoming, and our fellow business owners have also been very supportive and kind," says Dr. Romero. "Our patients are very loyal to the city of Orange and live within walking distance from us. The people here are what make it special. We feel very fortunate to be here."
Orange Circle Optometry
227 East Chapman Ave., #C, Orange, CA 92866 / 714-538-6424