SCNG Printing - Nov / Dec 17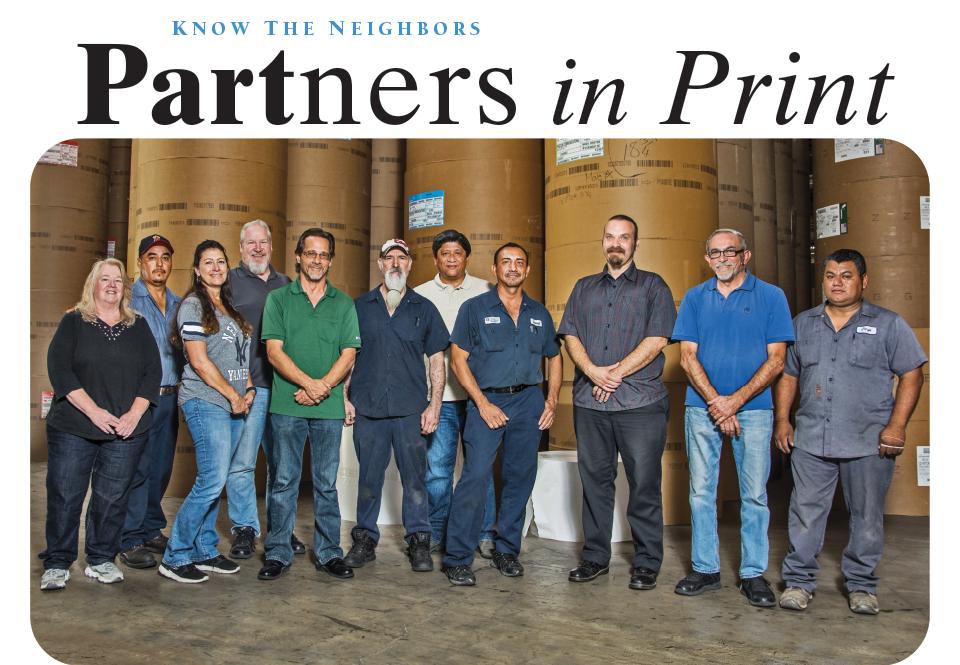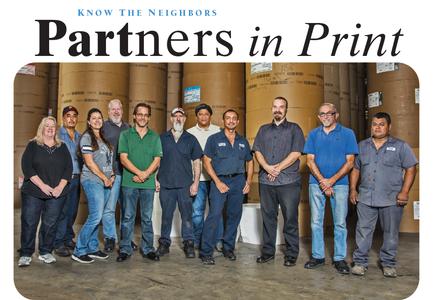 The busy atmosphere at SCNG Printing is proof that print is very much alive. Pictured here are some of the folks who ensure a smooth printing process for many local publications. (From left) are Cheryl Cameron, Uvaldo Aparicio, Katrina Burgos, Dale Jorgensen, Greg Engler, Jose Lupercio, Carlos Zafra, Leonel Escobar, Tristan Cooper, Frank Fernandez and Jorge Lopez.
SCNG Printing
Though he's been in the business for more than 25 years, Greg Engler still finds himself mesmerized by the printing process at SCNG Printing in Orange.
"It's amazing how we start with raw material and end up with a finished book, magazine or newspaper," says the company's Pressroom Manager. "I still get excited when I watch them fire up the press, and after the many required stages of printing, the finished publication emerges."
Engler equally enjoys sharing the process with customers. "It's always fun to do a press check with a new customer who's unfamiliar with the process," he says. "They're always surprised to see how much talent and hard work goes into the printing process and that we don't just push a button and the piece prints."
Founded in 1991 as a small print shop, SCNG Printing started by offering quality printing to outside partners, including the Orange County Register. Formerly known as Freedom Printing and Anaheim Printing, the complete commercial print house is today one of the largest high-quality commercial printers in Southern California. Customers include a wide variety of local name publications, as well as some out-of-the-area clients. Local magazines SCNG prints include Coast, OC Family and Southland Golf.
"Some people might think otherwise, but print is very much alive," says Carlos Zafra, Customer Service & Logistics Manager for SCNG Printing. "We've expanded our technology and production capabilities and publish a wide variety of publications, including those aimed at the Hispanic market. The fact is that we keep growing, and we're busier than ever before."
That's not to say that the printing industry hasn't changed because of digital influences. "Print has changed quite a bit with the internet," says Engler. "Despite the many changes, we've been able to sustain business by producing quality products along with providing excellent customer service."
According to Engler, the folks at SCNG Printing take a lot of pride in making on-time delivery of the highest quality publication possible. "We're also quick to respond to trends and provide services accordingly, including getting and using the latest technology," he says.
"As tough as the market gets, it only inspires us to be even better," adds Zafra. "We take challenges and excel, always keeping customer satisfaction at the forefront."
SCNG Printing
1701 South Lewis St, Anaheim CA 92805 / 714-704-5859