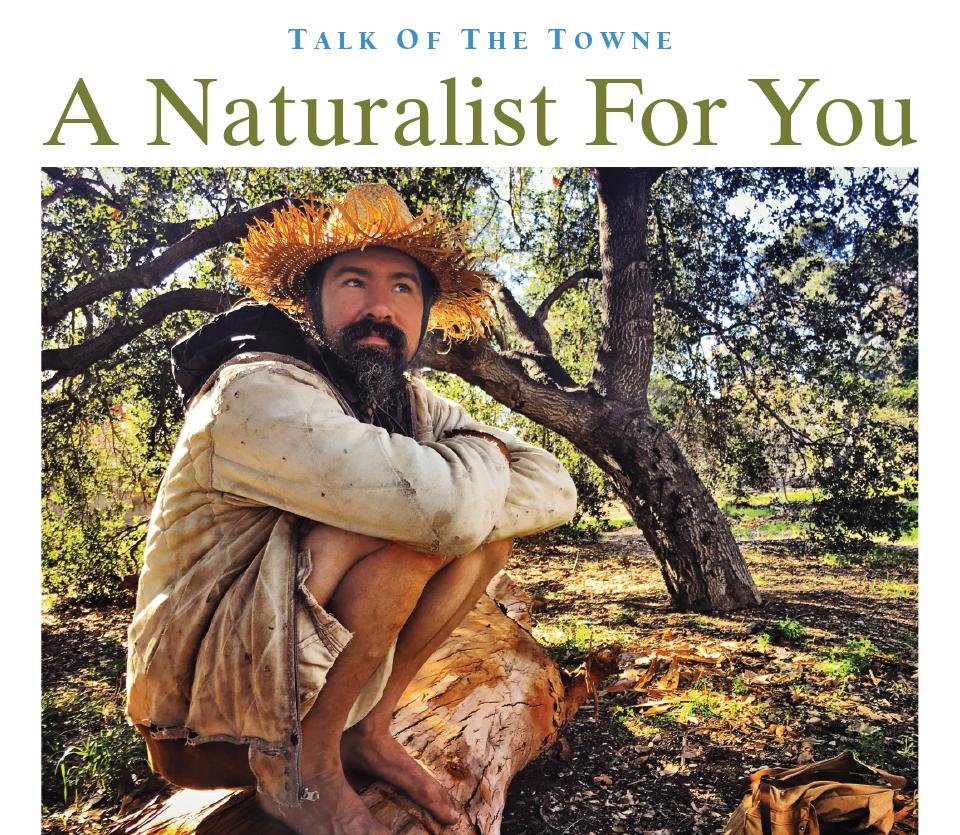 If you think of Orange County as the proverbial concrete jungle, Joel Robinson would like to change your opinion. The Founder and Director of Naturalist For You (NFY) welcomes the opportunity to share the natural wonders surrounding us here in our corner of the Golden State.
"There are more than 5 million acres of public wildlands in Southern California, including 60,000 acres of Orange County parklands that few people know exist," says Robinson, who started NFY, a 501 (c) (3) non-profit, in 2006. "Our mission is to connect everyone to local wilderness."
Robinson, who lives in East Orange with his wife and daughter, regularly introduces people to natural areas they may not be aware of, including the El Modena Open Space flanked by Cannon St. The area features incredible views of the county and an abundance of diverse plants and wildlife.
Often conducting his tours barefoot, Robinson focuses on getting people out in nature in a comfortable and safe way that includes encouraging them to observe, explore and ask questions.
Carrie Buchele, who runs a group called Wildflower Explorers, refers to Robinson as a modern-day John Muir.
"Joel's knowledge of the outdoors is vast and unrivaled," she says. "Orange County is a very busy place, and the beauty of the nature and wildlife all around us is very easily overlooked. Joel teaches us about the history of our environment, reminds us of the importance of our relationship with nature and shows us the hidden places we never knew existed in our own backyards."
Buchele has gone on numerous outings with Robinson. "On my first trip, he led Wildflower Explorers on a foraging expedition through Silverado Canyon," she says. "We learned about the area's history and searched for edible nature. He taught us the proper way to cook what we foraged and little-known medicinal properties of many indigenous plants."
Born in Westminster, Robinson spent his childhood in a neighborhood where they had backyard chickens and old orange trees. "That was an idyllic place to live," he says. Because of construction that razed the neighborhood, he and his family moved to East Orange. After graduating from high school, he decided to study art in college and worked for a time at Disneyland managing character costumes. All the work cooped up indoors ended up making him depressed, however, so he visited his aunt in England and then explored the countryside of Scotland. While hiking 20 miles a day, he realized he wanted to work outdoors.
Robinson returned to California and got a job at The Nature Conservancy on the historic Irvine Ranch for more than five years, followed by nearly 10 years at the City of Santa Ana Parks and Recreation at Santiago Park Nature Reserve. In 2006, he struck out on his own with Naturalist For You.
Naturalist For You primarily conducts programs on publicly-owned land, including national forests and state and county parks, although they sometimes tour private preserves owned by local land trusts. Designed to be entertaining and educational, Robinson's programs are intended to promote stewardship of local natural areas.
Theresa Sears met Robinson about 17 years ago when he worked for The Nature Conservancy. "Joel is passionate about sharing information with others," she says. "Naturalist For You is a novel organization that attracts a wide range of participants, from senior citizens to young children."
Jenny Huynh is Park Site Coordinator at The Youth Centers of Orange. "Our experience with Naturalist For You has been exciting, adventurous and educational," she says. "Joel is a great example for our young members. He shows them how to be mindful of nature and wildlife and how they can help make our community a cleaner and better place. They enjoy that his
Betsy Elliott of Orange Home Grown was equally impressed. She took her 4-year-old nephew on Robinson's Pirate Adventure at the tide pools at Crystal Cove State Park. "We learned about the tide pool ecosystem and some local history," she says. "Joel stayed in his pirate character the entire time. The whole adventure was a blast."
- - - -
Naturalist For You services are available by the request of organized groups (schools, scouts, churches, neighborhoods, businesses, non-profits, public agencies), individuals and various partners.
Naturalist For You is recruiting volunteers passionate about the outdoors and willing to share their observations and stories with the general public during walks and classes/events. RSVP for an upcoming NFY activity and introduce yourself. Call 714-639-8480 or email [email protected]
Contact Robinson or visit the website at www.naturalist-for-you.org for information on upcoming free events, including guided walks/hikes, wild food foraging, birding, living history reenactment, mindfulness meditation and forest therapy.