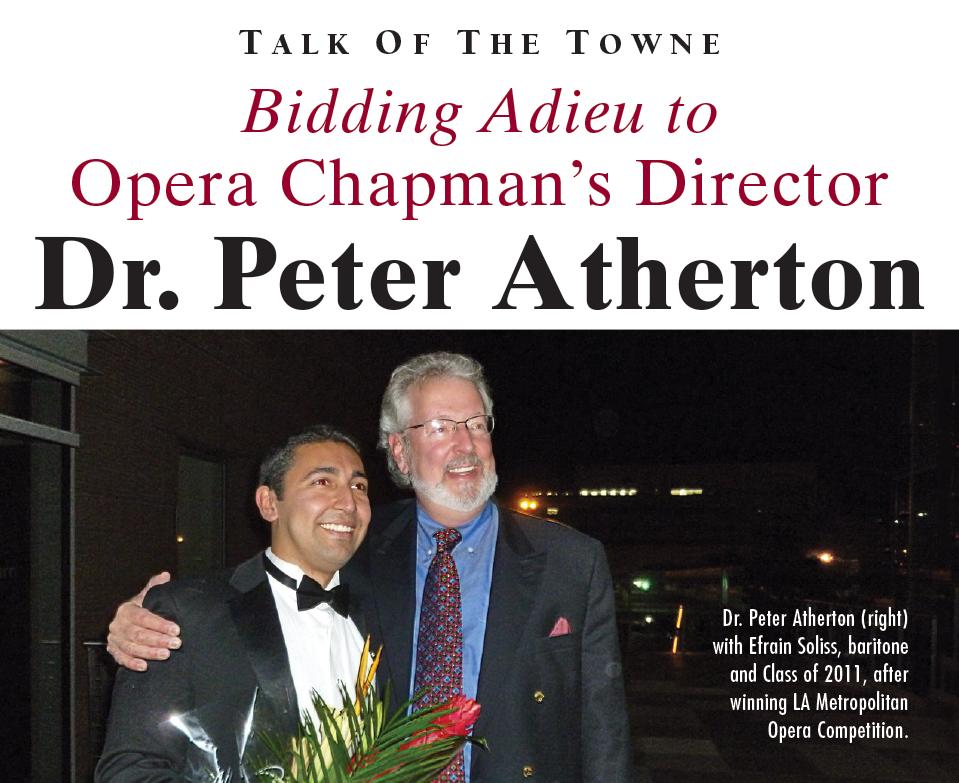 Not having live audiences has not slowed down the dancers, actors, musicians and singers at Chapman's College of Performing Arts. Now through summer there are several scheduled virtual performances featuring dance, theater, music and opera.
In June, Chapman Opera bids adieu to Peter Atherton in the performance, Twenty Years of Opera Chapman: a Gala Farewell Celebration. Under the direction of Atherton, Opera Chapman has grown and thrived since its inception in 2001. In his final act as director of the ensemble, Atherton has created a spectacular program of popular opera arias and duets filmed in Musco Center for the Arts.
"After directing Opera Chapman for 20 years, I can't think of a better way to say farewell than through these scenes with current students and alumni of Opera Chapman," says Atherton. "I've been blessed with spectacular memories that will continue to touch my heart for years to come. I hope these performances give you as much pleasure as they have given me."
Drawn to opera at age 15 by his parents' LP collection, Atherton recalls how hearing opera would "send chills down my back."
Recruited to teach by longtime Chapman Professor of Music and Orange County icon William Hall in the late 1990s, Peter was finishing up his doctorate at UCLA and accepted the adjunct position. Already an established performer, Atherton stayed for four years teaching only on Saturdays. Later, in 2001, Atherton was recruited back to Chapman—this time to create a full-fledged opera program —something the university had never had.
"I asked Bill, what is the budget?" says Atherton. "Bill pulled out a quarter, slid it across the table and said, 'you can start with this and the rest is up to you.'"
Atherton got right to work building the program, with seven weeks to audition, cast and stage the scenes for each performance —a challenge given they could only rehearse four hours a week.
"As we developed the program, people in Orange County were starved for opera," says Atherton. "Opera Pacific had closed, and people didn't want to drive to LA."
That helped build an audience as attendance grew at Opera Chapman performances. The program developed a loyal and generous group of donors who helped to raise the bar on production assets, such as set designs and costuming. Atherton leaned into his industry contacts and began having "the best coaches in LA" come down and work with the students.
"I wanted to do a more intimate program focusing on stage craft in addition to the vocal training, to help young singers not be nervous singing with a full orchestra," he says.
A few years later, Southern California homegrown opera star, the late Carol Neblett, came to do some master classes and teach advanced voice students. She worked alongside Atherton on Opera Chapman productions for ten years.
In 2016 came the Musco Center for the Arts. "The acoustics and the design were amazing," recalls Atherton.
Chapman's music program is an undergraduate program and regularly has about 100 students apply and audition each year. Students pursuing opera receive a degree from the music conservatory in vocal performance and music education.
"Many want to sing opera and go to USC or Juilliard, and I tell them those our great programs, but you'll only be in the chorus—it's a rare opportunity for an undergrad to be cast for a solo part, and at Chapman the students get that opportunity, so it's a big selling point."
He says he can tell how passionate they are. "In what other undergraduate curriculum are you working 1:1 with a student over four years?" says Atherton. And working with 25-35 students each year to focus on what they are passionate about is what motivates Atherton.
"There is an old saying, 'if you can live without singing, you should pursue something else for your career," he says. "You'll always be able to sing—every community has a place to sing, but the number of years of training required to actually have a career singing opera, you are really just starting when you come as a freshman."
In his 20 years, Atherton has amassed alumni who are now with LA Opera and other opera companies all over the nation and Europe, including in Orange County, where several high schools have choral programs directed by Chapman alumnus or alumna.
"I'm grateful to Chapman, Bill Hall and the donors for the opportunity to share my passion," Atherton says. "And of course, I'm grateful to the students."
Twenty Years of Opera Chapman: a Gala Farewell Celebration Peter Atherton, artistic director Available on demand June 14 – July 4, 2021 / Tickets $10
In his final act as director of the ensemble, Atherton has created a spectacular program of popular opera arias, duets and ensembles, filmed in Musco Center for the Arts, featuring Chapman students and distinguished alumni, including Ashley Faatoalia, Kylena Parks, Efraín Solís, Emily Dyer Reed, Chelsea Chaves and Steve Pence, to name a few.