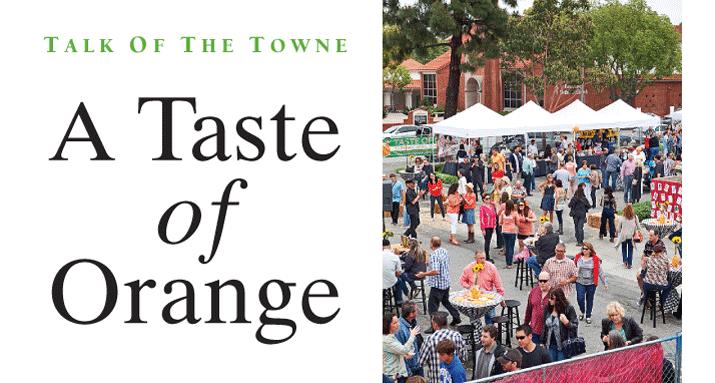 When Kennedy Schaal attended the Taste of Orange for the first time in 2015, the Old Towne resident immediately recognized the uniqueness of the event. Presented by the Orange Blossoms Auxiliary, an Auxiliary of Assistance League® of Orange, attendees of the event sample food from a variety of local restaurants.
"I think the Taste of Orange has much more of an intimate feeling than similar tastings in other communities," says Schaal of the event to be held on May 7th. "Every year, I see families attending (mine included) and friends meeting up or running into each other. The vendors who participate share our desire to be stewards of this unique community, and all of the food and drinks are delicious!"
Orange resident Rachyl Boer, agrees. "I enjoy that you have the opportunity to find restaurants you've never been to or haven't even heard of. The best part is that Taste of Orange benefits the community in which we live."
Now in its 11th year, the Taste of Orange is the major fundraiser for the Orange Blossoms and Assistance League® of Orange, an all-volunteer organization dedicated to providing humanitarian services to those in need. Money raised goes to a wide variety of local philanthropic programs supported and run by Orange Blossoms, which consists of young professionals, stay-at-home parents, college students and recent graduates, says Taste of Orange Chairperson Wendi Forrest.
Programs supported by Orange Blossoms include Project G.I.R.L, which provides high-risk, underserved girls with guidance and inspiration. Operation School Bell is another program run by the Assistance League® and Orange Blossoms. The program provides new clothing and backpacks containing essentials to local elementary students. This year will be Schaal's third year attending the Taste of Orange and her second working the event as an Orange Blossom. "I'm originally from the Belmont Shores area. In high school, I joined the Assisteens Auxiliary of the Long Beach chapter of Assistance League®, where my mother was an active member. I fell in love with serving my community and missed the interaction while in college and starting my career as a biologist. When I moved to Orange and attended the Taste of Orange for the first time, I was elated to see that the Orange Blossoms were Assistance League members who were my age."
The Taste of Orange has grown exponentially since its inception, says Forrest. "We started out with four restaurants participating, and this year we'll have more than 40, along with 120 volunteers. Altogether, we have about 1,000 people in attendance."
Restaurants offering food and beverage at this year's Taste of Orange include Ruby's Diner, Watson's Soda Fountain & Cafe, Smoqued California BBQ, the Lazy Dog Café, the Pizza Press, Katella Grill, Buffalo Bill's Brewery (which makes an Orange Blossom ale), à la Minute Ice Cream, The Pie Hole and Trader Joes. There's also live music, a silent auction and opportunity drawings.
The Taste of Orange is on May 7 from 3-7 pm at the Assistance League Chapter House, 124 South Orange St., Old Towne. Tickets are $25 until March 31 and $40 thereafter. To buy tickets, donate auction items or become a vendor, visit www.thetasteoforange.org. For information about Orange Blossoms, visit www.orangeblossomsalo.org.