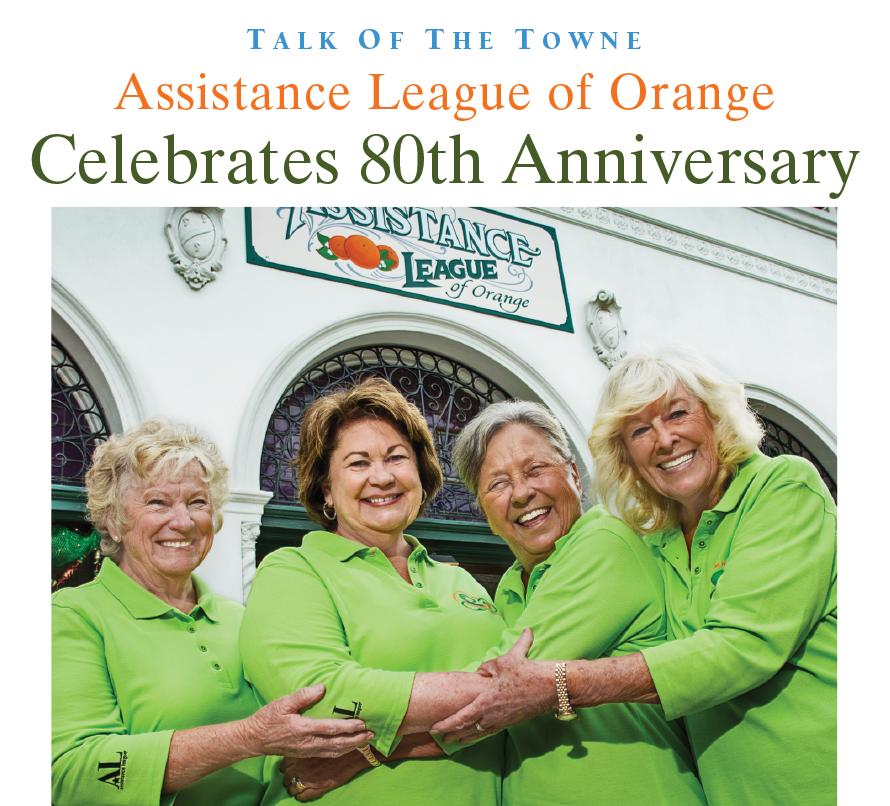 A fixture of help and hope in Orange since 1941, the Assistance League of Orange is celebrating 80 years. Pictured from left are co-chairs for the anniversary celebration, Kathy Leichtfuss, Laura Heil and Andrea Byrnes, and current ALO President Norma Hockensmith.
- - - -
In May 2018, when Brittney Rudd went to the University of California, Irvine Medical Center (UCI Medical Center) to deliver her son, she was just 29 weeks pregnant and scared. After she gave birth to Noah—weighing three pounds and three ounces—doctors immediately hooked him up to machines in the Neonatal Intensive Care Unit (NICU).
When Rudd received the green light to take Noah home after 59 days in the NICU, thanks to Assistance League of Orange (ALO), the family went home with a diaper bag filled with essentials like formula, booties, pacifiers, a rattle, and a crocheted cap. "These are beautiful gifts that moms and dads hold onto forever," says Rudd.
Offering help and hope throughout Orange to children and families in need is the cornerstone of ALO, a local service organization celebrating its 80th anniversary in February. Eighty years ago in 1941, 33 women began meeting as an auxiliary to Assistance League of Orange County. At the time, $30 was set aside to provide personalized assistance to those in need in the City of Orange.
"Local doctors, dentists and other providers would inform members when there was a need," says ALO President Norma Hockensmith. "For instance, we would purchase glasses for children, provide funds for tonsillectomies, took children to dentists, provided taxi fare for doctor's visits, bought cribs for a hospital and provided milk and oranges to a school," she says.
Today, the 322-member strong organization supports and manages a wide variety of local philanthropic programs. During the last fiscal year, members assisted more than 22,000 individuals and volunteered more than 30,000 hours of service to the community.
ALO runs the Now & Again Thrift Shop in the Plaza. The surplus realized by sales from this member volunteer run shop support the organization's many philanthropic programs. These programs include for the Orange Unified School District (OUSD) students and teachers, the elderly (Orange Senior Center and homebound seniors), premature babies (UCI Medical Center), Orangewood Children and Family Center and the Lamoreaux Justice Center (services for victims of violent crime).
"We're really a part of the City of Orange, and the city knows it can come to us," says Hockensmith. "We reach out and help anyone we can. We have a strategic plan that serves to continually guide us and enables us to evaluate each area of assistance. This keeps ALO current, vibrant and nimble."
Hockensmith joined the organization in 1990 and served as president in 2005. She returned this year during a time when charitable organizations across the globe are experiencing the challenges of COVID-19.
While the Chapter has not been able to gather in person this year, the organization's efforts have not slowed. During COVID, members have participated in monthly membership Zoom meetings celebrating the "Decades of Devotion" inspiration. Through Assistance League's Special Assistance program, members work with Instacart to get groceries delivered to hungry residents. Through Operation School Bell, they get OUSD children school uniforms and supplies by dropping them off at school sites. And members continue to assemble diaper bags for the Handle with Care program that helped Rudd and her family.
The celebration of the organization's 80 years of continual service is being co-chaired by Kathy Leichtfuss, Laura Heil and Andrea Byrnes.
"Every philanthropic program we serve has identified the 80th Anniversary to their recipients," says Leichtfuss, a previous president of ALO. "This serves as a reminder that we are here for the community of Orange and always will be."
To give or join the Assistance League of Orange, visit www.alorange.org or email [email protected].