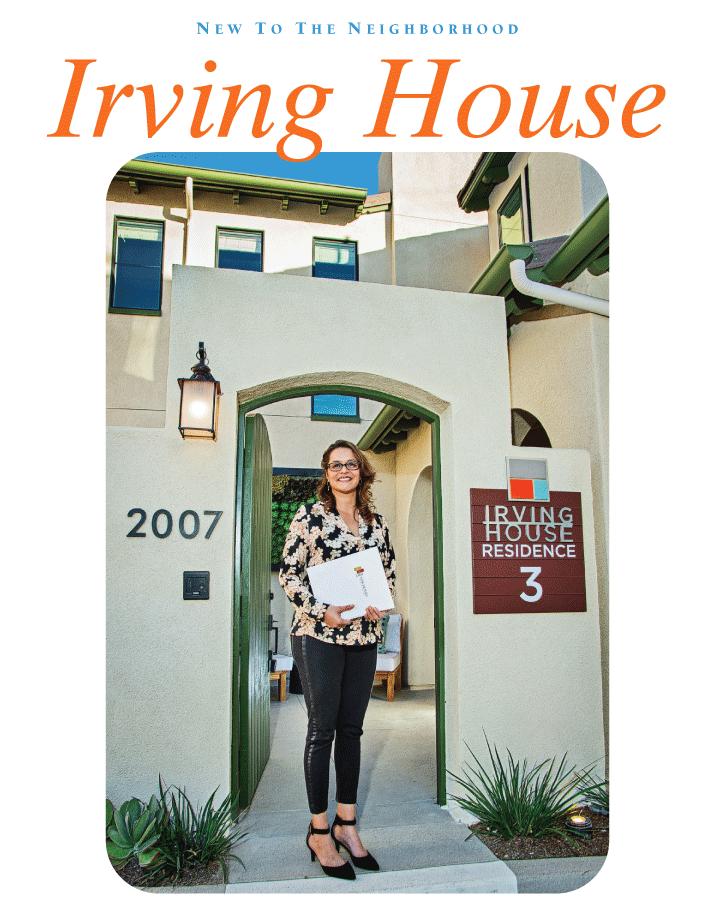 Iran Pulido, New Home Consultant Manager for MBK Homes, stands before one of the 25 single-family detached residences featured in the Irving House new home development.
Irving House
Irving J. Gill. While few may be familiar with his name, the mostly self-taught architect is considered the father of what became known as modern architecture.
In the early 1900s, a time when faux-Victorian and Spanish Colonial were all the rage, Gill had a talent for incorporating the local topography and climate into his simple, block-like designs. His work includes the Ellen Browning Scripps residence (now San Diego's Museum of Contemporary Art) and the La Jolla Woman's Club, which is on the National Register of Historic Places.
Today, Irving House, a collection of new detached homes with designs inspired by the master architect, is on the market in Orange near Shaffer Park.
Built by MBK Homes, the community features 25 two-story properties available in three floor plans, each with up to four bedrooms, a two-car attached garage and a private backyard. Inside, eco-friendly amenities include dual-glazed vinyl windows and tankless water heaters, along with advanced wiring and cables for high-speed connections, plus Wi-Fi compatible thermostats and garage door openers.
"The plan was to incorporate timeless architectural elements into a modern, efficient home," says Rick Fletcher, Vice President of Real Estate Operations.
While Anita and James Kastens appreciated the niceties of the Irving House properties, what prompted the Eastvale couple to buy one of the homes was a private, open-air courtyard near the front entrance.
"You can sit in the home office and look through a very large sliding glass door into that courtyard," says Anita, an interior designer. "It's a wonderful extension of the space that's really like an exterior room. It's so, so nice."
Once escrow closes, they're looking forward to moving in early this year.
Irving House is one of several new home developments being sold by MBK Homes, an Irvine-based builder. Others include Ebb Tide, which are coastal contemporary homes with rooftop decks in Newport Beach; Veranda, modern farmhouse style townhomes on hilltop locations in Mission Viejo and Upland Central, featuring spacious three-story townhomes with 10-foot-high ceilings and private decks in Upland.
"That's what makes us unique as a builder—you'll rarely see two communities with the same architecture or even elevations that look similar," Fletcher says. "It's important in new home construction to create the kind of architecture that people want to live in. Good architecture really improves the quality of life for people and how they feel about coming home."
Irving House
2007 N. Orange-Olive Road, Orange CA 92867 / 657-221-7512