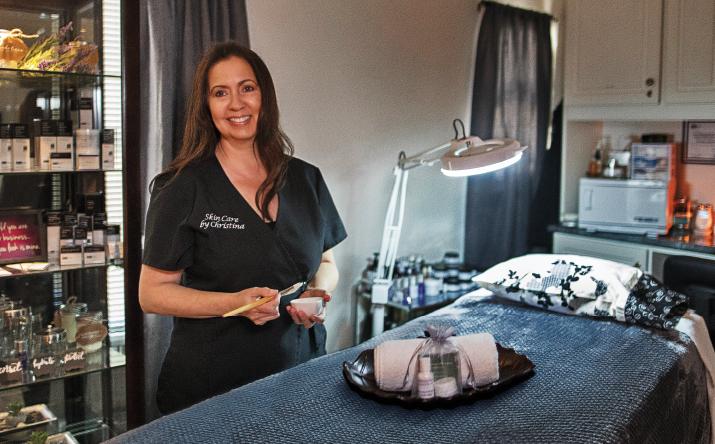 Christina Martinez offers a variety of services at her skin-care studio, including clinical treatments, facials, body peels and anti-aging regimens. Her clients praise her expertise and attentive manner.
- - - -
Skin Care by Christina
Since childhood, skin care has fascinated Christina Martinez.
"I would put cleansing cream on my Barbie dolls," she recalls with a smile. "I just loved it."
Martinez has come a long way since pampering her childhood playthings. The soft-spoken esthetician—a licensed skin-care specialist—recently opened her own studio in Old Towne, and she's receiving glowing reviews.
Lisa Blanc, a real estate agent who works and lives in Orange, booked a spa facial with Martinez within a week after the studio opened. She says she's had many such treatments over the years, but this one was "the best facial I've ever had."
Blanc also had eyelid and hand-moisturizing treatments done, and says the whole experience "left my skin renewed, and it even looked more plump and healthy."
Before opening the Orange studio, Martinez owned skin-care studios in Hermosa Beach and Long Beach. She offers a variety of services, including clinical treatments, face and body peels, and anti-aging and skin-firming regimens. Sun damage, she notes, causes most skin-related problems—everything from sun spots to cancer.
Step into her studio and you immediately notice the serene ambiance. You're greeted by candles, flowers, pleasing scents and soothing music. Martinez says she feels like she's giving customers a gift. They often come in stressed-out and uncertain, but when she's done, they "get up and tell me how relaxing it was. They leave feeling great." It's what she likes to refer to as "a wellness journey."
One of her customers, Marcus Soliz, suffered from severe acne for many years. "I had given up all hope on my face," says Soliz, who went to see Martinez at her Hermosa Beach studio. "She explained to me that the problem lies beneath the skin [surface], with bacteria that was stored in my skin."
Her treatment had a dramatic effect for Soliz. "Today, I have confidence in myself and I'm not worried about all the acne that used to be on my face," says the 36-year-old, adding that he's more relaxed in social situations.
Blanc and Soliz describe Martinez as gentle, knowledgeable and attentive. "She offers tips and advice," says Blanc, "without lecturing you about past bad habits."
Skin Care by Christina
369 South Glassell St., Orange CA 92866 / 714-450-2878