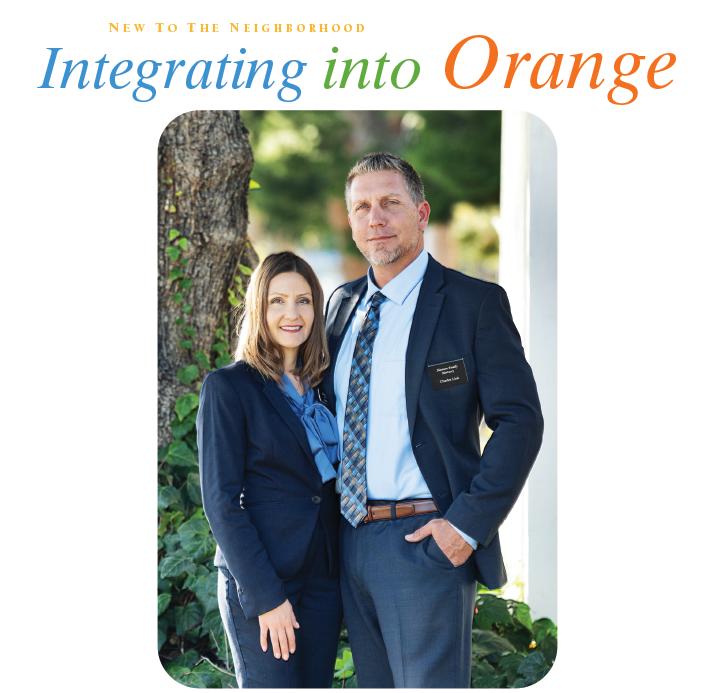 The new owners of Shannon Family Mortuary, Julie and Charles Link, intend to carry on the same personalized mortuary services as their predecessors. A fixture in Old Towne since 1933, the family-run mortuary offers caring, supportive service during what is often a difficult time for clients.
- - - -
Shannon Family Mortuary
The death of a loved one is a difficult and profound life-changing event. When such a loss occurs, it helps to have expert, caring assistance from a family-run mortuary that embodies the spirit of close community.
The new owners of Shannon Family Mortuary, Julie and Charles Link, offer such heartfelt assistance to family and friends during this challenging life transition.
"We're honored to take over the business, which has served the Orange community as a full-service mortuary since 1933," says Julie. "We look forward to continuing to help families enjoy the memories of yesterday, focus on the challenges of today, and look to the promise of tomorrow and the healing that it brings after the death of a loved one."
Grandson of the mortuary's founder, and son of Ralph and Delores Shannon, who ran the business for many years, Don Shannon is happy to hand over the reins to the Links.
"I'm grateful the Links will continue the tradition of running the business as a privately-owned company that offers the same high-quality, personalized funeral and memorial services that Orange and the surrounding community have come to know," says Don. He waited to retire until he found new owners well suited to the business.
The Links, who live in Orange and whose son, Simon, attends Orange High School, have more than 20 years' combined experience in the funeral industry. Julie has a degree and went to school for business and is a licensed Funeral Director. Charles has also worked in the field for 17 years, including for Shannon Family Mortuary, since 2011.
Retaining the Shannon founding family name, the mortuary will continue to provide a complete range of compassionate personalized assistance, from cremation to full traditional services, including for members of the military. All prearrangements will also be 100 percent honored.
As part of the transition, the mortuary's location on Maple St. in Old Towne was sold. On March 1, the business moved into another Old Towne location on East Chapman Ave.
"It's a smaller building, but we'll be providing the same full mortuary services," says Julie. "We'll be using space in local churches for memorials and funerals, including the beautiful, historic Chapel of Orange, which is nondenominational."
At Shannon Family Mortuary, they have an open-door policy, says Julie. "We invite you to come in any time we're open to check out our offerings and meet us."
In fact, you're likely to see the Links around town, adds Charlie. "Julie and I are involved in various local organizations, such as the Orange Rotary and the Woman's Club of Orange. We look forward to meeting you and answering any questions you may have."
Shannon Family Mortuary
1005 East Chapman Ave, Orange CA 92866 / 714-771-1000