Huskins Coffee Company - Jan / Feb 20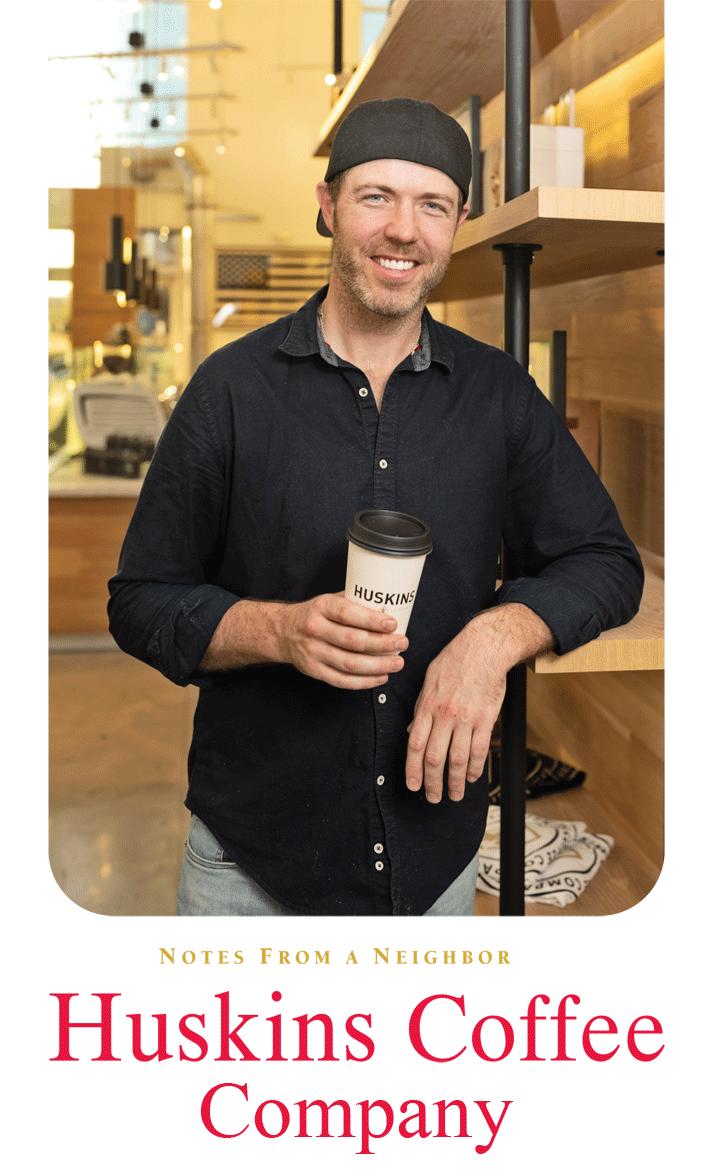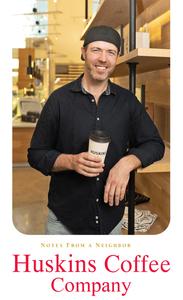 In the continuing revitalization efforts of the City of Santa Ana, the East First St. area is a location to keep an eye on. With new residential and business development in this corridor, a number of upscale establishments are moving into the area. These include Huskins Coffee Company.
With its sleek modern décor and contemporary architecture, the coffee shop has become a hot spot in the burgeoning area between the 55 and 5 Freeways.
Opened in July 2018, the popular shop, which also sells coffee wholesale, is run by husband and wife duo, Kent and Bri Huskins. Originally from Almonte, Ontario, Canada, Kent is a former professional hockey player. He played with several teams, including the Anaheim Ducks when they won the Stanley Cup in 2007. When he retired in 2015, Kent, who had studied Business Administration in college, decided to open his own business.
The idea for a coffee shop began percolating when Kent had his first cup of coffee during a trip with Bri to Paris, France. Following the discovery that he loved coffee, the couple began noting the types of coffees they like when visiting various coffee shops.
"We wanted our shop to have a warm and welcoming atmosphere," says Kent. "We have two young boys, so family-friendly was important to us. That's why we've decorated with light, warm and welcoming tones and elements."
To pay homage to Kent's history as a pro hockey player, they have on display on the walls, wooden hockey sticks from the 1940s. "We wanted to include a hockey component without looking like a sports bar, and I think we accomplished that," he says.
Centerstage at the coffee shop are the various coffees, which are all organic, as is the milk used in their preparation. The coffees offered at Huskins appeal to a wide variety of tastes and provide something for just about every coffee drinker. These include the House Blend, which can be taken black or with milk. This coffee features a smooth, medium roast. The Espresso Blend has a lighter roast level, performing well as an espresso or drip coffee. Huskins also carries a Swiss Water Decaf option.
The specialty ingredients used in the coffee specials on the menu are handmade from organic ingredients. For instance, the vanilla in the Vanilla Latte is made with organic Madagascar vanilla beans soaked in turbinado sugar water. The aptly named Hometown Latte features organic maple syrup imported from maple trees in Kent's small hometown of Almonte in Canada.
While the focus at Huskins is the coffee, they do have several tasty entrees on the menu to enjoy, including Avocado Toast, topped with arugula, tomatoes, cayenne pepper and freshly squeezed lemon juice.
In addition to enjoying Huskins coffee at the shop, you'll find it as the featured item at Children's Hospital of Orange County (CHOC) on their coffee truck. The cart is a service run by CHOC Volunteers that travels throughout the hospital, providing free coffee and cookies to patients and their families.
"In January 2019, we became the official coffee provider for the CHOC coffee cart," says Kent. "To launch this new relationship, I was invited to come walk the coffee cart route with two members of the volunteer team, Wendy and Susan. Our family has experienced lengthy hospital stays, so being able to brighten the day of others going through similar situations really means a lot to us."
To recognize their contributions to the community, the Huskins were recently honored with the City of Santa Ana Certificate of Recognition.
Huskins Coffee Company
1901 East First St, Santa Ana CA 92701 / 714-496-8258
---
Published in the
Jan / Feb 20
edition of the Old Towne Orange Plaza Review Article Written by Don Cribb, photos provided by Lauren Scott
View More Articles