The Playground - Mar / Apr 12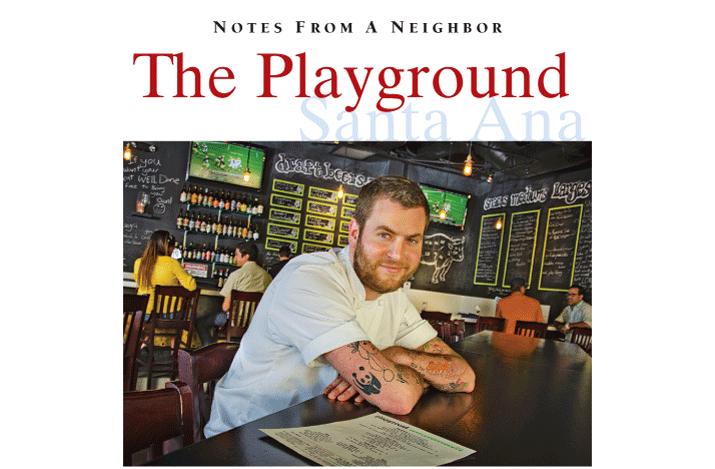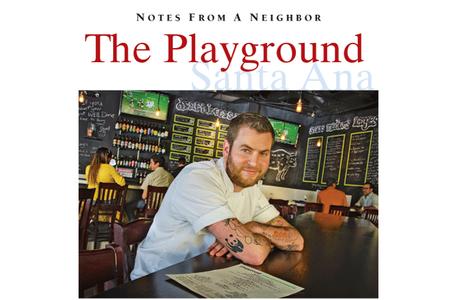 Showcasing the finest and freshest ingredients, every meal at
The Playground
is a new and different experience.
Created by Chef Jason Quinn, one of the founders of the Lime Truck traveling eateries, The Playground restaurant in Downtown Santa Ana recently opened its doors to crowds of expectant fans.
The chef and ingredient-driven café-style restaurant specializes in a menu of modestly-priced gourmet food and drink. Consisting of a modern-style décor, the inviting space lures dedicated foodies who thrive on the playful, ever-changing, experimental menu.
"Those who expect a regular day-to-day menu are not our customers," says Quinn of his constantly-changing, ingredient-driven fare. "Our goal is fine dining-inspired food at neighborhood prices. People come in, sit down, meet other people and enjoy great food they can't get anywhere else."
At The Playground, Quinn takes pride in serving only the best food he can find. "We have $100 a pound A9 Wagyu New York on the menu tonight," he recently noted. "It's some of the best beef the world has to offer, and its only $36 for 4 ounces!" And satisfaction is guaranteed. If you don't like your dish, Quinn and his team will redo your meal to try and suit you, or you don't have to pay. "All we really want is for you to enjoy the food and your experience with us," he says.
Thanks to word-of-mouth and a dedicated Yelp!–based following giving 5-star reviews, The Playground attracts a wide fan base-from residents of the Artists Village, French Park or nearby neighborhoods, to hipsters, artists and music makers heading to or coming from another big night at The Yost Theater. Dedicated diners also travel from as far away as Los Angeles and Pasadena, so be forewarned. Reservations are suggested.
Former Playground dishes guests have raved about include "Wild Boar Belly Poutine," "Crispy Veal Sweetbread," "Veal Marrow" and flash-fried Brussels sprouts, crispy and light in a tasty dressing. As for drinks, knowledgeable servers are happy to help complement entrées with frothy brews and fine wines.
As evidenced by The Playground's resounding success, Santa Ana's Artists Village, with its dedication to urban reinvention, is the perfect home for this trendsetting restaurant.
The Playground
220 East 4th Street
,
Santa Ana
,
CA
92701
/
714-560-4444
---
Published in the
Mar / Apr 12
edition of the Old Towne Orange Plaza Review Article Written by Don Cribb, photos provided by Jeanine Hill
View More Articles