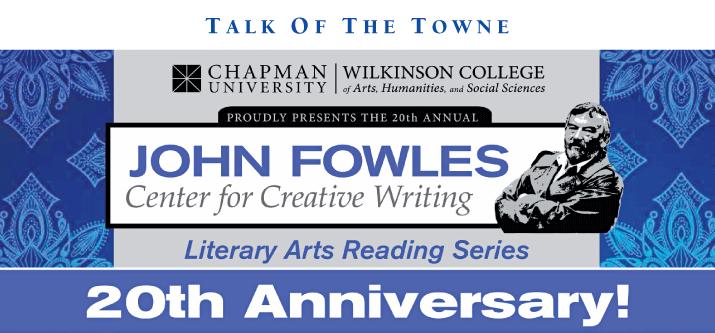 In the novel, The French Lieutenant's Woman, which inspired the movie with the same name, British author John Fowles writes, "We all write poems; it is simply that poets are the ones who write in words."
This idea that we all harbor stories within us to tell and to share those stories is something for which we all yearn, lies at the core of Chapman University's John Fowles Center for Creative Writing, which celebrates its 20th anniversary this year.
Created to give students and the public opportunities to gain greater appreciation of the written word and of writers, the Fowles Center highlights and celebrates all aspects of creative writing, including poetry, fiction, drama, creative nonfiction and screen and playwriting. To accomplish this goal, each spring the Center invites distinguished national and international writers to Chapman University to share their work with students and the Southern California community at large.
Literary Legends Come to Chapman
Celebrating its 20th Anniversary, the John Fowles Center has hosted such international and national writers as: Nobel Laureate, Wole Soyinka; Salman Rushdie; Maxine Hong Kingston; Edward Albee; Lawrence Ferlinghetti; Alain Robbe-Grillet; Gioconda Belli; Steve Katz; Pablo Neruda Prize winner, Raúl Zurita; Elias Khoury; II Bienal de Novela winner, Carlos Franz; Pulitzer Prize winner, John Ashbery; David Antin; Willis Barnstone; Nobel Nominees, Claudio Magris and Luisa Valenzuela; Giorgio Pressburger; Giuseppe Conte and Isabel Allende, among others.
Exposing students to the persity of writers in the world and their literature has been the intent of Fowles Center Founder and Director Mark Axelrod. An author and professor of Comparative Literature at Chapman, Axelrod has given students and interested members of the public the chance to hear from a wide variety of voices in creative writing.
"Earning my PhD in Comparative Literature, I had the wonderful opportunity to read many great writers. I've invited to Chapman a perse group of writers, both culturally and artistically, including international authors, who share their work in English and their own languages. Some of the writers are Nobel laureates. Several authors are coming this year to celebrate the 20th anniversary." (See end of article for details)
Fowles Center History
The seeds for the Fowles Center were planted in the late 1970s when Axelrod, who shared the same birthday with Fowles, wrote to the author and asked questions about his writing and a correspondence ensued. Twenty years later, in 1996, while on a Leverhulme Fellowship to teach screenwriting at The University of East Anglia in Norwich, England, Axelrod met Christopher Bigsby, director of the Arthur Miller Centre for American Studies, and talked to him about his centre. Since Axelrod was in Norwich, Bigsby suggested he meet with Fowles at his home in Lyme Regis.
When they met, he asked the writer if he'd be willing to lend his name to a writing center much like Arthur Miller did with the center in Norwich, and Fowles enthusiastically agreed. The Center began in 1997, and the first writer to visit was the Argentine novelist, Luisa Valenzuela. In 2003, Axelrod invited Fowles and his wife, Sara, to Chapman and the University gave him an honorary degree. "We had a marvelous time, but John was not well," says Axelrod. "Sadly, he died two years later."
Young Writers' Workshop
In 2011, in order to reach out to the community, the Center began the John Fowles Center for Creative Writing Young Writers' Workshop in which Orange High School students participate in creative writing workshops mentored by Chapman graduate students. As part of the workshop, the students are invited to each of the distinguished author Literary Forum readings.
Jan Osborn, assistant professor of Rhetoric and Writing Studies in Chapman's English Department, is director of the Chapman University/Orange High School Literacies Partnership and facilitates the Young Writers' Workshop. Open to interested 9-12th graders, the workshop, held each spring, offers students the opportunity to focus on their own creative writing.
"Because of the standardization of K-12 curriculum, students get little chance to be creative in their work," says Osborn. "The workshop becomes a value-added part of their writing education. They also spend time on a university campus and see themselves as college students one day. And the graduate students who serve as small-group leaders are invaluable. They meet with the students 10 times and help them with their writing and answer questions about college." At the culmination of the program, there's an awards ceremony where students can read their work. The program, which began with only five students per workshop, is flourishing with more than 30 students to date.
• See renowned authors this winter and spring at Chapman. All readings are free and open to the public and are held in Beckman Hall 404 at 5 pm, except for the Vargas Llosa event, which will be held in Memorial Hall at 7 pm. February 13th, Karen Yamashita; March 13th, Giuseppe Conte; April 24th, Claudio Magris; May 1st, Charles Bernstein; May 8th, Luisa Valenzuela and May 18th, Mario Vargas Llosa. For more information: www.chapman.edu/research-and-institutions/john-fowles-center
• The Fowles Center also produces the online journal, Mantissa. See the Spring 2016 edition: https://goo.gl/H6sDe0