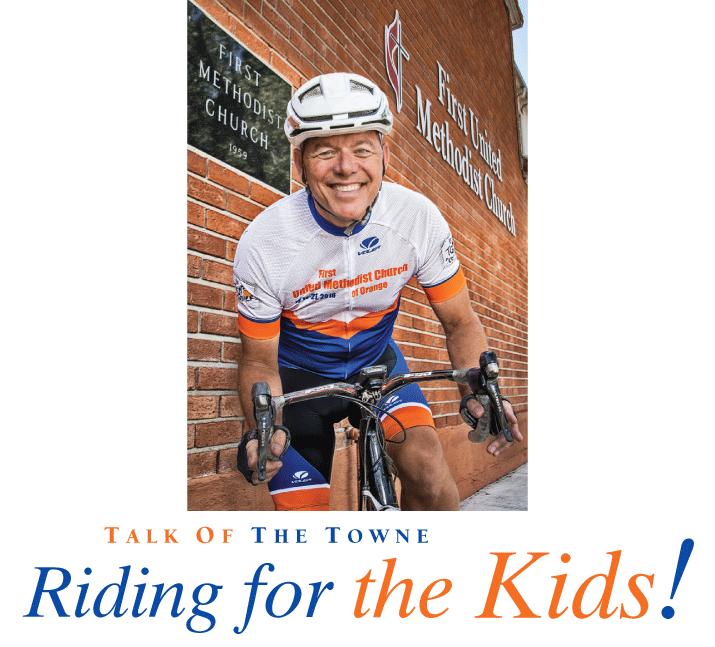 Le Tour De Toddlers
When the

First United Methodist Church of Orange

(FUMCO) decided to reopen its preschool, Pastor Bill Johnson put his whole heart into the idea. His early childhood was marked by an impairment, so he knew he wanted to contribute to the development of local children.
"I was born with bent legs, sort of a Forrest Gump thing," he says. "I had to sleep with a pair of shoes on a bar at night when I was very young."
Johnson's early adversity helped guide him and inspired him to give back. "It's an example of grace in my life," he says. "In a time before I even knew how to ask, God fixed my legs."
While brainstorming ways to fundraise for the preschool, Johnson, who is finishing up his fourth year as the church's pastor, spearheaded a fundraising idea that would merge his athletic interests with a way to exhibit his gratefulness.
"In addition to being a pastor, I've been a fairly passionate athlete for most of my life," he says. "I absolutely love cycling. I come from a place of deep gratitude for my legs when I ride. It's my way of saying thank you to God for giving me legs."
The church will host

Le Tour de Toddlers

, a one-week, 500-mile bicycle ride taking participants, including Johnson, from San Francisco to Orange. (While a pastor at a previous church, Johnson participated in a successful three-week, 1,600-mile ride fundraiser.)
The planning committee was immediately enthusiastic about Johnson's fundraising suggestion. "Pastor Bill was so excited to do this ride," says Dorothy Utter, who has taught Sunday school at the church, which was founded in 1873, for 40 years. "We talked about it one month, and then talked and prayed about it for another, and then decided, 'This is our goal. Let's go for it.'"
The ride is one section of fundraising for the preschool that has been in the works for more than a year. The idea for the preschool came about when some church members discussed how to help the community. During the process, they phoned some of the local faith-based preschools and discovered that the schools had up to 60 children on waiting lists. That inspired them to create another faith-based option.
"The primary objective is to meet the needs of young families in our community," says Johnson. "We want people to know the grace and love of God, and we also want young mothers and fathers to know that their kids are in great hands and they're safe."
With 25 years of experience as a kindergarten teacher, Utter understands how important preschool is for young children. "The foundation for learning is set by preschool, which is why it's a child's first educational step," she says. "I feel very blessed to assist with a project that will help young families in the area get off to a good start."
The congregation aims to raise $50,000, which will cover the costs of refurbishing the classrooms, purchasing new school and playground equipment and keeping the facility up to safety standards.
The committee hopes to have the preschool opened by September, as it has to pass government inspections and checks before it can officially start enrolling. The preschool will provide space for around 60 children, ranging from potty-trained two-year-olds, to five-year-olds too young to begin kindergarten.
Carol Hilton, a member of the preschool development committee, says that already all generations of churchgoers have contributed to setting up the preschool, including an Eagle Scout who handcrafted a shed for the playground. Hilton has only been attending the church for five years, but the comforting camaraderie keeps her coming back.
"The reason I've stayed here is that the church gives me such a loving, homey atmosphere," she says. "Everybody cares for everybody."
161 South Orange St, Orange CA 92866 / (714) 532-6363