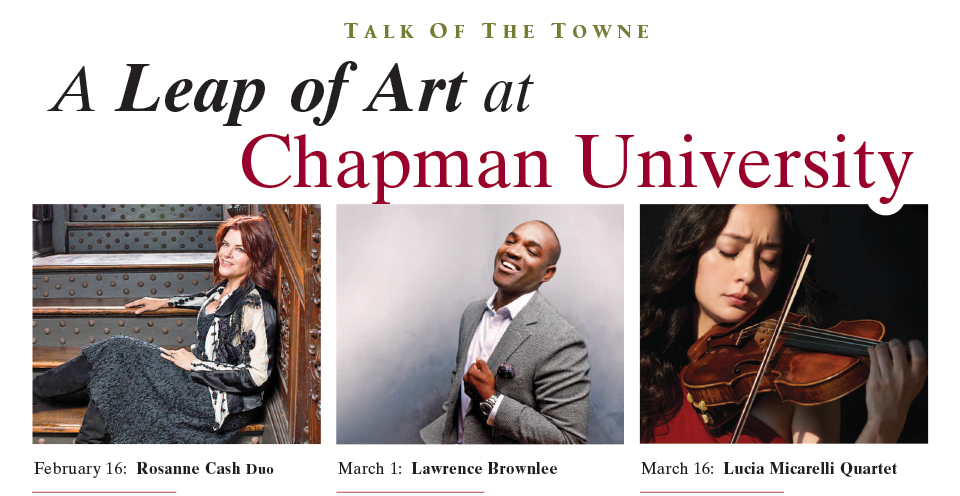 Leap of Art residencies started during the 2019-20 Musco Center for the Arts season as an outgrowth of Chapman University's Master Classes. Visiting artists and companies conducted the classes—where students performed for them and were critiqued—while in town to do a public event at Musco.
Richard Bryant, Executive Director at the venue since its 2016 opening, thought residencies comprising classes, workshops and other activities over multiple days would further enrich the Chapman student experience.
Being in the presence of working artists who have toured all over and are "exemplars of what they do" ends up having "a profound effect on students," explains Bryant. Giulio Ongaro, Dean and Professor, Chapman College of Performing Arts, meets weekly with Bryant to discuss ideas and plan residencies.
"I felt it would be nice to bring in people who can connect with other disciplines," explains Ongaro. He also wanted to "engage more people at the university and make them feel The Musco is not just for entertainment. The facility provides an added value to the intellectual life of the university."
Ongaro recalls one residency where a dance company "worked three or four days with students, taught choreography and worked on technique. The students absolutely loved it because they got to interact with top-notch professional dancers."
Last October, a residency by creatives of film series/multimedia work about incarcerated youth, "The Just and the Blind," provided technical help for students and went beyond that to initiate conversations, Ongaro says.
The artists hosted a small Q&A session. Their guest class with company dancer Drew Dollaz was "an opportunity to dive into a completely new style without the pressure of judgment or expectation," says Chapman senior Lauren Bramlett, a Dance Performance and English Literature major.
Dollaz "taught us his signature 'Flex'N' style, a fusion-driven type of hip-hop/breaking/gliding that none of the Chapman dancers had been exposed to prior," Bramlett continues. "He was "easygoing, focused on fun and effort as the primary goals of the class, rather than wanting us to emerge as pseudo-experts."
Bramlett says the class was "a great reminder of how wide and varied the dance world is beyond our typical collegiate training, and it gave us important practical experience in building our willingness to adapt to unfamiliar styles with open minds."
Bryant notes he and Ongaro are careful to select artists who have a heart for this type of work, as not all do.
Georgia-based singer/songwriter and multi-instrumentalist Kishi Bashi, once a member of noted indie pop band of Montreal, has done more than one Leap of Art. The musician's stint encompassed a panel discussion, and students from surrounding high schools were integrated into his performances. Classical/Hip-hop instrumental duo Black Violin invited students to play with them during one of their two residencies.
Having people like Kishi Bashi or actor/activist George Takei ("Star Trek") talk about their experiences as Japanese Americans during a Leap of Art week brings focus and visibility to Chapman, Bryant says. "Their engagement on campus is like a topic on steroids. It permeates and is effusive."
Bryant compares the burgeoning popularity of residencies to a reactor. "It has all kinds of energy coming off it in different directions. We went from four residencies before COVID to 10 this year."
For Bramlett, attending the residencies "did so much for me in bridging the gap between process and performance." She thinks the primary benefit for students is "building connections, both with individuals in the industry, and within their own perceptions of rehearsal and performance."
All told, the Leap of Art hosts "amplify and reflect the passions of Chapman across multiple fields," says Bryant.
Upcoming Residencies (and public performances):
February 16 - Rosanne Cash Duo: Cash is a multiple Grammy-winning Americana recording artist and the daughter of Johnny Cash. She plays with guitarist, singer and husband John Leventhal.
February 23 - Pilobolus: The American modern dance company marked its 50th year in 2021.
March 1 - Lawrence Brownlee: The Ohio operatic tenor singer spotlights "Songs from the Harlem Renaissance."
March 16 - Lucia Micarelli Quartet: The New York violinist/singer/actor has toured with Josh Groban and Chris Botti.
April 29 - Martha Redbone: A Native and African American folk, blues and gospel vocalist, Redbone presents "Bone Hill: A Staged Concert."
Marybelle and Sebastian P. Musco Center for the Arts, Chapman University
415 North Glassell St., Orange, 714-997-6812.
Full event schedule at www.MuscoCenter.org