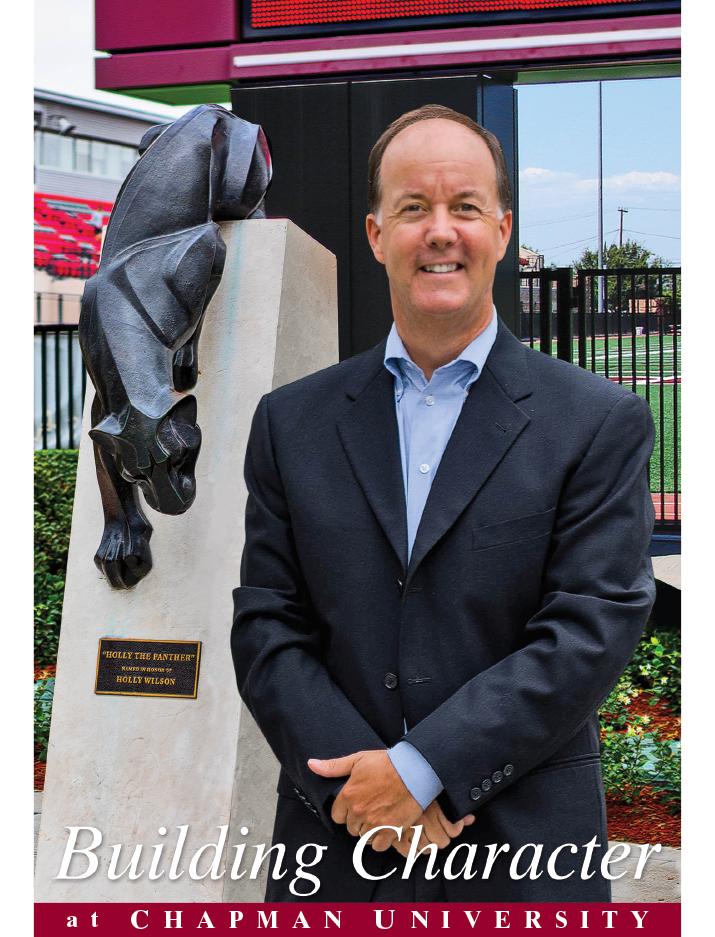 Mike Pelly
When Mike Pelly took his first job out of college at Chapman University as an admissions counselor in 1986, he never intended staying long.
"I'd planned on staying for a couple of years, and I've had other job offers, but every time I considered leaving, I looked at the plans for the next five years at the university, and it was too exciting to change jobs," says Pelly, who moved up through the ranks and is now Vice Chancellor, Dean of Enrollment Management. "Superior leadership at Chapman during the last 30 years has led to many exciting improvements."
Over the past three decades, Pelly has experienced Chapman's trajectory from a small regional college with 1,500 students, to a bustling university that currently ranks #6 in U.S. News & World Report's 2016 Best Regional Universities of the West ranking and is consistently ranked first or second in student selectivity.
Enrolling and Assisting Students
"My department manages the enrollment process, from beginning to end," says Pelly. "We help with enrolling students, including with financial aid, and guide students in developing their exit strategies, so that they graduate in a timely manner."
Given the high cost of education, Pelly's job is an important one. "Our financial aid office administers more than $100 million each year, and 82 percent of Chapman students receive and require some form of financial aid in order to attend," he says. "This makes it imperative that the limited funds are used wisely and judiciously."
Pelly has worked hard to make scholarship funds go as far as possible and dispel the myth that Chapman is unaffordable by creating partnerships with local organizations that match scholarships and by recruiting high caliber students eligible for state and federal funds. Many of these outreach efforts result in attracting first generation and under-represented students who may have otherwise not applied to Chapman. He is particularly proud that since he started at Chapman, the school has gone from a regional learning institution composed primarily of students from Southern California to a perse, national campus with less than 20 percent form Orange County.
Marcela Mejia-Martinez is Director of Undergraduate Admission at Chapman University. "Over the 18 years I've worked alongside Pel, as we call him, we have morphed into a university that is more geographically perse, medium-sized, with a better and brighter class each year," she says. "He is a flexible, strong, supportive leader, who has been instrumental in guiding our team to reach goals set by the senior staff and trustees."
Inspired Leadership
His style may be informal, yet he brings a strong sense of professionalism to the recruitment, admission and financial aid operations, adds Jerry Price, Dean of Students and Vice Chancellor for Student Affairs for Chapman University. "Mike really is an expert in the field and makes decisions only after thoroughly collecting and analyzing the necessary information," says Price. "His long tenure with Chapman has created an immense network of friends and allies who are immeasurably helpful to us in many ways. He also possesses an unwavering commitment to the university and its students."
Prior to taking the job of Vice Chancellor, Pelly had more direct contact with students. "In my previous position in Admission, I liked helping students navigate college choices," he says. "It may sound cliché, but I enjoy improving and changing lives."
In his current position, Pelly has the opportunity to create policy that benefits even more students, while still occasionally helping on a more personal level, such as recently when he discovered that a student, who lives in Los Angeles and is on scholarship, had to take two to three buses and a train in order to get to the university. "I found it very satisfying to arrange for her to get affordable on-campus housing," he says. "She can now devote more time to studying and experiencing college life."
Pelly admits that promoting the school to students and their families is fairly easy, considering the university's reputation, its beautiful campus and the location. "When families come visit Chapman, they fall in love with Old Towne, with its big-small town feel that offers a sense of community you don't find on other Southern California college campuses," says Pelly, who bought his first home in Orange, where he lived for 10 years prior to moving to Villa Park. He enjoys going to the Old Towne Orange Farmers and Artisans Market on Saturdays with his wife, Sara, and their dog, Orvis. Also in education, Sara recently became principal at Fletcher Elementary School in Orange.
Giving Back to Orange
Pelly enjoys donating his time to the community that he feels has given him much. One organization where he volunteers a great deal is the Community Foundation of Orange (CFO), where he has served on the board since joining the organization in 2011. Dedicated to preserving and enhancing Orange through a variety of programs, such as the Annual Foundation Games Youth Track & Field Meet and the Veterans Day Field of Valor, the organization helps everyone in the community, from kids to older adults.
Susie Cunningham is Executive Director of the Community Foundation of Orange. She met Mike when she considered him as a board member for the CFO.
"We have always had a strong relationship with Chapman, and we wanted to make sure we had a person on board (a Chapman liaison), who was a good fit," she says. "Mike has turned out to be an incredibly great fit for the CFO as a very active board member dedicated to making our organization and the community stronger. We hold our annual Gala at Chapman, and Mike was instrumental in introducing us to the Chapman Ambassadors—a terrific group of students who volunteer their time to assist with events. Last year, for our inaugural Field of Valor event, Mike put the call out to several Chapman student groups—the Greek Community, Football, Lacrosse, Basketball and others—to come help us with various aspects of the event, and they were phenomenal. Mike has also recruited students, alums, coaches and professors to help at the Foundation Games. He is a joy to be around and very conscientious."
Pelly learned about the value of community service early on in his career. "When I was an admissions counselor during my early years at Chapman, the woman in my current position required all employees in her pision to get involved by being a mentor or advisor to at least one club or organization on campus," says Pelly. "I played Lacrosse in high school and college, so I started Chapman's Lacrosse team, which I coached for five years until I decided to get my Masters of Science and Human Resources from the Argyros School of Business and Economics."
For Pelly, Lacrosse proved pivotal to his career. "I first played Lacrosse at the age of 7 in my neighborhood in Bellevue, Washington, where I grew up. Later, I played in high school and then at Whittier College when I earned my undergraduate degree," he says. "My Lacrosse coach was also the admissions director for the school, and one day a light bulb went off for me. I really admired him, and I saw from his example that working on a college campus had a lot of advantages. I essentially followed in his footsteps when I came to Chapman, and it's all worked out better than I could have ever imagined."