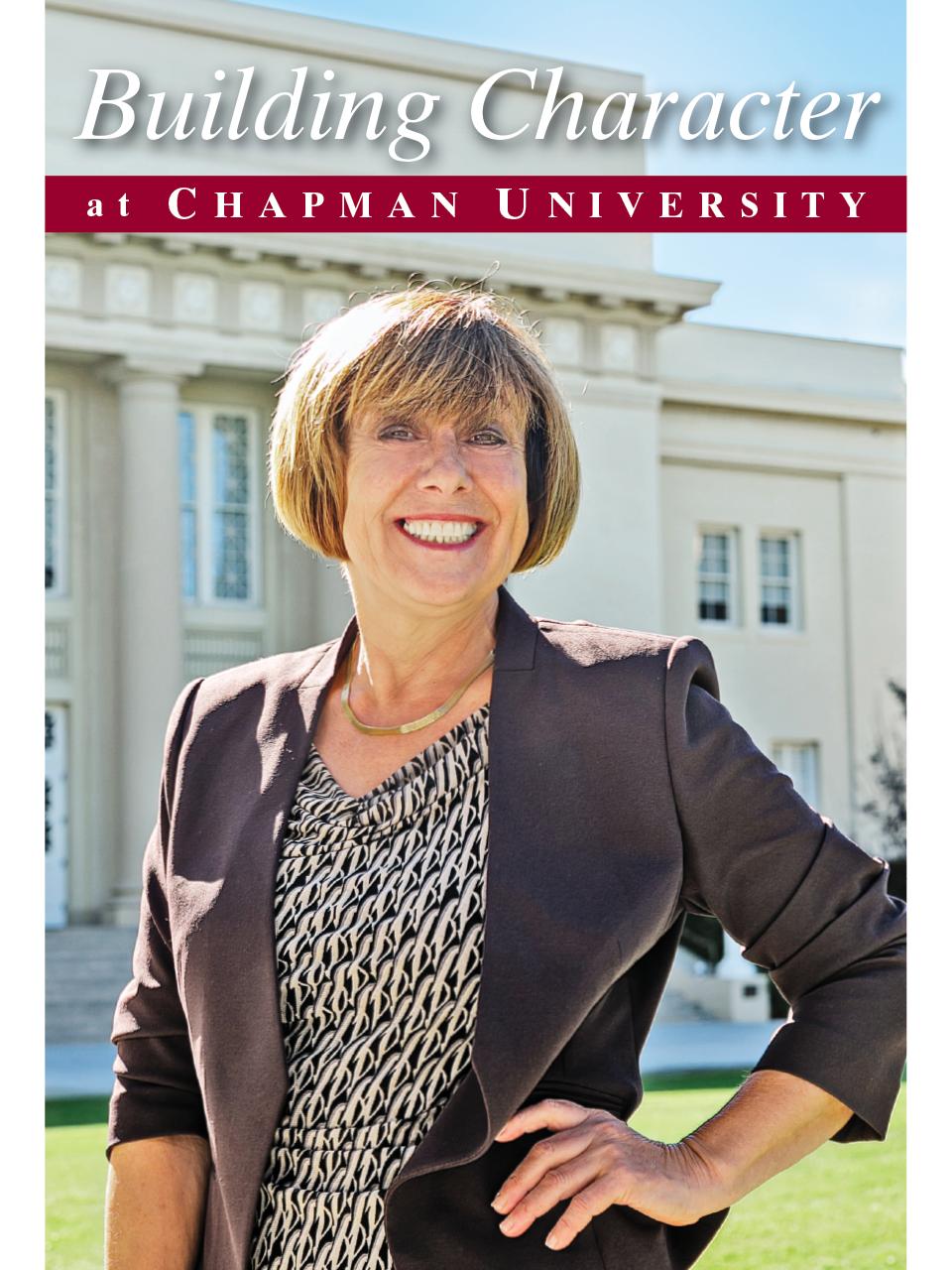 Norma Bouchard, PhD
As the new Provost of Chapman University, Norma Bouchard is right where she likes to be—on a "journey of discovery." While some might be overwhelmed by taking the reins as chief academic officer of one of the West Coast's highest-ranking universities, Bouchard revels in the adventure.
"I'm enjoying learning all about Chapman and meeting so many supportive and friendly members of the university community," says Bouchard, who took the position as Executive Vice President, Provost and Chief Academic Officer at the end of July. "I feel very welcome and am excited to be part of such a connected and talented team."
It is curiosity and the resulting learning that comes from exploring that marks Bouchard's career. In addition to serving in university administrative positions, she is a professor and internationally recognized scholar. Bouchard holds a laurea in French and German literatures from the University of Turin, Italy, as well as a master's and PhD in comparative literature from Indiana University-Bloomington. She has authored 11 books, 80 peer-reviewed articles and 60+ shorter publications. Her work lies at the intersection of literature and the arts, history, social sciences, philosophy, critical theory and aesthetics.
Native of Italy
Born and raised in northern Italy in the Piedmont region that borders France, Bouchard spent her youth hiking the foothills and skiing the mountain range near her home. Growing up in a border region inspired an interest in multilingualism, cultures and their traditions.
"I was a first-generation student," says Bouchard. "My parents were children of World War II, so education was a luxury for them. Like many Italians following the war, they worked in factories to help rebuild the country."
Bouchard immigrated to the United States in the 1990s where she started a family and worked for a few years. Eventually, the call to continue learning became strong enough that she went back to school to earn a master's and PhD in comparative literature from Indiana University-Bloomington.
"When I returned to school, my youngest son was less than a year old and my older son was 4," she says. "It was quite an adventure to go to school with them. At the time, it was a novelty to attend graduate school when you had young children, so I was fortunate to get a lot of help from other students. There was always someone to babysit for a couple of hours as I completed schoolwork. I also have a very supportive husband," says Bouchard of her husband, Carl Lemp. Today, one of her sons is a physician and the other works in high tech. "When you are a first-generation student like I was, the impact is not only on the individual, but your actions also have a positive effect on the family and overall community," she says.
Rise Through the Educational Rank
After graduation, Bouchard's first academic position was as visiting faculty at the University of Puerto Rico in the Department of Humanities. Following that year-long position, she was recruited by the University of Connecticut-Storrs for a tenure track position where she worked for 17 years until 2015. She rose through the ranks in Connecticut, including serving as Program Director, Department Head and Associate Dean of the College of Arts and Sciences. From there she spent four years as the Dean of the College of Arts and Letters at San Diego State University and then two years as Dean of the College of Arts and Sciences and Distinguished Professor of Global Studies at Drexel University in Philadelphia.
When a recruiter approached Bouchard in 2020 about interviewing for the provost position at Chapman, she was a little hesitant because we were in the middle of the pandemic. But she knew of Chapman's stellar reputation, so she decided to begin exploring the possibility.
"The more I learned about Chapman, the more excited I became," she says. "The university has a remarkable trajectory, while at the same time a strong sense of institutional purpose. I believe in the university's commitment to educate and equip students with skills—both of which are needed to succeed and become future leaders and global citizens who make a positive impact on society."
Bouchard's fresh perspective has been a welcome one, says Jerry Price, Chapman University's Dean of Students. "While much of the senior leadership at Chapman has been here for quite a while, Provost Bouchard brings new experiences, perspectives and insights that will be invaluable to us as we chart the course for where we go next," he says. "I also believe her way of engaging others with such warmth and positive regard will contribute greatly to the feeling of family and community that is such an important part of who we are at Chapman."
Roxanne Greitz Miller, Vice Provost for Graduate Education and Interim Dean, Attallah College of Educational Studies at Chapman University, agrees. "Provost Bouchard brings deep experience with a variety of academic programs at the undergraduate and graduate levels that will help us make judicious decisions about our academic operations in the future. As a female professor, I am also personally excited that Chapman has appointed its first female Provost."
Lifelong Teaching and Learning
Throughout her career, Bouchard has enjoyed teaching students as much as she has enjoyed learning. "My priority is to help create lifelong learners," she says, noting that Chapman's educational climate fosters this goal. "There is an emphasis on personalized education for students here that is reflected in the curriculum. Students are supported by faculty mentoring and advising and are encouraged to pursue their own interests, training and education, which I find exciting. This atmosphere cultivates a broad base of knowledge and a nimbleness that prepares students for the world after graduation. Interdisciplinary knowledge is just as important as disciplinary knowledge. It allows students to engage in a journey of exploration, and that is the point where the greatest discoveries are often made."
Bouchard is also grateful for the inspiration and ideas she has gained from students. "I find that the best ideas often come from discussions in the classroom," she says. "A student will ask a question that will spark curiosity and the pursuit of an answer. Further talk and exploration ignites even more passion about the topic. I've learned so much from students while instructing them."
In her current role as Provost and in other administrative roles, Bouchard has also learned a great deal about the inner workings of great institutions like Chapman.
"As an administrator, you gain a completely different perspective. You also come to see how important it is that the administration works as a team, including the support staff, without whom nothing would run smoothly. From where I sit at this moment, this is a unique leadership opportunity. What is mission critical at this point is operational excellence and preparing the university for the 21st century. I think Chapman is well situated to navigate the moment and thrive."