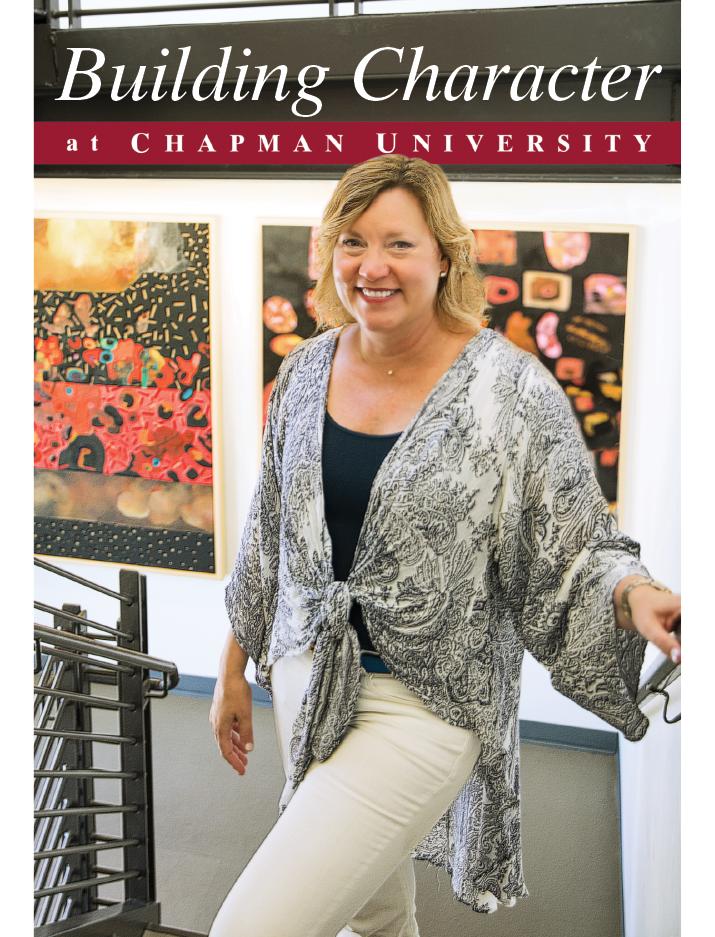 Lisa Sparks, PhD
Lisa Sparks, PhD Growing up in Woodward, Oklahoma—otherwise known as "Tornado Alley"—Lisa Sparks learned early on the value of effective communication.
"With frequent tornadoes, we were always in crisis mode," says Chapman's Dean and Endowed Professor of the School of Communication. "We learned to build relationships, because you never knew who you'd need to know when a crisis hit."
From a young age, Sparks also found herself in awe of communication created by the written word. "When I was nine, I had a morning paper route," she says. "I'm not a morning person, but even at 5 am, I found the stories and how journalists got the word out about them fascinating."
Prior to entering the education field, Sparks earned her undergraduate degree in Radio/TV/Film at the University of Oklahoma. She worked for a time after graduation as a TV anchor and reporter, but eventually felt a strong tug to teach. So she went back to school at the University of Oklahoma, where she earned her masters and doctorate in communication, specializing in health communication and aging. While there she studied under Jon F. Nussbaum, whose specialty is communication and aging.
Health Communication Specialty
In the fall of 1997, when Sparks was writing her PhD thesis focused on health communication and caregiving, she had a personal experience that cemented her interest in the specialty. Her father was diagnosed with advanced fourth stage lung cancer that had metastasized to his brain.
"I began living what I was researching," says Sparks. "I gained knowledge from the caregiving side that others in my field didn't have. That gave me some sage insights into what needed to be studied and improved regarding communication in the health field, particularly surrounding cancer."
Several years later in 2002 when working at George Mason University in Virginia as Director of Graduate Studies in the Communication Department, she became a Cancer Communication Science Research Fellow at a newly created Health Communication and Informatics Research Branch (HCIRB) at the National Cancer Institute (NCI), one of the National Institutes of Health (NIH). Since then she's specialized in cancer communication science, which is the study of health messaging in cancer contexts.
Sparks' work focuses on provider-patient interaction and family decision-making as related to cancer communication. She's written more than 150 articles and book chapters and has authored and edited 12 books, including several research articles with Nussbaum.
Sparks came to Chapman University in 2006 with her husband, Daniele Struppa, who is now the University's president. The couple met while they both worked at George Mason University and were married in 2003 in Struppa's home country of Italy. They have two daughters together, Arianna and Athena, and two additional children from prior marriages—Sparks' daughter Elena, who is currently a Chapman communication studies student, and Struppa's son, Alex.
Creating Chapman's School of Communication
When she started at Chapman, Sparks got right to work making a name for the university in the area of communication. She initially served as Chair of the Department of Communication Studies while spearheading the creation of the School of Communication, of which she became the inaugural Dean in fall 2016.
"Communication studies is the second most popular undergraduate major at Chapman, following business administration," says Sparks, who is currently awaiting approval to introduce an undergraduate major in Global Communication and Languages and an innovative PhD program in Communication. (The latter program promises to put the university on the educational map.)
Keith Weber is a professor in the School of Communication at Chapman and has known Sparks for 20 years. They met at the University of Oklahoma, and she recruited him to come to Chapman a year ago.
"Growing Chapman's communication studies from a department to a school is a big deal," says Weber. "Some of the professors she's recruited are the most well-known in the field. The fact that she's able to recruit such high-caliber educators and they stay is a testament to Lisa's leadership and vision for the school."
Weber is also impressed by the many roles Sparks fills. "Often deans are just deans. They stop teaching, researching and writing, but Lisa remains a strong faculty member and continues to perform all of these tasks. She's also a mother and the first lady of the university."
Former communication studies student Amy Rogeness considers Sparks a mentor and friend. She served as a research assistant for Sparks while studying for her masters and was recently hired as an instructor. She'll also serve as graduate coordinator and administrative assistant for the School of Communication.
"Lisa is a great strategic thinker, who strives to make improvements that better the 'Chapman experience' for students," says Rogeness. "I've seen a remarkable change in the Communication Studies program since Lisa took over. She looks for new course topics to offer that challenge and enlighten students, while ensuring an overall positive learning experience."
As Sparks sees it, the field of communication is a growing one—and Chapman's program excels at preparing students for whatever life throws their way.
"Our students study the science of messaging and graduate with theoretical and evidenced-based skills that can be applied in a variety of contexts, including in the work world," says Sparks. "In addition to employees who can work as teams and make decisions and problem solve, employers want workers able to craft arguments and tell stories that persuade and influence others."
Blending Teaching and Research
As a dean, Sparks doesn't teach as much as she once did, but she still loves guiding students. She especially enjoys hands-on learning, which she accomplishes by performing research projects with students that allow them to see how their theories play out.
She recently did some independent study projects with graduate students focusing on cancer communication that augmented research for the book she just finished, Conversing with Cancer. In 2015, she held a travel course to Cuba where she and students studied strategic communication in communist Cuba. Last year, she took students to Panama to study strategic communication with non-profit organizations working with former gang members to guide them to earn a clean living outside of gang life by learning to communicate with clients in the tourism industry, including restaurants and hotels.
Students like Rogeness enjoy Sparks' approach. "Lisa pushes students to think critically. She starts conversations that encourage viewing subjects from different perspectives. When she speaks about her research, her passion shines through."
One of Sparks' favorite studies focused on breaking bad news and how the conditions surrounding the delivery affected how the message is received. This led her to conduct an international research study in Amsterdam that focused on message framing and language choices that impact message acceptance and understanding.
"We found that how messages regarding health are framed linguistically affects their acceptance," she says. "For instance, instead of saying, 'the news is bad,' we found that saying 'the news is not so good' was heard as a softer, easier to absorb message."
Sparks also did a study with colleague Dr. Jennifer Bevan regarding how negative perceptions of health can negatively impact one's health. "I'd seen it play out in the cancer context and interpersonal relationships that if you spend a majority of your time involved in negative interactions that negatively affects your health," says Sparks. "The study showed some statistical significance along those lines."
Studies with the potential to help people excite Sparks. "I feel like I've been given a gift to help people, and I feel very fortunate to use my education and training for good."
Sparks has successfully imparted this knowledge to students like Rogeness. "The most important lesson I learned from Lisa was that we as researchers can use our knowledge to make an impact on those in our community and the world," she says. "Through our knowledge of health communication, we can change the trajectory of people's lives and help them live longer."
Doti Hall
Completed in 2013, the James L. and Lynne P. Doti Hall is a 17,000-square-foot classroom building named after the university's 12th president, who served for 25 years. The building features collaboration spaces designed to provide an informal environment where faculty and students can meet.
Sparks has her office in Doti Hall, which she finds fitting. "Jim Doti is a great communicator," she says. "He puts into practice all of the communication techniques we teach students."