Steve Johnson - Jan / Feb 13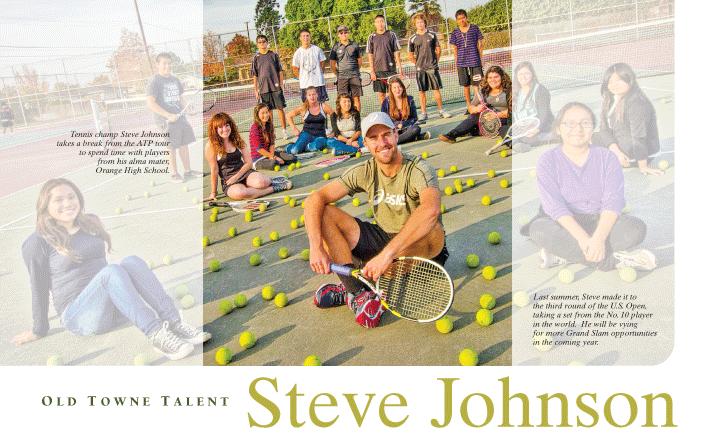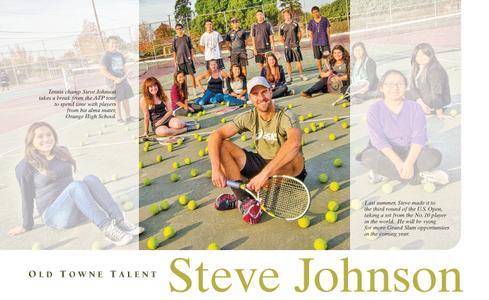 When professional tennis player Steve Johnson made it to the third round of this year's U.S. Open, it marked a milestone for the Orange native who not long ago played varsity tennis at Orange High School.
Joining the ATP tour last May, Steve says his solid showing at the prestigious Grand Slam event is just the beginning of good things to come.
"I'm working my way up the rankings," says Steve, who is currently ranked among the top 170 players in the world. "I'm looking to do my best and hopefully become part of the discussion about the current crop of guys who are taking American tennis to the next level."
Steve, 22, says he always knew he wanted to be a professional tennis player. Earning a scholarship at USC, he helped lead his team to four consecutive NCAA championships – one of only two NCAA teams in history to accomplish this feat. While at USC, Steve won the NCAA individual titles during his junior and senior years.
Tennis runs in Steve's family. With the encouragement of his parents, Steve began playing tennis at an early age. Steve's father, also named Steve, currently coaches and teaches at Rancho San Clemente Tennis and Fitness Club. His parents still live on Fern Street just a few miles from Old Towne.
Touring is now a full-time job for Steve, who was on the road for six months straight in 2011 and will continue to tour non-stop in the coming year, beginning with the Australian Open this January. He has played all over the United States and internationally in places like Turkey, France and Spain, to name a few.
"Tennis isn't a cheap sport and the costs are on your shoulders," says Steve. "But hopefully you are making more money at the tournaments than you have to spend on expenses."
Tennis fans in the local area will have the chance to watch Steve play at the Indian Wells tournament this coming March. Steve will also be vying for the main draw at this year's French Open, Wimbledon and U.S. Open. When he's not touring, he trains every day at the Home Depot Center in nearby Carson.
Steve says he felt good about his third-round performance at the U.S. Open in which he took the second set 6-2 from the world's No. 10 player at the time, Richard Gasquet. With the serve and forehand being his primary weapons, Steve likes to come into the net.
When he's not playing tournaments, Steve spends time with good friends on the tour who also love to play and compete. He knows most of the top players and was even Roger Federer's hitting partner for several days.
"Tennis is a big part of my life, but I also like to enjoy myself and have fun," says Steve. "I loved growing up in Orange. It's a very special place to me. Hopefully as I become more successful, I'll be able to give back to the people who have helped me along the way."
Select to view information on the Indian Wells 2013 Tennis Tournament
---
Published in the
Jan / Feb 13
edition of the Old Towne Orange Plaza Review Article Written by Karen Anderson, photos provided by Jeanine Hill
View More Articles