Lindsey Saletta - Mar / Apr 11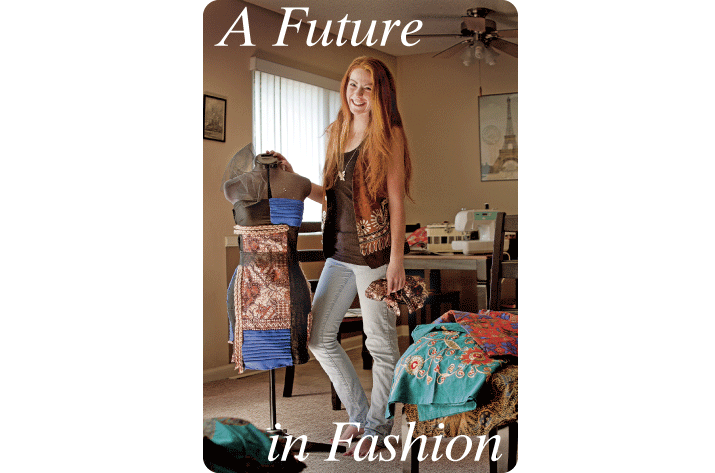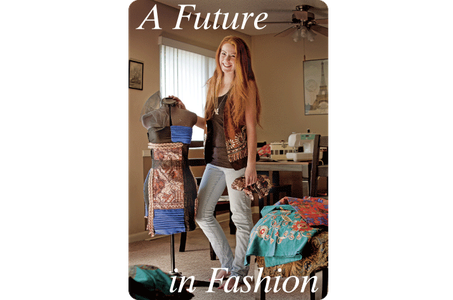 A fashionista with a good sense for business,
Chapman
grad
Lindsey Saletta
designs and sews her own line of sophisticated and sassy attire. Currently commuting to LA to work for a fashion PR firm, Lindsey plans to get more into the marketing end of the fashion industry, possibly in New York City.
When talent, ambition and dedication come together, the opportunity for success is increased tenfold. Such is the case with Chapman graduate Lindsey Saletta, who at age 21, is on her way to accomplishing great things in the fashion industry.
Currently working for a fashion PR firm in Los Angeles, the Orange resident recently graduated with a degree in communications from Chapman University, as well as a minor in public relations.
An artist at heart, Lindsey began sewing her own clothes in high school, creating sophisticated and sassy pieces that never failed to impress. While attending college, she continued to receive accolades for her attire, and with the encouragement of family and friends, decided to take it to the next level.
"I started sewing in my junior year of high school because I couldn't find what I wanted in stores," she recounts. "My mom taught me the basics and I taught myself the rest. Then I started getting more interested in creating collections. I had my first fashion show in 2009 at the university as part of the fashion club I helped create, Chapman Runway Fashion Club. The whole process was super rewarding."
From "affluent hippie" to global sophistication, Lindsey's fashion sense is reflected in her LCS Designs collections. Showcased at LCSDesigns.com, the collections feature fabrics gathered from around the world, including vintage Valentino silks and Italian metallic embroideries.
Whether tribal prints or sari patterns, Lindsey's styles are a study in combined aesthetics. She says she's inspired by the myriad fabrics her family acquired from around the world during their travels.
"I use a lot of vintage fabrics in my samples. I found this fantastic source in Italy that can reproduce the boutique prints. Some of these fabrics haven't been in print for 50 years."
Growing up in a small town in north county San Diego, Lindsey always had what she calls a "rampant imagination." A self–described high achiever, Lindsey earned a prestigious "Presidential" scholarship to Chapman University, where she pursued a full schedule of classes while working three jobs. She graduated in 2010 in less than three years.
"I've always wanted to hold myself to the highest standards possible," she says. "If what you're doing in life isn't actively making you a better person, then don't do it."
With the focus on PR, Lindsey hopes to continue developing her own line, while at the same time gaining experience working for others in the areas of brand strategy, event production, product launches and marketing. She says her career will most likely take her to Los Angeles full time, or possibly New York City.
"Old Towne has been great to me and I do love it. I feel like it's time for me to take the next step and leave the safe haven for a while and be in the big city environment."
As for her next step, Lindsey knows there are opportunities ahead and she's prepared to take on the challenge. No matter what happens, she will continue to make fabulous clothes for herself and others.
"I'm working on a new collection I hope to produce eventually," she says. "But if I don't, I still have a closet full of awesome cocktail dresses."
---
Published in the
Mar / Apr 11
edition of the Old Towne Orange Plaza Review Article Written by Karen Anderson, photos provided by Will Hare
View More Articles