Barbi Galinda - Sep / Oct 11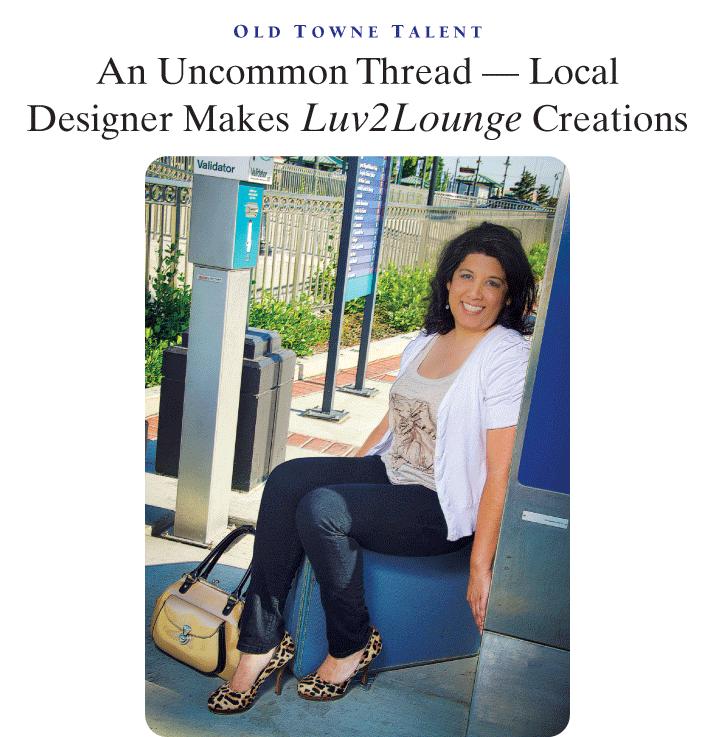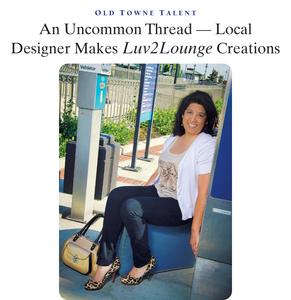 Entrepreneur
Barbi Galindo
takes a break at the
Orange
Train Depot, where she will be hosting a spring fashion show next year featuring her vintage–inspired line of
Luv2Lounge Apparel
.
Barbi Galindo always knew she had a penchant for sewing, but it wasn't until she made a friend a pair of handmade pajamas that she realized a viable business could be in the making.
"My friend and I met at a restaurant for her birthday," recalled Barbi, who was working in the healthcare industry in sales at the time.
"She put the pajamas I had just given her out on the table, and countless women stopped by to admire them. I thought, hmmmm, I might have something here. I decided to start selling to my existing clients, including doctor's wives. Then I realized I could launch a line."
Featuring soft, luscious fabrics with vintage–inspired prints, Barbi's "Luv2Lounge" line had been gaining prominence for the last five years. In addition to the PJs, her product roster includes aprons, dishtowels, loungewear and cotton shower caps lined in plastic. Eco–friendly and washable, the shower caps have become so popular that she's already sold more than 6,000 of them through specialty boutiques, her online store and on Amazon.com.
"The fabric prints are cute as opposed to those plastic hotel shower caps," she said. "They are unbelievable little items that everybody wants."
Here in Old Towne, Luv2 Lounge shower caps and pajamas can be found at Paris in a Cup. The Bite Market carries her aprons.
Barbi employs a team of seamstresses, and all of her products are made entirely in the USA. No matter how large her business may become in the future, she says she will always remain true to her "Made in the USA" commitment.
"It feels wonderful to have my own creative outlet," said Barbi, who still works part–time for Kimstaff, a PEO (HR outsourcing company). "It gives me complete balance in my life. I wasn't afraid to start a new business. I learned the business side of things from my existing profession. Learning the manufacturing side of the textile industry was challenging, but I was confident that my ideas were good."
Growing up in Colorado and San Diego, Barbi learned to sew from her grandmother and mother. Admiring the detailed stitching in clothing from the past, Barbi creates pieces utilizing French seams with no raw threads exposed.
Requiring twice as much work as regular sewing, the seams are stitched two times, with the raw threads hidden between the seams for a finished look.
Having traveled the country extensively during her previous public speaking job, Barbi recently settled into Old Towne after living in Aliso Viejo for many years. She enjoys the small–town atmosphere and close–knit community here.
"I've traveled everywhere to most all of the 50 states. Being on my own, with all the traveling I've done, I never felt a sense of community until I moved here. I remember when I first moved into my house, my neighbor brought me dinner and welcomed me. It was just amazing."
Barbi is planning a 2012 spring fashion show in the park adjacent to Ruby's by the train depot. Featuring a 1940s old–Hollywood theme, the show will unveil her new line of resort wear and lingerie inspired by Joan Crawford, Betty Davis, Rita Hayworth, Grace Kelley and World War II styles from Japan.
For information about the show, contact Barbi at Luv2Lounge.com
---
Published in the
Sep / Oct 11
edition of the Old Towne Orange Plaza Review Article Written by Karen Anderson, photos provided by Jeanine Hill
View More Articles