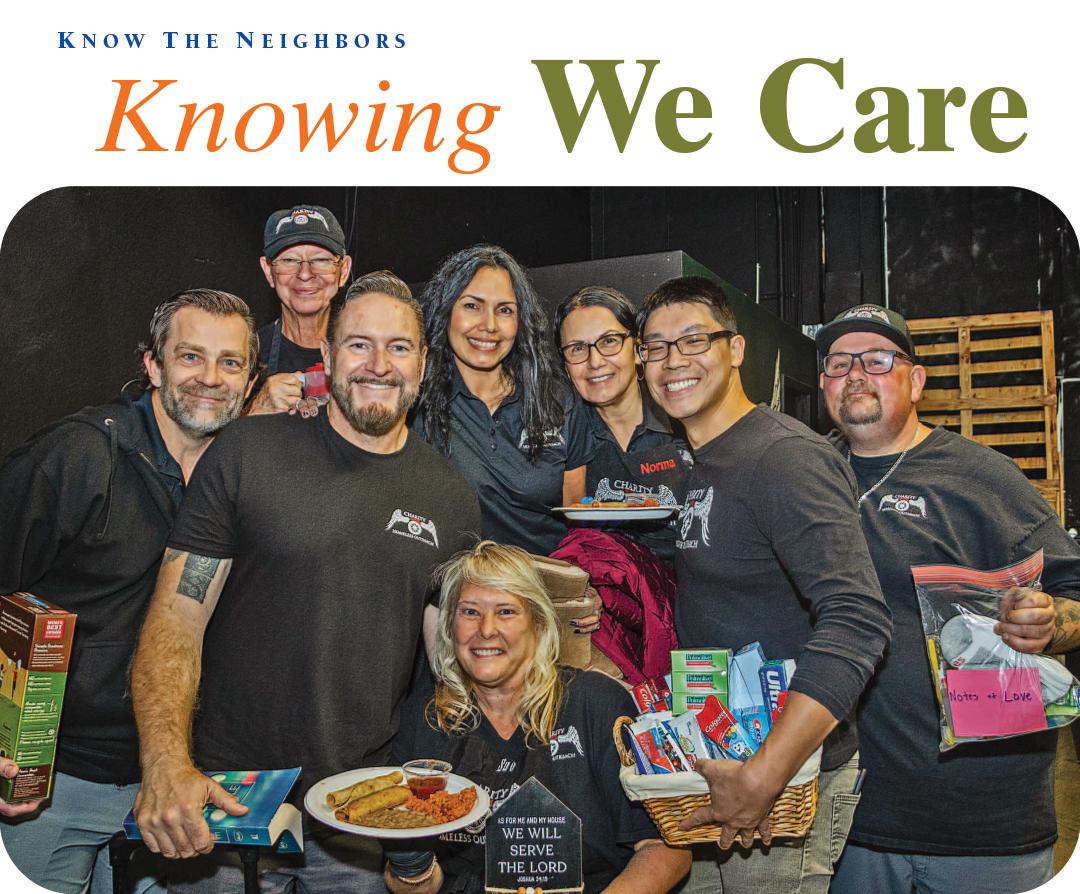 Charity on Wheel's team members are ready to serve at a Wednesday night gathering as part of their homeless outreach and engagement. Pictured here (from left) are Paul Moffitt, Phil Finley, Zach Southall, Michelle Southall, Norma Amezcua, Kevin Ni, John Rhodes and (seated) Sue Stout.
- - - -
Charity on Wheels
Ten years ago, motivated by their faith, Zach and Michelle Southall founded Charity on Wheels, a homeless outreach dedicated to getting people off the street and back on the road to self-reliance.
"I started by just driving around and engaging with the homeless wherever I could," recalls Zach.
Around this time, Zach was also working as a Worship Pastor, and while filling in for another pastor at Salvation Army's Praiseworks Church in Anaheim, he met their Director of Homeless Ministries, whose system for rescuing and restoring people suffering from homelessness Zach would base his model on. Soon after, Charity on Wheels was born.
"Initially, I didn't know what I was doing," says Zach, now Director of Worship Arts at Salem Lutheran Church & School in Orange. "But I learned quickly that no one cares about what you know until they know you care. Everything must start from a genuine relationship."
The Southalls describe Charity on Wheels as a bridge—filling in gaps between help services.
"There is not a one-size-fits-all solution to homelessness," says Zach.
In addition to street outreach, the Southalls also host a weekly dinner gathering at their facility in Anaheim. The gathering includes a worship service, along with access to their pantry and wardrobe. Guests can also receive resource navigation to help them get off the street.
"We try to facilitate getting each person the best treatment we can find, and continue to stay engaged," says Zach. "We have vans that pick people up from parks and shelters and bring them to our Wednesday night gathering."
They do this to continue building relationships. "We need to provide an ongoing community of support to replace the old community that we're trying to pull them out of," says Zach.
Charity on Wheels also offers one-on-one case management at their location, which is also used as a "rest center" on Mondays where homeless can come and relax, sleep, read or watch a movie.
"We've seen a lot of transformations over the years—not just with the homeless, but even with our volunteers," says Michelle.
John Rhodes first met Zach eight years ago when he was homeless and now works with Charity on Wheels giving back. "Zach invests himself with you, and you really feel like you're cared for. That stood out because you don't really get that from other outreach organizations," says Rhodes.
The Southalls say it takes a village and acknowledge there are a lot of moving parts. "We are trying to give people a hand up—not a hand-out," says Zach.
Charity on Wheels
3152 East La Palma Ave., #D, Anaheim, CA 92806 / 714-406-3049