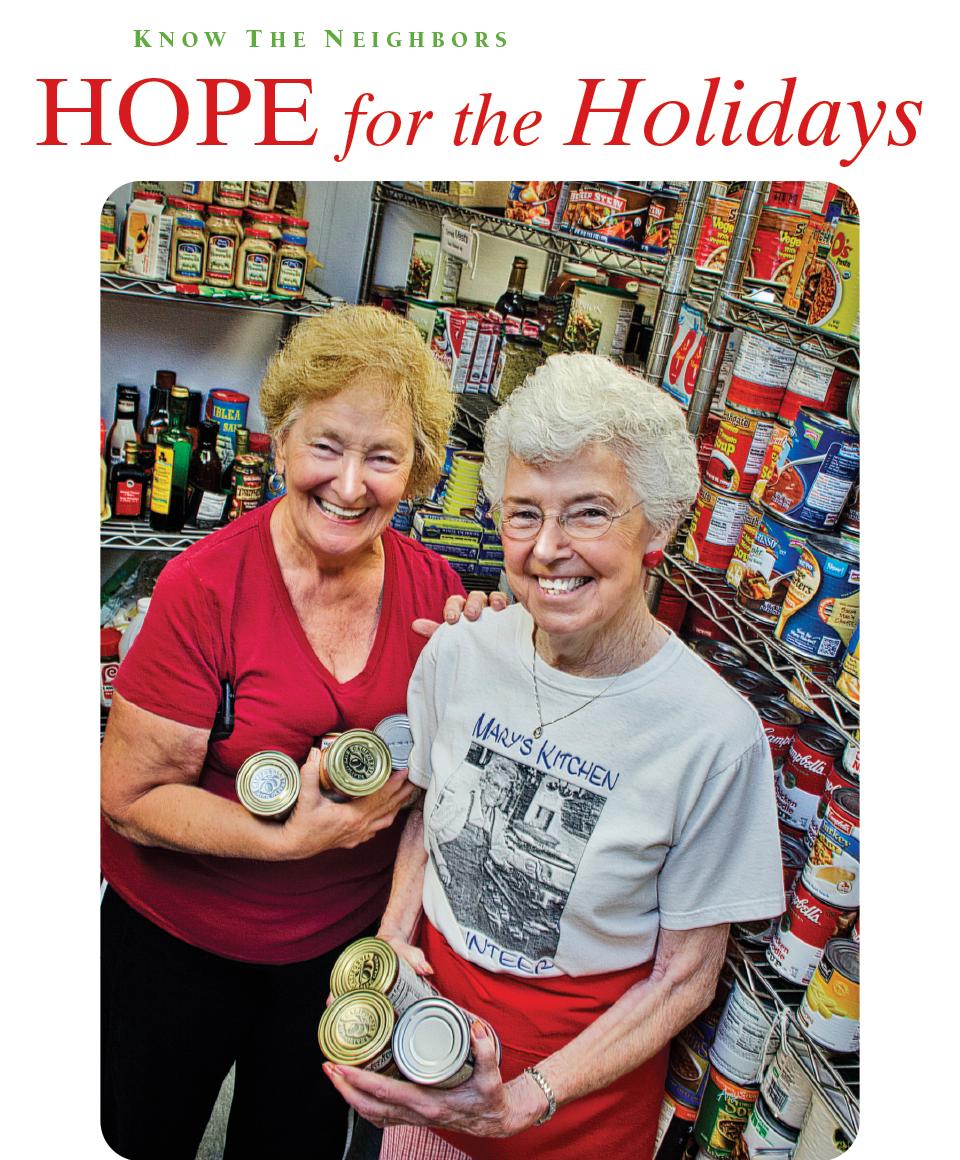 Chairperson Gloria Suess (left) with longtime volunteer Helen Anderson in the pantry of Mary's Kitchen. Helen has been with the organization since its inception in 1984 when she joined founder Mary McAnena in her mission to help the homeless.
Mary's Kitchen
On any given Monday through Saturday, more than 200 people in the homeless community find comfort and joy at Mary's Kitchen, where volunteers provide hot meals, clothing and services to those less fortunate.
Every holiday season, Christmas cheer abounds at Mary's Kitchen. As has been the case for 30 years, Tulsa Rib Company will cater a festive holiday dinner on Christmas Day, while volunteers from Holy Family School and the community will distribute gift bags, clothing and homemade Christmas cards.
A homegrown organization, Mary's Kitchen was founded in Orange in 1984 by local resident Mary McAnena, who soon partnered with another local resident, Helen Anderson, to cook meals for the homeless. Through the years, the non-profit charity has depended solely on financial and in-kind donations, as well as the generosity of community volunteers.
Among the supporters includes Remland Insurance in Old Towne, which will host an annual Holiday Donation Drive to take place Decemer 1st through the 18th at its office at 636 East Chapman. This year's wish list includes sleeping bags, blankets, jackets, new socks, travel-size toiletries, clothing and non-perishable foods — all of which can be dropped off at the Remland office on behalf of Mary's Kitchen.
At 91 years young, Helen recalls the early days of the program in which she and Mary cooked chicken barley soup on a four-burner, apartment-size stove at Mary's home. The duo transported meals for 15 people in an old station wagon to nearby Hart Park.
"Mary had met a girl eating beans out of a can with her fingers on our church steps," Helen recounts. "Mary said, 'this is the richest country in the world. We should not have anyone in that situation.' At the time, I had a deathly health diagnosis. I made a bargain with the Lord to do something for the less fortunate. The next thing I knew, I was volunteering for Mary. Mary passed away in 2003. She made it until she was 100."
Providing meals at the park until 1993, Mary eventually found a permanent home through the City of Orange on West Struck Avenue, where they've been ever since. What started as a one-room mobile unit doubled in size with the addition of more space and a prep room.
"Nearly every single week, there is a miracle that happens here," says Helen. "One time I gave a volunteer some money to go get bread. He didn't even get to the door when one of my friends from the market showed up with a van load of bread. Another time, we were packing lunches and one of the girls noticed there were no cookies. Just then, the phone rang from somebody who had bags of cookies for us."
Mary's Kitchen receives donations from Ralphs, Albertsons, KFC, Trader Joe's, Pete's Bakery, Starbucks and "so many other organizations that are so good to us," says Helen. But the need for continued assistance is ever present.
"We are 'open arms' to every kind of person in the world. And our rule is always to treat everybody with kindness, no matter what."
For information, call Gloria Suess at 714-357-0536.