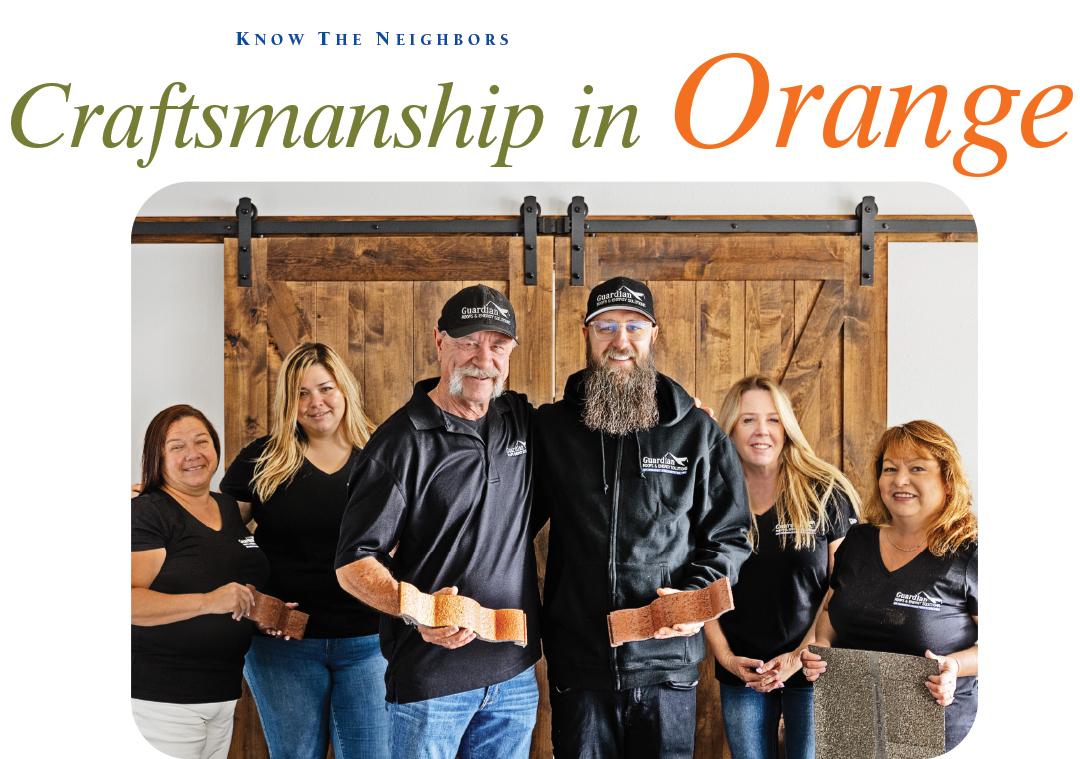 At Guardian Roofs, covering customers with roofing solutions is top priority. Pictured here is the company's team (from left) Hope Valdez, Helen Tredo, Owner Steve Sudduth and his son, Justin Sudduth, Diana Hughes and Mona Portilla.
- - - -
Guardian Roofs and Energy Solutions
When it comes to roofs, Steve Sudduth is the expert. Steve took over Guardian Roofs and Energy Solutions 36 years ago and has expanded over recent years. Steve's son Justin Sudduth joined the family business at the age of 20.
"My dad liked the idea of having a family run business where his employees and homeowners felt comfortable and know they will be taken care off," says Justin. "He likes to treat his employees like family and not like just any other employee."
Based in Orange with locations in Los Angeles and San Diego, Guardian Roofs has much of Southern California covered.
Paul Moen is a property owner who now only uses Guardian Roofs for his properties after years of working with other companies.
"I met Steve on a plane, and he was an honest guy with integrity and really cared about his employees by the way he talked about his company," says Moen. "Months later, I had a roofing situation and called Steve. The follow through and the honesty was fantastic. They were very communicative throughout the process. I learned a lot about roofing."
In California, most people want to make their homes more energy efficient. Guardian Roofs informs homeowners of all the different types of energy efficient roofs available to them so that they may select their best option. The latest roofing trends are the Green Shingles, also called "Cool Roofs."
"Cool Roofs is one of our specialties," says Justin. "We are an Owens Corning Platinum Preferred installer, as well as GAF and CertainTeed."
Guardian Roofs takes pride in giving back to the community and has teamed up with Habitat for Humanity and Owens Corning to help a Navy Veteran get a brand-new roof.
"These men and women sacrifice their lives for this country," says Justin. "The least we can do is make sure they have a roof over their head for them and their families."
Justin points out that Old Towne Orange has its own identity because of the natural beauty in the community and its historical homes.
"Not all roofs are the same," says Justin. "Homes shift due to weather conditions and earthquakes. Some roofs have different thicknesses of plywood but what does stay the same is the quality workmanship we provide. We pride ourselves on protecting—that is important to us. This is our town, and we don't want to disrupt that; we want to complement it."
Guardian Roofs and Energy Solutions
1010 North Batavia St., Orange CA 92867 / 714-633-3619