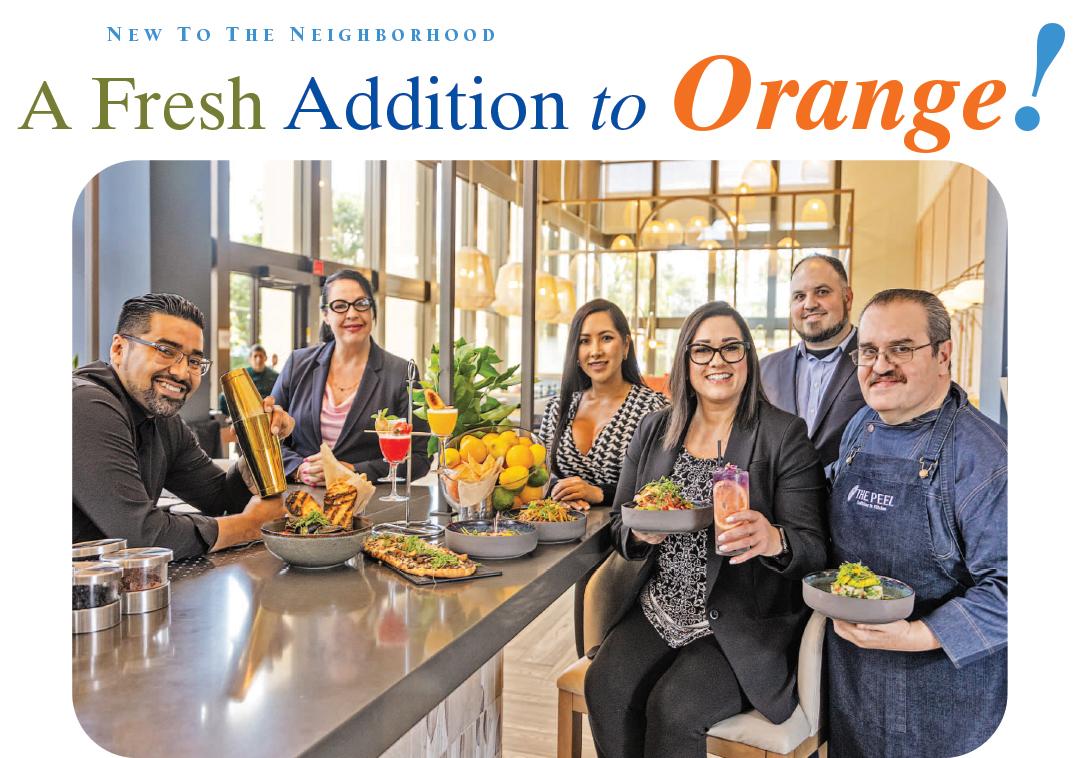 Food & Beverage Manager Alan Gamarra, Assistant General Manager Pennelope Wright, Director of Group Sales Vieira Valones, General Manager Maria Evans, Food & Beverage Manager Nicolas Valle and Executive Chef Luis Martinez stand in the hotel restaurant's recently renovated space. Located in the new Hotel Fera, The Peel Craftbar & Kitchen has a bar-focused atmosphere with a drinks and food menu driven by local farmers and modern Californian cuisine.
- - - -
The Peel Craftbar & Kitchen
The local DoubleTree by Hilton has been reborn as Hotel Fera Anaheim, accompanied by a fresh new restaurant: The Peel Craftbar & Kitchen, which opened by The Outlets at Orange in June. The culinary establishment is inspired by modern Californian flavors, and features a seasonal, chef-driven menu created by Chef Luis Martinez.
"California has a big diversification in terms of the people here, and our menu reflects that," he says. "Our restaurant celebrates the city of Orange and all of Orange County."
The Peel's upscale menu and dining experience mirrors the atmosphere of the new Hotel Fera, which was rebranded by the hospitality management company SPIRE Hospitality.
"The hotel group looks to bring boutique-style energy to different communities, and they saw Orange County as a perfect fit for this project," says The Peel's Food and Beverage Manager Alan Gamarra. "They remodeled the existing hotel to meet the standard of this new boutique style that fits the community well."
Diners are taken on a culinary journey with the menu, finding a range of cuisines that blend to be "quintessentially Californian." From pan-roasted salmon to a slow-roasted Cuban barbecue sandwich to Korean-style hot wings with gochujang hot sauce, there's something for everyone.
The drink list, designed by Gamarra and his team of mixologists, introduces a modern twist to classic mixed beverages, with a focus on artfully made craft cocktails like the elderflower liqueur-based French Butterfly and the sunny Agave Summer with tequila and passion fruit.
"My favorite part of my work is collaborating with the culinary team to create modern cocktails that pair well with the food," says Gamarra. "Every cocktail not only represents our community and California, but also mixes effortlessly with the menu."
Guests visiting the restaurant every few months will notice a change. The restaurant is seasonal, so both the food and cocktail menus will update throughout the year to reflect the current season.
"We work within a 150-mile radius to source our food from local markets and local farmers," says Martinez. "That means we always have the most current produce on the market, so our ingredients are always fresh."
All of Martinez's creations are made in-house, from the dressings to the sauces, and draw inspiration from the diversity seen in the neighborhood, whether that's an Asian-influenced appetizer or an entrée styled after a Mexican classic.
"We want to celebrate that we're in Orange because we have a very rich history of cultured food," he says. "There's a lot of passion behind this menu, and what better place to be than in California?"
The Peel Craftbar & Kitchen
100 The City Drive, Orange CA 92868 / 714-634-4500