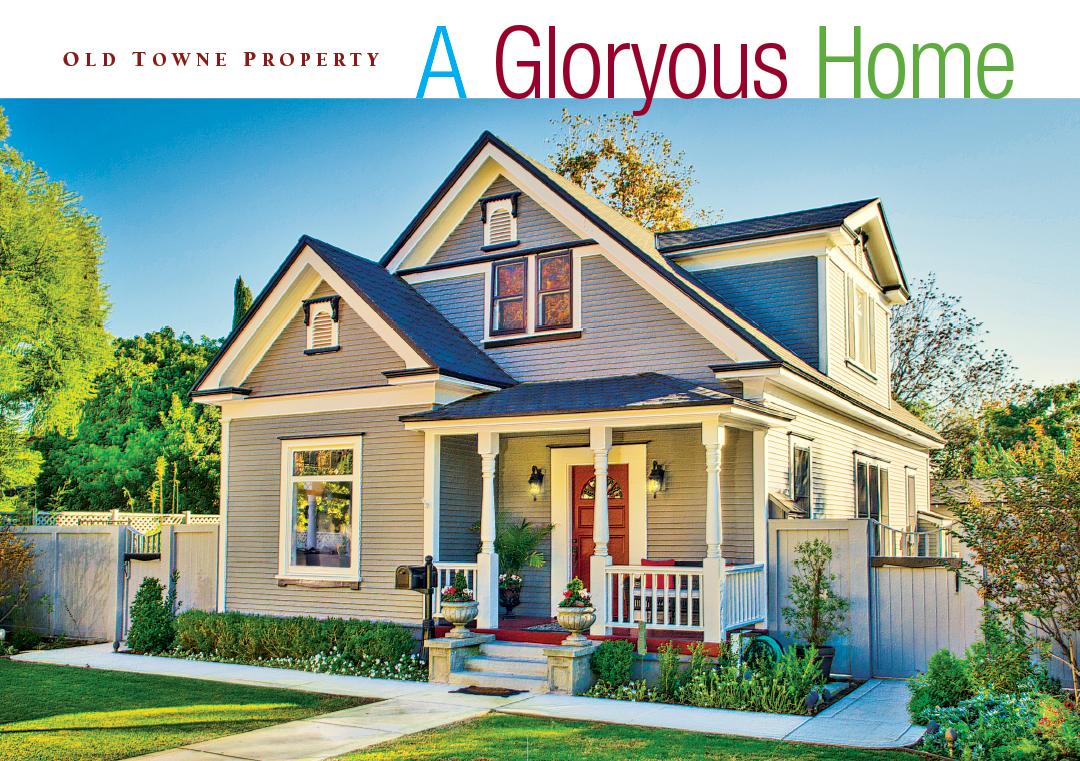 Built in the early 1900s, the historic home on East Maple was physically transported in 1985 from its original location on Batavia Street in Old Towne. Homeowner Glory Johnson has recently completed most of the renovations on the Revival Victorian residence.
- - - -
When Old Towne resident Glory Johnson and her husband Wayne decided they needed to move into a larger home to accommodate their extended family members who come to visit, they found exactly what they were looking for just a few doors down on East Maple.
No strangers to renovating historic homes, Glory and Wayne have recently completed most of the work on their newly purchased Revival Victorian on East Maple, located just down the block from their previous home. The beautiful residence showcases similar attributes as the 1908 Revival Victorian they lived in prior — right down to the bountiful garden in the backyard that Glory loves to tend.
With an extra cottage in the back and a larger backyard, the new residence provides the perfect setting for holiday gatherings, family reunions and entertaining. Fixing up the historic home has been a labor of love for Glory, who learned the fine points of historic preservation when renovating their last home.
"I love the process," she admits. "I'd even be interested in helping other homeowners with their renovation plans — once I finish this house, that is."
The kitchen nook provides a cozy space for the heirloom table belonging to Glory's grandmother. Wedding photos on the wall depict grandparents from both sides of her family, circa 1909 and 1918.
In renovating the home, Glory gutted the existing kitchen and added country-style cabinetry, a gas stove and an original door from her grandmother's house in San Pedro, circa 1895.
Leading up to the home's second story, the restored stairway showcases all-original wood.
- - - -
Built between 1910 and 1915, the home was originally located on Batavia Street. According to Glory, the house was physically transported from Batavia to its current location on East Maple in 1985. The homeowner who relocated the home, Gary Cline, recently contacted Glory to share his many photos and stories of the home's journey and original renovation done by him. Since then, the home had been owned by a variety of people through the years, including Chapman College.
With the help of local contractor Kevin Hockenberry, the couple set out to replicate or refurbish some of the original elements that had been replaced or compromised over time, including the crown moldings, windows and doors.
"We replaced some of the windows that had been turned into aluminum sliders and installed double-hung windows instead," she says. "There were some extra walls that had been added on the inside, so we removed them and returned the home to its original floor plan."
Glory also returned the doors to their original look, removing the white paint and adding refurbished hardware and knobs. She even restored a long-forgotten pocket door that was stuck in the wall. In keeping with the historic feel of the home, she purchased 100-year-old window glass to replace one of the larger windows in the parlor that had previously been converted into a slider.
The dining room features 100-year-old oak flooring milled from a farmhouse in Iowa. Glory obtained the reclaimed wood from Vintage Hardwood Floors in Santa Ana.
- - - -
"When you live in a historic home, you feel a responsibility to bring it back to what it originally was," she says. "It just felt appropriate to go the extra mile and install authentic window glass."
Although the front door is not original to the home, the house's original doorbell is still intact. It is an old-fashioned "turn and ring" style of doorbell-a reminder of a bygone era.Staying true to the home's vintage heritage, Glory has incorporated elements of her own past into the renovation, as well. Her grandmother's old door, for example, is now part of the home, along with other heirlooms like picket fencing and furniture.
Meanwhile, the original hardwood floors were so thin, Glory was unable to sand them any further. Instead, she decided to replace them with 100-year-old oak floors milled from a farmhouse in Iowa.
"I saw the wood planks at a storage yard of Vintage Hardwood Floors in Santa Ana and fell in love with them," she says. "You can still see the square-headed pegs that they used in those days instead of nails."
One of many angels in a section of Glory's garden she calls Angels' Path.
With a flower garden and fountain as the backdrop, the backyard features several areas for entertaining.
Glory collects birdhouses, which are situated throughout the garden.
- - - -
Not one to skimp on kitchen conveniences, Glory converted the old hot-water heater nook into an enclosed pantry. She also installed honed marble countertops to complement the vintage feel of the cabinets and counters. Gutting the existing kitchen was no small undertaking, but Glory now enjoys the new and improved space for entertaining and cooking.
"I'm a cook and the kitchen is my favorite room in the house," she says. "I designed it especially for when I'm hosting large gatherings." Specializing in documentation management and captioning for the television industry, Glory commutes once a week to Burbank, but works mostly out of the house. Her husband, Wayne, is the manager of Shared Services at Abbott Labs in Santa Ana.
The couple moved to Old Towne Orange five years ago after a mudslide hit their neighborhood in Laguna Beach on Bluebird Canyon. Her daughter, who was already an Old Towne resident at the time, showed her around town. She fell in love with it.
"My daughter lives just around the corner from where we are now," Glory says. "She gave me a glimpse into what Old Towne Orange is all about and how wonderful it is to be part of this community. We just love it here."
A glimpse of one of four raised beds containing an organic vegetable garden.
Glory shares time with her three grandchildren, Gabrielle, Stella and Maddox Goodman.
- - - -
In addition to her home improvement projects, Glory serves on the board of Orange Home Grown. She volunteers at the Old Towne Orange Farmers and Artisans Market every Saturday at the corner of Palm and Cypress.
For Glory, the process of restoring the landmark home has truly been a team effort. She especially appreciates the skill and expertise of Hockenberry, her contractor, who specializes in historic renovation.
"He has a crew of people who do phenomenal work," says Glory. "It's very special to have somebody like him to work with and to also have the understanding and patience of my husband, who goes along with my remodeling escapades."