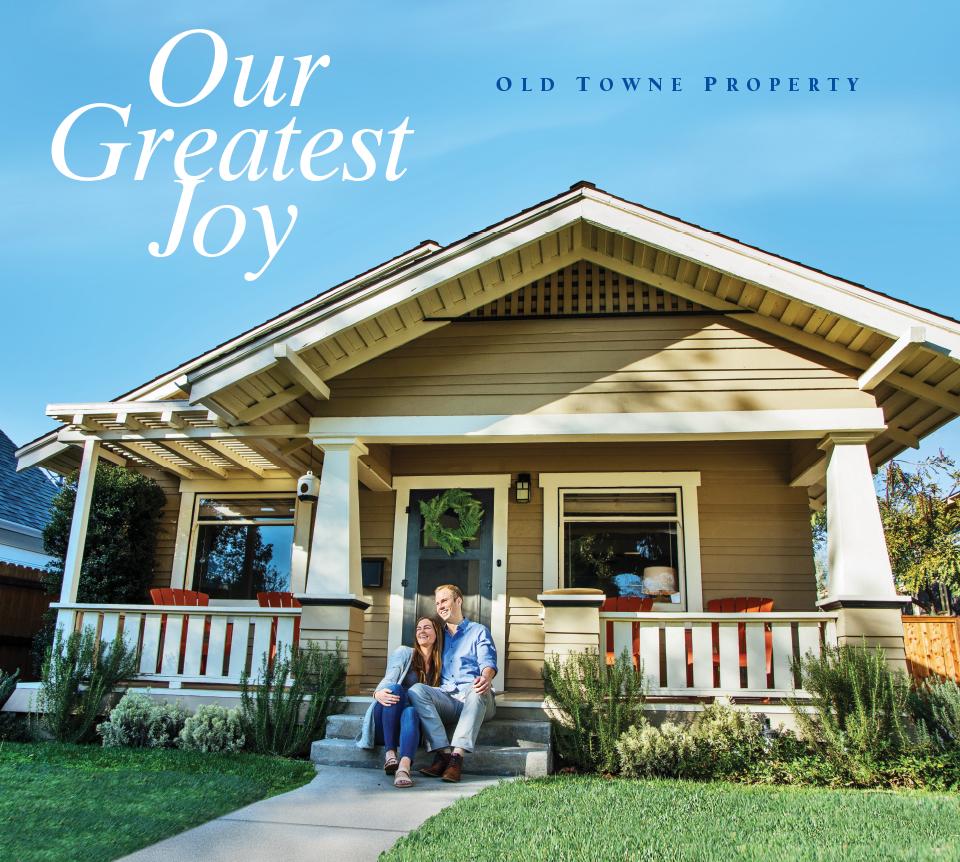 From their Craftsman bungalow on Palmyra, Sarah and Brad Greenwood enjoy 180-degree views of Old Towne's historic district. Built in 1915, the home is located just a few blocks away from Sarah's childhood home North Pine St.
- - - -
Living and working in San Francisco for 15 years, Sarah and Brad Greenwood decided to leave the fast-paced Bay Area lifestyle and settle down in Sarah's native hometown of Old Towne Orange.
The idea came in 2010 when Sarah first took Brad to Old Towne to introduce him to her parents. While in Old Towne, she showed him the quaint, historic neighborhoods where her parents, siblings, aunts, uncles, nieces and nephews still live. Originally from the Midwest, Brad was instantly taken with the close-knit community, which reminded him of his own upbringing in small-town America.
Several years went by as they kept watch on the local real estate market for leads, with the help of broker Kathy Greenwood of Greenwood Properties, Brad's mother. As luck would have it, Sarah's father was driving home from church two years ago and saw a realtor about to plant a "for sale" sign in front of a historic Craftsman home on Palmyra between Grand and Orange streets.
"My dad pulled over right then and asked if he could check out the house, which hadn't even been listed yet," said Sarah. "Kathy worked around the clock to make an offer before it hit the MLS. It all came together like a destined plan."
Located just a few blocks from Sarah's childhood home on North Pine Street, the couple's 1,200-square-foot bungalow, built in 1915, had been a rental property for decades, much of its vintage charm compromised by DIY renovations done by previous owners. Inside the living and dining rooms, for example, the original colonnades had been dismantled, while a good portion of the original moldings above the doorways and windows had also been removed.
Another enormous project that yielded splendid results, the couple recreated the exterior redwood siding that was damaged in the back of the house. They replaced it with custom-milled siding authentic to the era.
"The work that had gone into the building of these homes back in the day was so impressive," says Brad. "It gave us the impetus to restore the original siding with the same customized grooves so that each redwood plank fits neatly into the other. Nobody does it that way anymore. Even the original redwood was pure with no knots."
For a majority of the renovations, the Greenwoods hired renowned local craftsman, Ty Fitzsimmons, who they credit for bringing character and life back into the house. His craftsmanship and attention to detail are evident throughout—from his reproduction moldings, trim, medicine cabinets, wainscoting and framed mirrors, to a built-in unit in the living room that is now the focal point of the home. His next project will be to recreate the original breakfast nook that had been stripped bare in years past.
"Ty also built a gorgeous wardrobe for us," says Sarah. "We looked through old Sears Roebuck catalogs from the early 1920s for inspiration. He crafted the wardrobe in the traditional Craftsman style so that it's relevant to the era and adds historical character to the home."
With his office located just a block-and-a-half away from their home, Brad runs a San Francisco-based software engineering business called Scal.io, developing apps for companies, including Google and Uber. With a degree in interior design, as well as a background in creative marketing, Sarah is a seasoned professional in the home design industry. She started her career while pursuing her design program, working for a high-end San Francisco antiques dealer. She eventually transitioned to the e-commerce industry working for companies such as One Kings Lane and Minted, her current employer.
Sarah brings her talent and design aesthetic to the interior of their three-bedroom, two-bath home. Combining neutral hues with textures, Sarah mixes contemporary and traditional furnishings that include antiques and vintage pieces from Old Towne.
"One of our contractors found a 100-year-old medicine bottle under the house," says Sarah. "I loved the color of it. I started collecting old bottles from antique stores in the Plaza and displayed them in the living room. The browns and seaglass colors are a focal point."
Meanwhile, Brad has discovered a passion for gardening and landscaping. He spent months researching what type of foliage would work best to block the view of the multi-tenant building behind them. Little by little, he planted 14-foot stalks of timber bamboo that now tower above the property line. White roses line the front yard, while drought-resistant plants complement the exterior.
"The yard used to be all concrete," says Brad. "I never thought I had a green thumb, but landscaping is now one of my biggest passions. It's turned into quite a hobby. We love how our windows wrap around the entire house, letting the light in and revealing views of the beautiful, old trees."
The Greenwoods cherish being an integral part of the Old Towne community. The couple enjoys riding their beach cruisers through the neighborhood to visit Sarah's many extended family members who live nearby. Living just two blocks from the Plaza reminds them of their San Francisco days where shops, cafés and restaurants were within walking distance. They hardly ever drive, says Brad.
"Our new chapter in Old Towne Orange is centered around home improvement and our love for historic preservation," he adds. "We never realized until we renovated our own house that preservation would become one of our greatest joys in life. We enjoy being part of the community and helping to enhance the historic neighborhood."