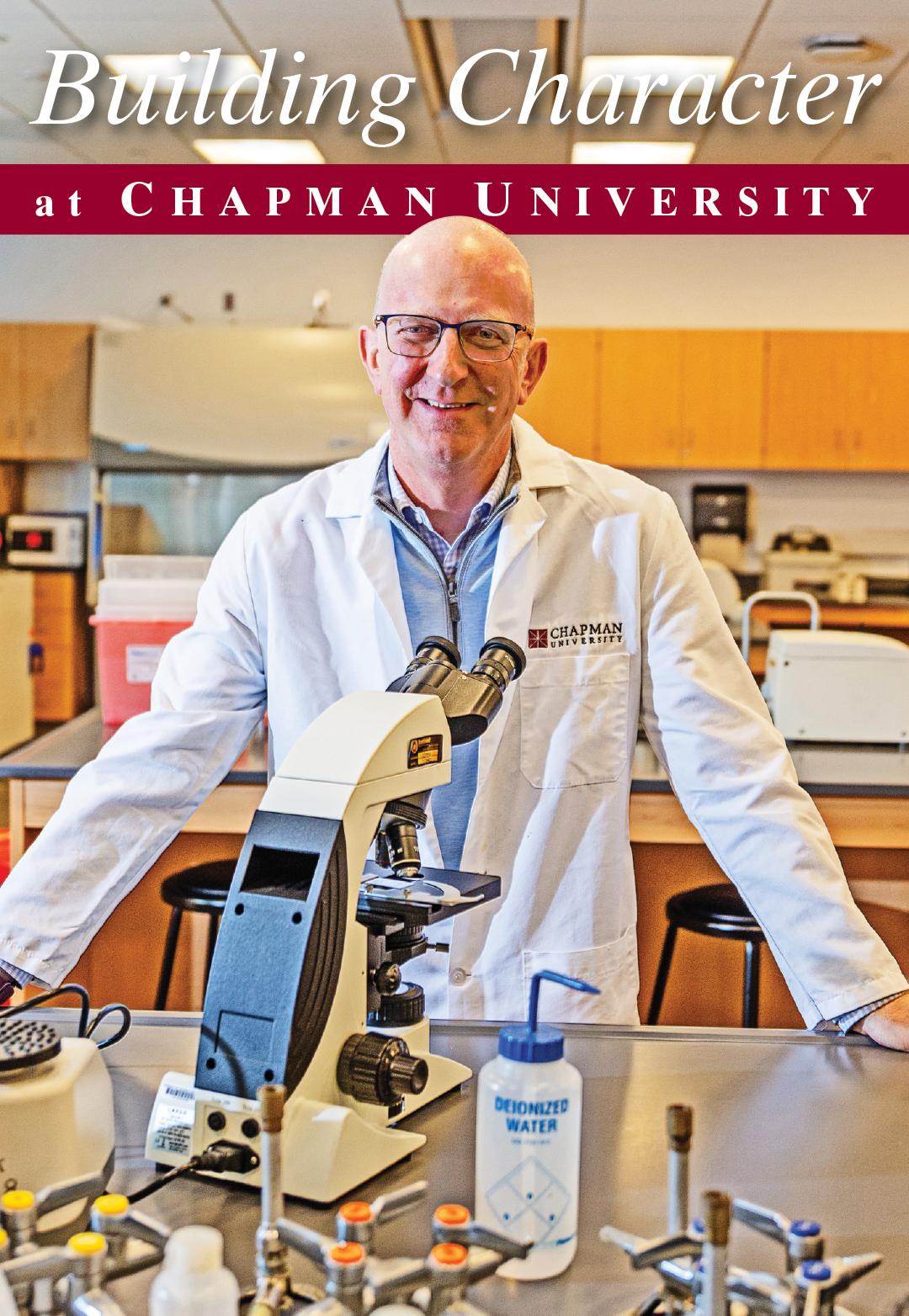 Mike Ibba, PhD.
Ask many highly regarded educators what drew them to teaching, and you'll often discover it was the influence of a teacher. Such was the case with Mike Ibba, Professor and Dean of Schmid College of Science and Technology, Biological Sciences at Chapman University.
While he had the good fortune to be influenced by many effective teachers during his school years in London, England, where he was born and grew up, it was a science teacher that inspired his career path.
"I had a great high school chemistry teacher who let students experiment with substances that aren't allowed in labs today, like sodium and mercury. When I told him I was trying to figure out what to study in college, he said that I seemed to have a lot of fun in his class, especially the laboratory. The idea of getting paid to work in a lab sounded like a dream job, so I studied microbiology," says Ibba, today an award-winning molecular biologist and biochemist who has published more than 200 research articles and held various research grants.
After graduating from Imperial College London with a Bachelor of Science in Biochemistry in 1983 and receiving his PhD in Biochemistry from the University of Manchester in 1990, Ibba worked at Novartis in Switzerland and then as a post-doctoral fellow at the ETH in Zurich, followed by serving as an Associate Research Scientist at Yale University.
Groundbreaking Research
Prior to joining Chapman in 2020, Ibba was at Ohio State University for 19 years, where he chaired the Microbiology Department and served as the Associate Director for the Infectious Disease Institute. He taught microbiology and built up and maintained a funded research group of post-doctoral scholars and student researchers. The research, which he has continued at Chapman, focuses on the genetic code and understanding the mechanisms cells use to ensure the accurate flow of genetic information from genes to proteins.
"In broad terms, we are studying quality control in the genetic supply chain," explains Ibba. "Currently, we are focusing on how the flow of genetic information influences antibiotic resistance. There is essentially a molecular arms race between a pathogen and its host, and that can drive antibiotic resistance. When antibiotics are introduced during an infection, some bacteria will go to sleep. Then when the antibiotics are gone, there are persistent bacteria that reawaken and cause the infection to flare back up. (This is why doctors advise taking all prescribed antibiotics, even after symptoms disappear.) Not all bacteria go to sleep during treatment," continues Ibba. "We're trying to figure out what triggers some of them to reawaken, because those persisters provide a good reservoir from which to draw to develop antibiotics that can fight superbugs."
It was during his time teaching at Ohio State and working with students in the laboratory that Ibba realized the biggest impact he could make was on the people he trains in the laboratory and classroom.
Focus on Mentorship
"When you mentor students, you realize that you can achieve so much more scientifically by working together," says Ibba. "You come to realize that your most lasting impact in science is the scientists you have mentored and trained."
Chathuni Liyanage '23 was a biology major at Chapman and took Ibba's research and data analysis class. "Mike is an excellent instructor who provides constructive, encouraging feedback," she says. "His classes are rigorous and challenge the intellect while going above and beyond to support you through it. He always came down to our level. That approach made working with such an esteemed researcher and faculty member less nerve-wracking and created an atmosphere where we could comfortably work collaboratively as a class to grow as students and researchers."
In fact, it was mentoring students and spending time in the laboratory that led Ibba to consider the deanship at Chapman.
"Ohio State is a large university, and as I rose through the ranks, it became clear that if I were to stay, I would become a fulltime administrator," he says. "I didn't want to stop teaching and doing research. By moving to Chapman, I didn't have to give up either."
Though he approached the position at Chapman with those perks in mind, he soon became inspired during the interview process by the uniqueness of the university.
Chapman's One-of-a-Kind Culture
"When I toured the state-of-the-art Keck Center before having dinner with the search committee, it was 5:30 on an autumn evening," recalls Ibba. "There were students all over the center studying and writing on whiteboards. I immediately saw a different level of engagement and could tell there was something special about the culture. It was really something to see."
Matt Parlow is Executive Vice President, Chief Advancement Officer (EVP/CAO) at Chapman University and chaired the search committee. "We had a diverse group of faculty and staff represented on the committee, and everyone was wowed by Mike," he says. "There was no doubt in our minds that he was our top pick. Mike's experience, vision and enthusiasm for Chapman really stood out. We were thrilled when he accepted our offer."
Since Ibba took over as dean in 2020 at the start of the pandemic, Schmid College has increased total student enrollments by 9 percent, total number of credits taught by 18 percent and the total awarded grant funding for research by 300 percent. The college has also developed a new Doctoral program in Math, Physics and Philosophy, and the Philosophy program was integrated into Schmid.
"Mike has done an extraordinary job as dean," says Parlow. "Despite the challenges the pandemic brought, he has worked hard to connect with students, faculty and staff to help Schmid College continue its exciting momentum. He is deeply committed to diversity and inclusion and has prioritized undergraduate student research. In addition to being a skilled leader and administrator, he is one of Chapman's top researchers. His extensive scholarly contributions have helped elevate Chapman's research profile as an R2 institution."
Making a Difference
Adrian Vajiac, Co-Director of the Computational and Data Science Program and Associate Professor of Mathematics at Schmid College, agrees. "Mike is the first Dean of Schmid who made a considerable difference so quickly after starting, and I have been at Chapman since 2002. One of the first things he did was to invite all faculty and staff (we are more than 100) to talk to him in person, one by one, in order to consolidate an initial plan on what he has to accomplish as dean. What we accomplished in three years under Mike would have probably taken 10 years under other leaders."
Ibba has enjoyed the atmosphere of working in real-time that Chapman has given him. "Someone asked me when I left Ohio State at the start of the pandemic if I was sure about the move," he says. "My reply was that with its growth culture, Chapman would give me the opportunity to fail. I realized that it might not work, and that's what made it exciting."
Fortunately, things have worked out very well for Ibba, who lives in Los Angeles with his wife, Beth, who is also a microbiologist. "I really enjoy all aspects of working at Chapman, including the open, upward structure," he says. "I've never worked harder and never had more fun in my whole life. I'm very happy that Chapman and I got to know each other.