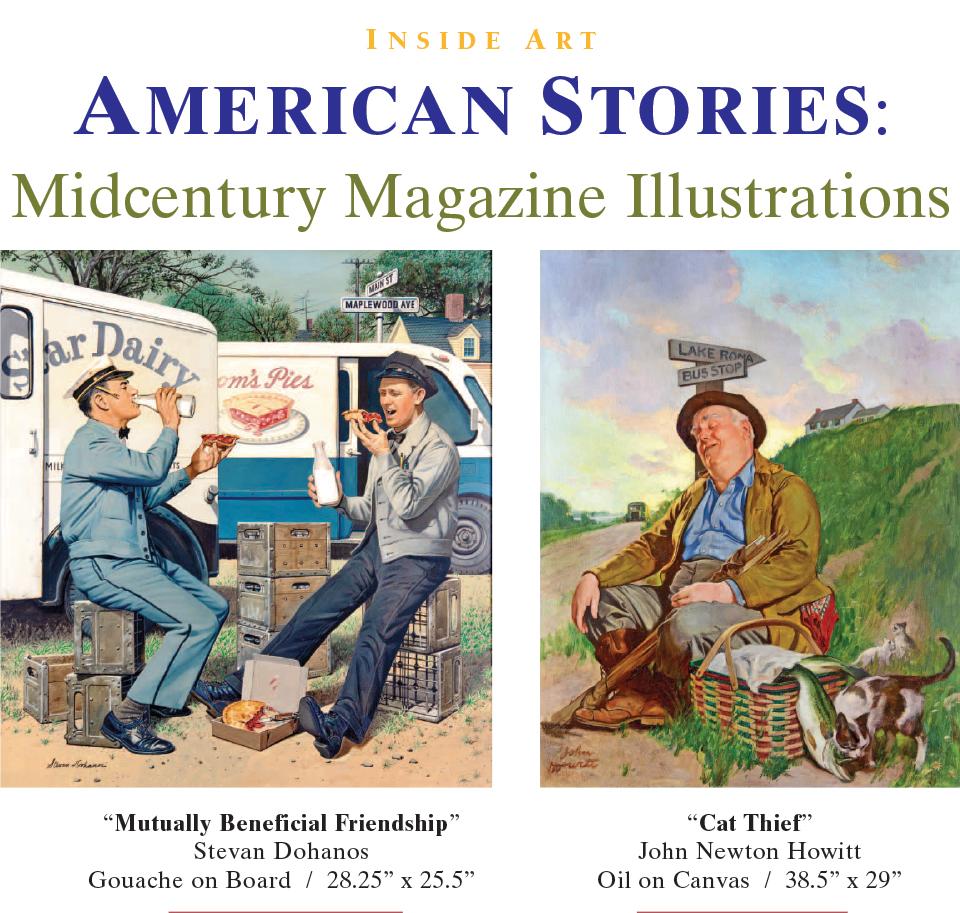 The period from the 1930s to the 1960s marked a significant time in American magazine and advertising illustrations. During this time, illustrations played a vital role in advertising and media campaigns, and many illustrators achieved fame and success through their work in magazines and advertisements.
The Hilbert Museum of California Art at Chapman University, which focuses on representational art of the 20th and 21st centuries, boasts an acclaimed collection of original paintings from this golden era of American illustration. Selections from that collection will be on view in the new exhibition, "American Stories: Midcentury Magazine Illustrations from The Hilbert Collection," which opens at the Hilbert Temporary on May 13.
The Saturday Evening Post, for example—one of the most popular magazines of the era—featured illustrations from some of the most prominent artists of the time. The magazine's covers were beloved by readers for their wholesome depictions of American life. One of the most famous illustrators associated with the magazine, of course, was Norman Rockwell, whose work captured the imagination of the American public. He became one of the most well-known and beloved illustrators of the era.
The Hilbert Collection includes notable works by Rockwell, which the museum will exhibit during its Grand Opening round of exhibitions in its expanded permanent location in early 2024. But Rockwell was not the only illustrator who achieved success during this time. The exhibition at the Temporary features other notable illustrators of the period, including Stevan Dohanos, Dean Cornwell, Pruett Carter, Joe Demers, Andrew Loomis, Arthur Sarnoff and many others.
"The impact of these illustrators on American culture cannot be overstated," says Mark Hilbert, founder of the Hilbert Museum. "Their work appeared in magazines that were read by millions of Americans, and their illustrations helped to shape the way that people thought about themselves and their country." Hilbert, who assembled the collection of illustrations over the last 20 years or so, adds that the images these artists created were often idealized and aspirational, presenting a version of American life that was both beautiful and optimistic.
Magazine cover art, in particular, often told stories without words. The best cover artists were famed for their one-image comedic or dramatic storytelling paintings that a viewer could take in at one glance. The painting on the inside front cover of this issue, Charlie Dye's "Big Catch," is an undated work from the 1950s or 1960s that probably was a cover for one of the outdoor magazines of the day. Dye perfectly sums up the thrilling moment when Junior has hooked his first big fish, and Dad is rushing in with the net to help him out. (If you couldn't guess they were father and son, the red hair fully gives it away.) You just know that these two are creating a family memory that will last forever. The painting is action-packed and heartwarming at the same time.
Charlie Dye was born in 1906 in Los Angeles. He attended Otis Art Institute and later worked for several ad agencies in L.A., creating artwork for many notable clients, including Coca-Cola and G.E. He illustrated more than 30 children's books and was praised for his ability to capture the essence of the Western outdoors and the Wild West. His work was featured in many publications, including Collier's, Liberty and the Saturday Evening Post.
The Hilbert Collection also owns a very popular Saturday Evening Post cover illustration by Stevan Dohanos. "Dohanos should be as well-known as Rockwell," says Hilbert. "The illustration, 'Mutually Beneficial Friendship,' appeared on the cover of the October 11, 1958 Post. The image brings a smile at one glance, as the milkman and the pie man take a little break to sample each other's wares."
Dohanos was a good friend of Rockwell's, and the two artists shared a similar aesthetic and talent for capturing the nuances of everyday life in their work. They often worked side-by-side in the same studio, bouncing ideas off each other and collaborating on projects.
Illustrations at that time also served as powerful marketing tools. Top companies peddling their wares in magazines during the post-war economic boom, from food to electronics to automobiles, recognized the ability of illustrations to capture people's attention and create a sense of desire for their products. As a result, illustrators were in high demand to create advertising art, and many were able to make a comfortable living through this work. Color magazine photography was still in a developmental phase, and printing of color photos often resulted in less-than-appealing hues, so illustrators reigned supreme during this ad era.
American magazine and advertising illustrators of the mid-20th century played a significant role in shaping the nation's culture and commerce. Their illustrations influenced the way that people thought about themselves and their country, and they also served as powerful marketing tools for companies. As a result, the work of these illustrators has had a lasting impact on American culture and commerce, and their legacy continues to be felt today.
The Hilbert Temporary
216 East Chapman Ave., Old Towne Orange, CA 92866 / 714-516-5880
Tue-Sat, 11am to 5pm, Admission is free, and due to limited space, online reservations are recommended.