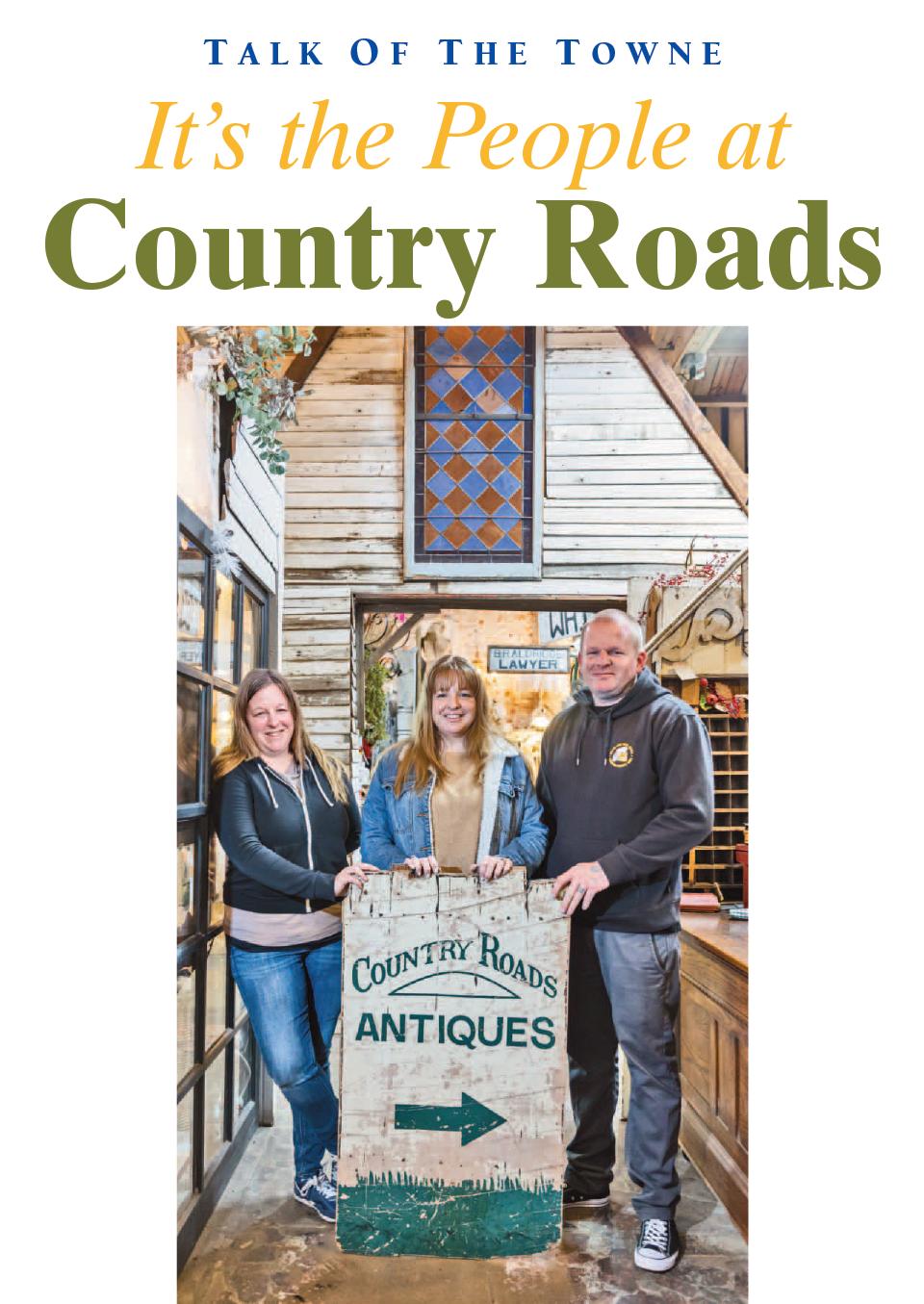 Brande Jackson (left), with sister Katie Jackson Guilino and brother Bryce Jackson.
- - - -
Thirty years ago on January 1, 1993, Sue Jackson opened Country Roads Antiques on the corner of West Chapman Ave. and South Olive St. Three decades later, the Jackson children are keeping the Old Towne mainstay alive.
"My mom passed away a little more than two years ago now," says Brande Jackson, Sue's oldest daughter. She and her brother, Bryce, and sister, Katie, are sticking to the standards set by their mother.
With nearly 50 vendors, "there is a little bit of everything," Brande says. "We strive to always keep the shop well displayed and stocked with a rotation of 'new arrival' vintage items styled in ways to inspire. We carry various styles, including primitive Americana, vintage industrial, mid-century modern, shabby chic, rustic 'farmhouse,' as well as bohemian ('boho') looks. You'll also find vintage clothes, plants, candles and home decor."
John Mata has been a vendor at Country Roads Antiques since 2016. He believes Country Roads has lasted so long because of the uniquely curated antique collections and vendors.
"Becoming a part of Country Roads was a true honor when I first joined the store," Mata says. "I had some experience with having a spot in another Orange Plaza antique store, but Country Roads had always been the elite vintage destination in the area in my mind for some time already."
While there have been changes over the years at Country Roads, including Sue's passing and the store downsizing in April 2021 after they lost the lease on one of the buildings, Mata says the family has handled the transition very well.
"Sue's children and their families have been doing a great job of running the store since she passed away," Mata says. "Losing one of our buildings and surviving that strange transition to business as usual after those COVID days could've sunk any other business."
Another unique feature of the store is its garden. Norm and Genie Yoder began the garden in the mid-1990s. After they retired, Brande took over. The signage out front entices pedestrians with the promise of "weird plants," and Brande says the garden is a testament to the store's longevity.
"The garden in particular is really cool because it's such a collaborative effort in the store," she says. "A lot of people over the years have helped us grow it, maintain it and expand it. There is a Chinese Elm in the garden that was chopped down twice. It's a sapling that keeps coming back, no matter what we do, so we just try to maintain it and keep it in order."
The staff of Country Roads Antiques has seen lots of changes in Orange over the decades. Brande says there has been a massive increase in foot traffic and that the rise of Chapman University has been a big driver of that change.
"It went from being a small, private school to a much bigger university, and we definitely sense that in Old Towne Orange," Brande says. "The area reflects the needs of students, as opposed to what it used to be. It was a big catalyst for the changes we have seen in Old Towne Orange over the last two decades."
Despite these changes, Brande and the Jackson family are dedicated to keeping their mother's store, and her spirit, alive.
"I think, to my mother, the value of Country Roads was not just that the business provided a sustainable income for the family," says Brande. "Our history in the community and connections to our customers and the 'vintage family' formed over the past three decades is pretty unique, and like any business, it's the people that make the place."
Country Roads Antiques will have a 30th anniversary celebration on Jan 28. Details are still being worked out, but Brande has confirmed there will be raffles and refreshments.
Country Roads Antiques & Gardens
216 West Chapman Ave, Old Towne Orange CA 92866 / 714-532-3041