Home Sweet Home - Sep / Oct 15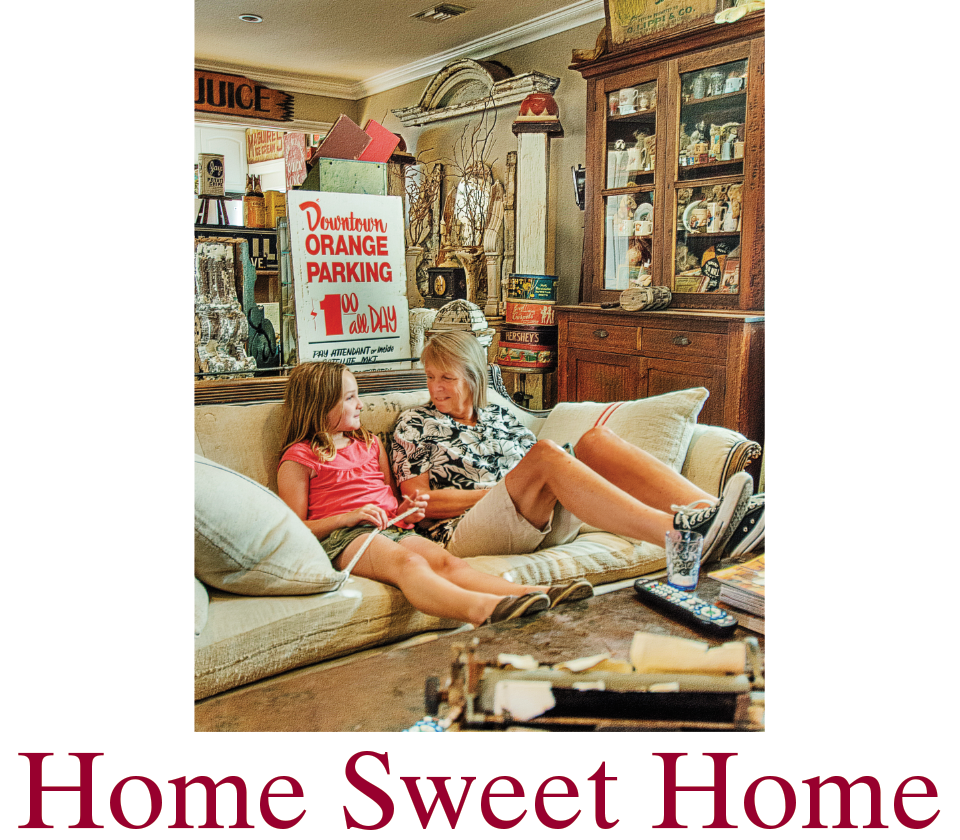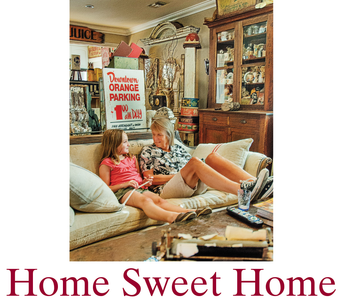 Country Roads proprietor Sue Jackson relaxes at home with her granddaughter, Riley. The couch, which came from one of her dealers at her Country Roads antiques store, complements the eclectic décor that includes a late-1800s pine stepback cupboard, plus an old Downtown Orange parking sign that was a gift from a friend.
A mainstay in Old Towne on West Chapman since 1993, Country Roads Antiques & Gardens brims with nostalgic, enchanted treasures of yesteryear. Renowned throughout Southern California in the antiques community, proprietor Sue Jackson has grown the family-owned mercantile through the years into a showcase of 70 vendors — unveiling furnishings, accessories and décor artfully displayed throughout the 12,000-square-foot space. Behind the store, the 5,000-square-foot Johnnye Merle Gardens and Nursery adds even more pizazz to the Country Roads extravaganza.
Given her appreciation of soulful keepsakes from bygone eras, it comes as no surprise that Sue's own home conveys an elegant simplicity with a personalized touch and plenty of vintage accents to boot.
"It's all about family," says Sue from her home in Long Beach, where her gift for blending art, mementos and décor comes together in every room of her house.
Born and raised in Long Beach, Sue now lives in a 1950s-era tract home similar to the house she grew up in that is located not far from where she now resides. All of her family members live close by, including her daughter Katie, who purchased Sue's childhood home after Sue's parents passed away in recent years.
Sue loves to collect old signs. Pictured in Sue's Long Beach kitchen are a plethora of vintage tin advertising signs, plus a 1930s cocktails sign from an old bar in Pasadena.
A 1950s-era sign that originally perched atop a milk delivery truck, sits next to Sue's distressed farm table in her dining area. Like her antiques store in Old Towne, Sue's home brims with treasures of the past.
"It's always touched my heart that my first grandchild, Riley, was brought home to the same home that my folks brought me to after I was born," says Sue. "The tiny magnolia tree my dad planted is still there today, grown into a huge, beautiful tree that harbors many memories."
Remodeled several times over the years, Sue's four-bedroom, two-bath house features lots of natural light, hardwood floors and French doors that open up to the big backyard where her grandkids can freely play. One of Sue's favorite things to do is sit in the backyard in the evenings and watch the sunset while listening to music.
"There is nothing better than a 'SoCal' sunset and an ocean breeze, especially after a long day at Country Roads," she says.
As with the store where her family has worked through the years, her grown children helped her turn her house into a home. Son Bryce moved all of her belongings from her previous house in Rossmoor, hanging some of Sue's favorite vintage signs, architectural salvage pieces and vintage surfboards on the walls.
Nostalgia is the operative word in Sue Jackson's Long Beach home, where artifacts from a bygone era are on display throughout. Here in the living room are pieces Sue obtained from her own dealers at Country Roads in Old Towne.
A vintage bench makes the perfect showcase for displaying old watering cans. Sue obtains all of her plants from Johnnye Merle's Gardens, located behind Country Roads and owned by her daughter Brande.
A large farm table takes center stage in the dining room, where corbels and columns reflect the 1950s-era of the house. Old pie safes plus cupboards with wavy glass add sentimental accents, while a vintage glider in the "Hawaiiana Room" provides a comfy retreat for reading.
Mixing early American country primitive furnishings with Hawaiiana collectibles and classic beach-themed objects d'art, Sue says her decorating style is definitely "eclectic."
"I love a little bit of everything. I most of all love the old signs that were made by hand and used for advertising. To me, these old signs are an early example of folk art in a special way. I also have a lot of vintage surfboards in my home. There is just something about them that calls my name!"
Antiques come second nature to Sue, who has always been surrounded by them, both at her grandmother's home and at her parents' when she was growing up. Just like her grandmother, Sue is a collector of many things.
Sue takes a break in the backyard, which is filled with beach memorabilia and vintage surfboards. Her favorite pastime is watching the sunset while enjoying the ocean breezes.
Sue's Hawaiiana room features a vintage tiki bar, old advertising signs and lots of beach-themed collectibles from the 1950s and 1960s.
"During WWII, my grandmother would exchange letters and hankies with other women whose sons were in the military," she says. "Her cardboard box of letters, notes and hankies is still one of my favorite things that I have held onto all of these years."
Sue became interested in the antiques business early in life when her father retired from Edison. He and her mother began refinishing furniture and selling antiques at the Vet's Stadium flea market, just five minutes away from their house.
Inheriting her work ethic from her parents, Sue says that even when she is at home, she loves to work. That's why the office is her favorite room in the house, which also features a great view of the backyard. Gardening is also one of Sue's biggest passions in life. She gets all of her plants from Johnnye Merle's Gardens, which is owned by her oldest daughter, Brande, and named after her mother and grandmother.
The bedroom showcases an old-fashioned iron bedframe from the 1940s. Hardwood floors and lots of natural light make Sue's home the perfect backdrop for her nostalgic collections.
Sue reads on the patio with her grandchildren (from left) Morgan, Bodhi, Brooklyn and Riley. Behind them, the Aloha Farmer's Market sign was a gift from her son, Bryce, who shipped it from Maui.
A 1950s Coca-Cola sign hangs behind the vintage 1950s patio set in Sue Jackson's colorful backyard.
"I love the cottage plants and I'm a sucker for hollyhocks," Sue says. "There is something rewarding about digging in the dirt and seeing the results of your hard work when you cut a fresh bouquet of flowers for your house that you grew yourself. I have a big patio in the backyard filled with potted plants and hanging plant baskets."
For Sue, the ongoing success of her Country Roads business allows her to be a continual part of the fabric of the Old Towne neighborhood. Appreciative of the town's unique history and the close-knit camaraderie of the community, Sue has always embraced Old Towne Orange as her "home away from home."
"I've been in town since 1992, and I could never imagine Old Towne not being a part of my life," she says. "I feel the same way about Country Roads. I was just talking to someone the other day while standing in our Johnnye Merle Gardens. I rambled on about 'this and that' like I always do. We started talking about how much I love Country Roads. I said that when my time comes, I don't want to be buried in a cemetery! I just want my ashes sprinkled in my favorite place: our Country Roads Gardens."