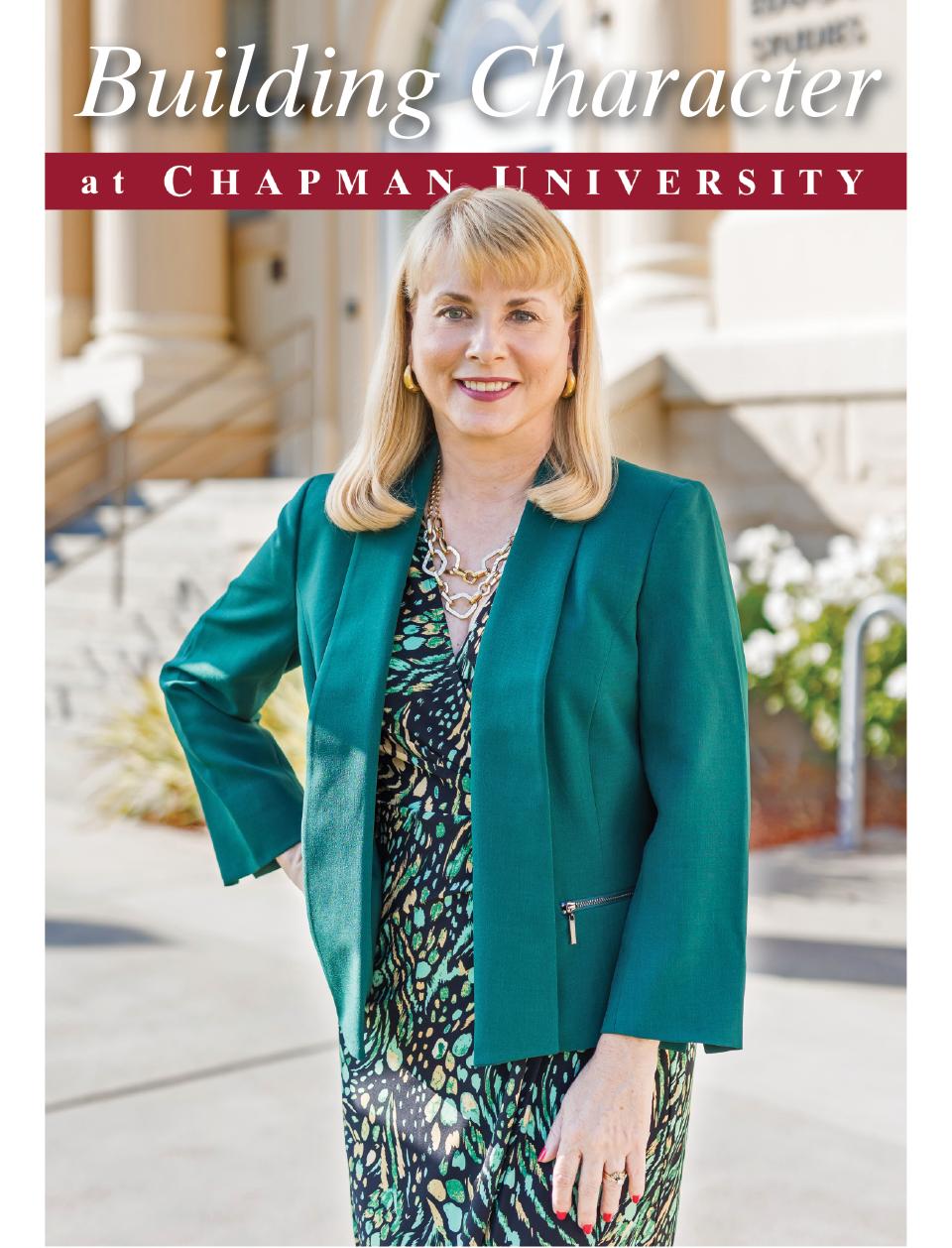 Roxanne Greitz Miller, EdD
Roxanne Greitz Miller decided she wanted to be a teacher her senior year of high school. While in elementary and middle school, Chapman University's Dean of Attallah College of Educational Studies had been science starved. She saw teaching as a way to bring science to young students. Over Miller's career spanning more than three decades, she has accomplished that goal and much more.
Miller began her teaching career in 1990 in Miami-Dade County Public Schools in Florida where she worked as a secondary science teacher at the middle school and senior high levels for nearly a decade. In addition to teaching science, she coordinated efforts to identify, determine eligibility for and deliver special education and gifted education services to more than 400 students each year in a highly diverse, large urban Miami middle school.
"I enjoyed my work teaching in Florida because I could help develop students' passion for sciences," says Miller, a first-generation student, who was born in New York and spent her middle school and high school years in Florida. "I feel it's important for students to be scientifically literate."
Joining Chapman University
Miller relocated to California in 1999 and in 2005 joined Chapman's faculty. Today she holds the rank of tenured full professor with a joint appointment to Schmid College of Science and Technology. During her career, she has served as principal or co-principal investigator on state and federal research grants representing more than $4.2 million in funding, most of which has funded teacher professional development efforts. In 2014, she received the Outstanding Teaching Professorship at Chapman, the university's highest honor in teaching.
Unlike some educators who leave teaching behind when they take on administrative roles, Miller has continued to instruct and interact directly with students throughout her career. She holds current teaching credentials in biology, chemistry, middle grades and gifted education in Florida and California.
"I am a teacher first and foremost," says Miller, who earned a Bachelor of Science with honors in biology and a minor in chemistry from the University of Miami and from Florida International University, a Master of Science in Science Education and a Doctor of Education in Curriculum and Instruction.
Teacher of Teachers
"I enjoy helping students gain skills and knowledge that takes them in directions they wouldn't be able to go in on their own," she says. "Now, as a university professor, I deal primarily with future teachers. My experience teaching enables me to clue students into and make transparent what it's like to be on the other side of the desk."
One of Miller's goals as a teacher of teachers is to stress the importance of teaching students from their vantage point. "You will often hear that teachers tend to teach the way they were taught, but that is not a recipe for success," believes Miller. "The process of education is individualized and depends on instruction reaching students through their individual lenses. If you only teach in the manner you experienced as a student, you're not going to meet the needs of all the students in the classroom. It's my job to make sure that teachers are prepared to go far beyond their own personal educational experiences to meet their student needs."
Dr. Colette O'Bannion met Miller at Chapman in 2007 when O'Bannion was a graduate student. "Roxanne was looking for doctoral research assistants for two of her federal education research grants. I jumped at the chance, and it was one of the best decisions I have ever made," says O'Bannion, who today is Head of School at Fairmont Private School - Anaheim Hills Campus.
"Roxanne is one of the best in the field," says O'Bannion. "She is a phenomenal and extremely contemporary educator, who does not subscribe to the age-old practice of hoarding all knowledge and experience so that she can remain at the top of the pyramid. Instead, she chooses to share all that she can in an effort to lift others up, particularly female academics. She is also very transparent about both historical and current struggles in education. She doesn't water down her teaching, but amps it up to inspire others to learn."
Facing Critical Teacher Shortages Head-On
In today's educational arena, Miller's work couldn't be more important. "Right now, we're facing critical teacher shortages in multiple areas," says Miller. "We're working very hard to get our candidates into teacher preparation programs that will prepare them for the realities of today's schools. There are currently a lot of stressors within the educational system, including social-emotional development and learning loss due to the pandemic. It's important that we have responsive, supportive and knowledgeable teachers in classrooms."
Despite the shortage of qualified teachers, Miller isn't in a hurry to sign just anyone up for the life of an educator.
"Our teacher preparation pathways at Chapman acknowledge the fact that though there is a critical need right now for teachers nationwide, teaching is a complex endeavor that requires special training," she says. "We're seeing in some states the removal of training requirements and emergency credentialing to deal with the need for teachers. These responses don't work in the long run, as those who fail to receive thorough, high-quality preparation don't tend to stay in the teaching profession."
Chapman's teacher education program graduates approximately 100 teacher preparation students each year, as well as prepares students to work as school counselors and psychologists; Chapman also has a PhD in education program. There are an additional 200 students in the Attallah College of Educational Studies' undergraduate programs. (For those students who wish to attend Chapman's educator preparation programs, the Golden State Teacher Grant Program of up to $20,000 can fund a significant portion of their education, notes Miller.)
"Chapman has a very strong history of teacher education," says Miller. "The university's teacher education program is the only program in continuous operation since the school was founded in 1861. We've been preparing teachers here for more than a century."
Students First
Dr. Trisha Sugita is Director of Teacher Education and Assistant Professor of Special Education at Chapman University's Attallah College of Educational Studies. She has worked with Miller for 11 years in various capacities.
"Roxanne is an accomplished teacher, researcher, administrator and student advocate," says Sugita. "At the Dean level, under Roxanne's leadership, the Teacher Education and undergraduate programs have revised the programs to reflect the cutting edge practices that meet the needs of the ever changing field of education. Roxanne is dedicated to ensuring that all students reach their educational goals. She is a strong advocate for students at all levels, from Pk-12, undergraduate and graduate. She creates accessible pathways for education at all levels and is committed to creating equitable spaces."
Kimberly White-Smith, Dean of the School of Leadership and Education Sciences at the University of San Diego, agrees. "Roxanne helps ensure equity and access for students who are traditionally underserved. As a first-generation college student, she understands the challenges many of our students face firsthand. Her personal knowledge guides her decisions and actions to support students and community needs. She understands the power of education to transform lives."
For Miller, it is the students and their journeys that make her work so fulfilling. "Chapman is very student centered, and we continue to support our students beyond graduation," she says. "For me, having long-term relationships with students is really rewarding."