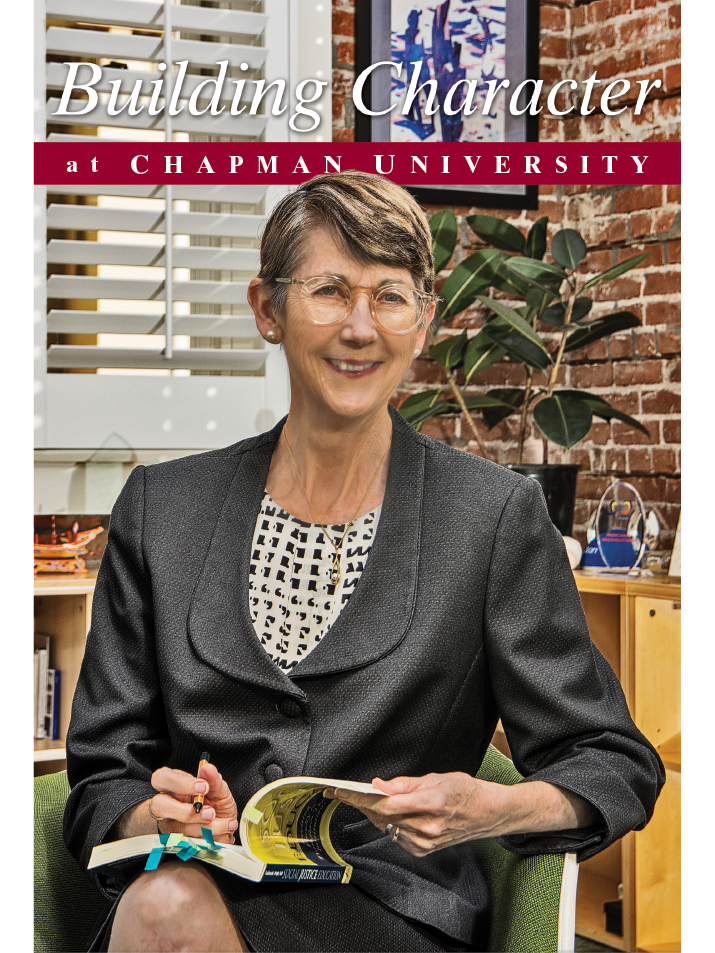 Dr. Margaret Grogan
Margaret Grogan learned early on the synergistic, powerful effects of combining characteristics while working on life's endeavors.
"My father was a geneticist and researched hybrid maize in search of an improved corn for cattle feed," says Grogan, who grew up in Australia. "As a kid, I'd help him cross pollinate stalks in the fields. Then we'd look at the resulting corn on slides under a microscope. That experience taught me that strengths come from combining components or ideas."
With that same attitude, Grogan approaches her work as Chapman University's Professor and Dean of the Donna Ford Attallah College of Educational Studies. The college offers undergraduate and graduate degrees in education, teaching, curriculum and instruction, special education, school psychology, school counseling and leadership development.
Grogan joined Chapman in 2015 after working for many years in education, including overseas in Tokyo. "At Chapman, I was fortunate to step into a strong faculty that had already formed community partnerships to achieve the college's various goals," says Grogan. "These include making a more just world through teaching, scholarship and collaboration with local communities on various civic engagement initiatives."
The college's strategic plan is to become nationally and internationally recognized for teaching students and the educational community the importance of understanding concepts such as how learning disabilities, language acquisition, socioeconomic background and ethnicity affect learning—and the assets inherent in what are often considered deficits. The Attallah College is known for designing active learning environments that engage students in developing intellectual strengths as well as social and emotional ones.
Educational Beginnings
Born in Bundaberg, Grogan became familiar with higher education early on, because her father was an instructor at an agricultural college.
"The children of the faculty had the run of the 2,000-acre college grounds," says Grogan, who spent her days riding bikes, swimming and helping with the farm animals. "We attended school, but it was an imposition to put your shoes on."
Beginning in ninth grade, Grogan went away to study where she discovered Japanese in an afterschool club. A friend also went to Japan and came back with intriguing stories. Grogan went on to earn her Bachelor of Arts in ancient history and Japanese language, as well as a teaching credential at the University of Queensland. Since she attended college with a scholarship, she had to teach at a government school for a year after graduation.
"I was sent to a big high school up north where the principal told me they didn't have Japanese, but I could teach ancient history," recalls Grogan. "He also suggested I go to Japan, which I thought was a crazy idea."
As it turned out, a year later she got the opportunity to spend six months in Tokyo teaching English as a second language and living with a Japanese family. After that she extended her visa for three years and did a variety of jobs, including in radio and television. During that time she got married and soon after decided to get back into education. She found a job at the International School of the Sacred Heart (ISSH) in Tokyo, where she worked for the next 14 years.
"Working at ISSH was an enlightening experience that changed my worldview," says Grogan. "The school encompassed 55 nationalities and languages with children from all over the world, spanning socioeconomic backgrounds. That experience showed me the value of equity and diversity."
When she started at ISSH, the Vietnam War had just ended. "Because I was immersed in Japan and East Asia and did a lot of traveling, I began to see how differently cultures and groups viewed the conflict," she says. "From my vantage point, I saw the profound effects of colonialism and how various countries were dealing with Western values. The War provided rich opportunities for my students to teach me about their own beliefs, thought systems and significant histories."
Leaving Tokyo
Towards the end of her time in Tokyo, Grogan earned her Master of Arts in Curriculum and Instruction from Michigan State University and her Administrative Credential from Washington State University by taking courses at Department of Defense Schools on one of the U.S. bases. In 1992, she moved to the U.S. with her daughter, Klara Wahlster, to become a graduate research assistant and finish up her PhD in Educational Administration at Washington State University. The following year, her husband, Michael Wahlster, joined them.
After earning her PhD, Grogan served as an assistant professor at the University of Virginia for eight years, Chair of the Department of Educational Leadership and Policy Analysis at the University of Missouri-Columbia from 2002 to 2008 and then Dean of the School of Educational Studies at Claremont Graduate University from 2008 to 2012. After taking a sabbatical in 2013 and returning to Claremont to teach and research, a search firm found her in 2015 for the dean's position at Chapman.
"Once I came to campus and met the now President Daniele Struppa and the wonderful faculty at the Attallah College of Educational Studies, I was really excited about working here," she says.
Since her arrival at the university, Grogan has been involved in a number of projects and initiatives aimed at the college's mission to understand the needs of the underserved in education and assist them.
Events include the upcoming DisAbility and Autism Summit on May 7, headed by the Attallah College's former dean, Don Cardinal. "The Summit is meant to update the public and those in education about current autism research and policy," says Grogan. On April 28, the College is holding their third Ethnic Studies Summit. This popular event illustrates that when students understand who they are; this allows them to use their inherent strengths in their education.
Women in Educational Leadership
The college is also holding its second Women's Leadership Forum, sponsored by Schools First Credit Union on March 10, which is the topic of much of Grogan's research.
"Japan, is a hierarchal country where it's not uncommon to see men leading organizations," says Grogan. "When I arrived in the U.S. in the early 1990s, I assumed there was gender equality, but soon discovered that only four percent of the nation's school districts were run by women, despite teachers being primarily women. That's when I decided to study the context of women aspiring to the superintendency for my dissertation."
Building on her early research, Grogan conducted other studies published in various books and articles, including Women and Educational Leadership (2011), which Grogan wrote with Charol Shakeshaft.
At Chapman, Grogan's research has struck cords for faculty members like Michelle Samura, who is Associate Dean of Undergraduate Education and an Assistant Professor at the Attallah College.
"Margaret's work on women in leadership is incredibly critical," says Samura. "Academics are often unable to connect theory and research with practice, but Margaret is able to do that. I admire her willingness and openness to mentor emerging and developing leaders and faculty at all stages of their careers."
Kelly Graydon Kennedy is Associate Dean of Graduate Education at the Attallah College. She remarks on the example Grogan sets.
"During the early years of my 10-year career at Chapman, I only interacted with male senior leadership. Having the opportunity to serve under a strong female role model and mentor has been refreshing and inspirational," says Graydon Kennedy. "It's also motivating to see and learn from Margaret's strong passion for embracing and celebrating diversity in its many forms."
Reeves Hall
Built in 1913, Chapman's historic Reeves Hall underwent a $9 million dollar remodel last year. The renovation included a build-out of interior offices and the addition of learning labs and conference rooms for the Attallah College.
"The remodel is gorgeous," says Grogan. "There's plenty of natural light, which makes for a creative and engaging educational space. And it's so timely to be in this beautiful building to celebrate the enormous generosity of our beloved benefactor, Donna Ford Attallah, after whom the College was named in Fall 2017."
For more information about upcoming events at Chapman's College of Educational Studies, visit www.chapman.edu/education/index.aspx.