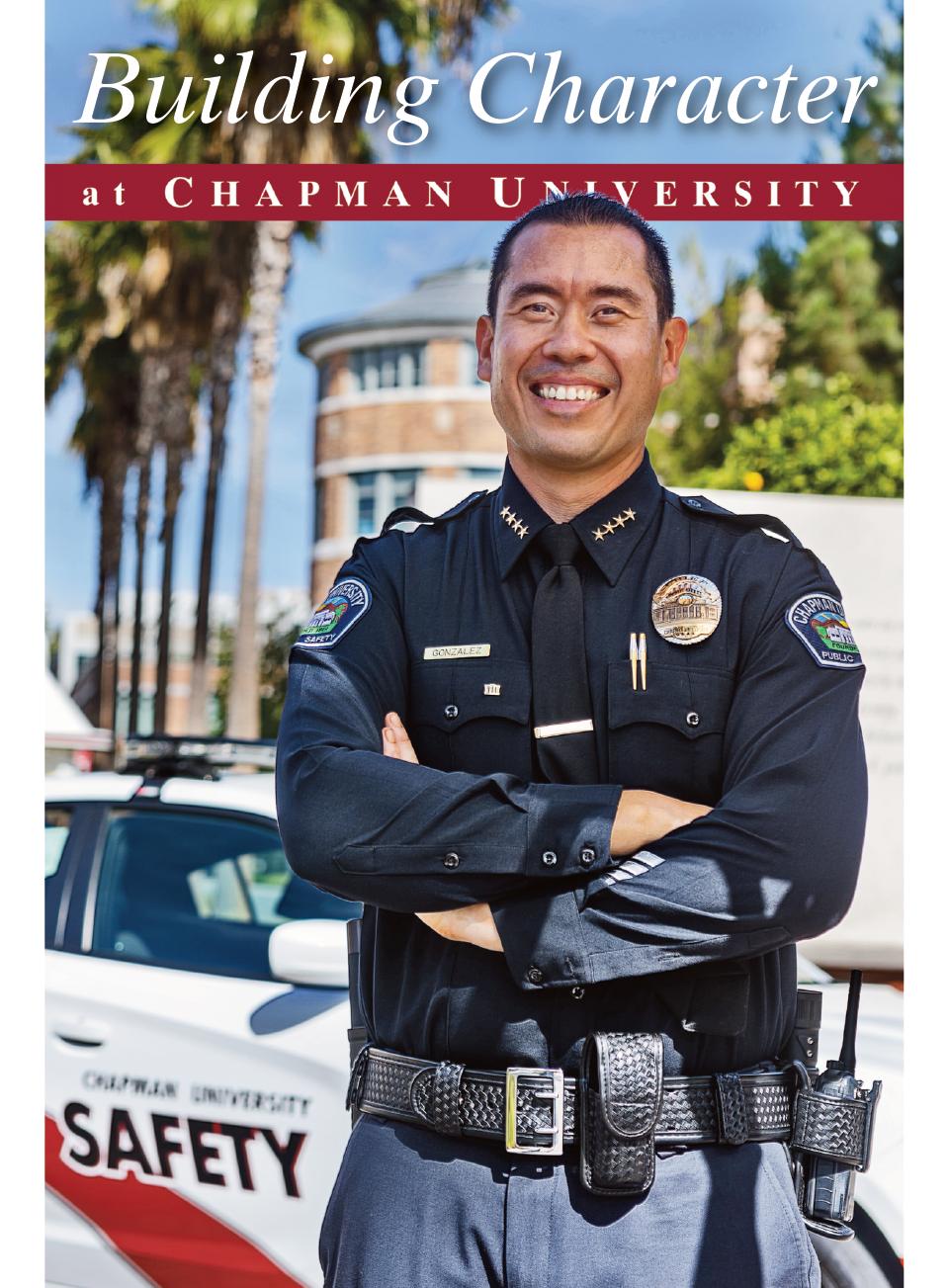 Chief Rick Gonzalez
As Chief of Chapman University Public Safety, Rick Gonzalez knows his job entails more than keeping the campus secure. Of equal importance is making the university feel safe to the students, faculty and staff.
"In order for students to thrive at Chapman, they have to feel safe," says Gonzalez, who became Chief last March. "For this to happen, they need to see members of public safety around campus and know we will respond if they call us."
The Chapman Public Safety motto is, "No call is too small," says Gonzalez. "Recently, a student had a spider in her room and called us to go kill it. The officer on duty didn't hesitate. Our goal is to go above and beyond. We tell our team to always leave students in a better place than when they found them."
Gonzalez and his department strive to make every encounter students have with public safety favorable. "When students trust us and know we take their concerns seriously, they won't hesitate to call us if they see something suspicious," he says. "We also work to empower students to take ownership of their own safety by giving them confidence with free self-defense and active shooter classes."
Overall, Chapman is a safe campus. "While we do have some minor crimes, the university has a very good record when it comes to public safety," says Gonzalez. "Every year, our department's satisfaction scores continue to improve. That shows that the university community values public safety."
Career in Higher Education
During his 25-year career, Gonzalez has worked in campus public safety for three higher learning institutions. Prior to joining Chapman in August 2017, he served for nearly two years as Chief at Otis College of Art and Design in Los Angeles. He started in campus public safety in 1997 at the University of Southern California (USC), where he worked for 18 years.
It just so happened that Gonzalez's predecessor at Chapman, former Chief Randy Burba, was also at USC when Gonzalez joined the department.
"I was a background investigator for USC when we hired Rick as a community service officer," says Burba. "He worked hard and promoted through the ranks up to Lieutenant. When I offered him the position as Deputy Chief at Chapman, I saw him as an excellent candidate to help me create a succession plan and felt he could take over the department, which he did. Rick has a good character and wants to help others. He is also a critical thinker and isn't afraid to try new things or take a different approach to old things."
Los Angeles Beginnings
Gonzalez grew up in Los Angeles County, the son of immigrants. His mother is from Guatemala and his father was born in Mexico. As a first-generation student, his parents impressed on him the importance of education.
"My mother and father would tease me, saying, 'we didn't leave our families and come here for you to be a bum. It's important to get an education, work hard and try to be as successful as you can be.'"
Gonzalez took his parents' advice to heart. In addition to graduating from Rio Hondo Police Academy in 2001, he earned a Bachelor's in Criminal Justice Management from Union Institute & University in 2012, a Master's in Liberal Arts from USC in 2015 and a Doctor of Education from USC in 2018.
"Rick's educational attainment is more of the exception, rather than the rule in law enforcement/campus safety," says Albert Vasquez, Vice President-Enterprise Risk and Safety at Chapman. "He is very well respected throughout our local law enforcement and public safety agencies. He has been a consultant on several projects and programs in campus law enforcement and was recently appointed as a Co-Chair of the non-sworn campus law enforcement section of the International Association of Campus Law Enforcement Administrators (IACLEA). He has also already started to develop programs that will enhance safety and collaboration around the campus, such as the enhanced bike patrol program that allows campus safety officers to interact more closely with the campus community."
If it wasn't for a chance visit by law enforcement to school when Gonzalez was in 8th grade, he may not be chief today. "I was into sports and art and thought I'd be a famous painter one day," he says. "But when I was 14, representatives from the Explore Youth Law Enforcement Program with the LA Sheriff's Department came to school. I needed extra credit for volunteering and thought it looked like fun, so I went through a 20-week program that included wearing a uniform and going on ride-alongs. I ended up catching the bug."
Though he originally thought he would work for the LAPD, Gonzalez found he liked the slower pace of the university setting. "I saw on the ride-alongs that the officers were continuously putting out fires, whereas in the campus setting you have more time to go out into the community and meet people and build relationships."
Gonzalez has also found that his education has helped him during his career. "My Master's in Liberal Arts gave me the opportunity to study different types of leadership, including more humanitarian, servant leader styles, such as those of Cesar Chavez and Martin Luther King. Additionally, my Doctorate in Education has enabled me to analyze issues affecting law enforcement, such as the problem of excessive force, which I have found boils down to bad training. Rather than militarized training, I believe in educating and improving critical thinking skills. To do this at Chapman, we do a lot of scenario-based training. This includes implicit bias training."
"With Rick, you never get the sense of an us versus them mentality," says Chapman University's Vice Provost for Academic Administration, Lawrence (LB) Brown. "He is a great leader who communicates issues well and is always looking out for the best interests of the Chapman community. He brought an innovative focus group process to Chapman that drew together various Chapman public safety, local law enforcement and Chapman stakeholders to discuss public safety issues and break down the barriers of communication. I feel peace of mind knowing he is in charge of public safety."
Future Plans as Chief
Moving forward, Gonzalez plans to continue ensuring that Chapman remains safe and secure. One of the ways he is doing this is by overseeing efforts to seek accreditation for Chapman's Public Safety department.
"Randy did a great job of getting the department to a place where accreditation is possible," says Gonzalez. "We're working hard to get accreditation by next June. Showing that we follow best practices will give parents even more faith in the university."
Gonzalez is also leveraging technology, which he considers a "force multiplier." This includes transitioning to new smart cameras on campus that can be programmed to follow people as they walk by and zoom in on faces and license plates. The department is also getting ready to implement body-worn cameras.
While being a professional artist wasn't in his life plans, Gonzalez still paints in his free time. He also likes living in Chapman housing next to the campus with his wife, Rebecca, and their three children.
"It might be cliché, but I enjoy the closeknit sense of community here," he says. "I really like it when I'm heading to work and someone calls out, 'Good morning, Chief.'"