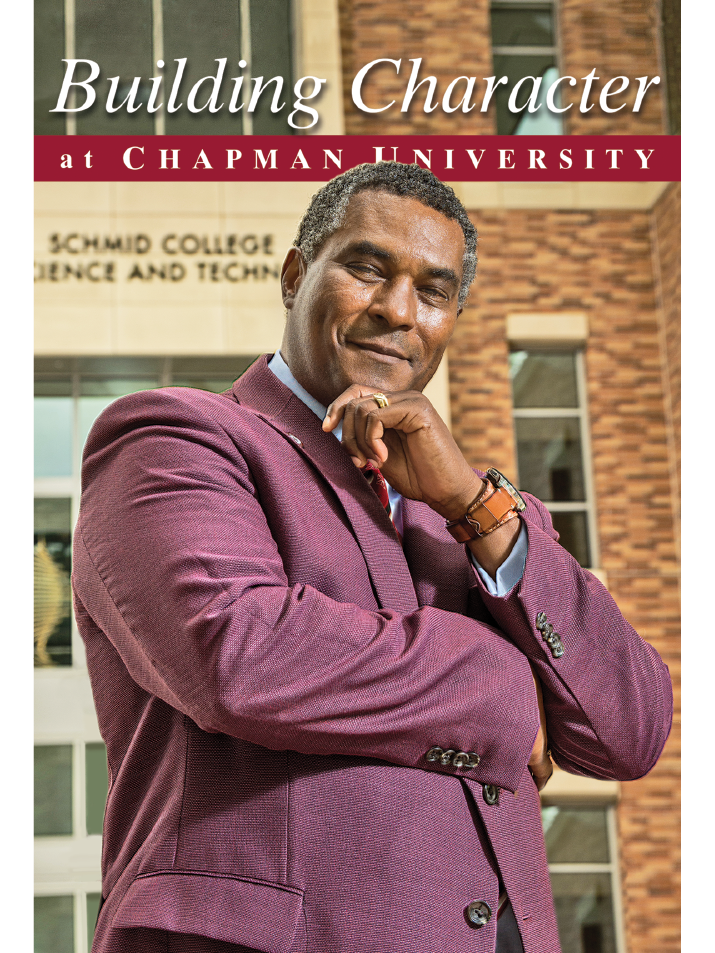 Lawrence (LB) Brown, PharmD, PhD
When Chapman University's Vice Provost for Academic Administration, Lawrence (LB) Brown, left the School of Pharmacy to take the administrative position in June 2019, he was somewhat apprehensive about the move.
"Up until that point, my life had been about training pharmacy students and improving the profession," says Brown, who joined Chapman in 2013 to lead the University's new School of Pharmacy. "I soon saw that everything I cared about came with the new position as Vice Provost. Helping faculty be more successful with their jobs serving students helps students be more successful."
Response to COVID
Brown's administrative skills were put to the test this past spring when COVID hit. "I was immediately pulled into meetings with the president and other senior staff and tasked with assisting in devising policies surrounding COVID," says Brown. "My healthcare background enabled me to contribute in a way that helped leadership make informed decisions. The university would have been fine without my assistance, but I think I made the process run more smoothly."
Chapman University President Daniele Struppa remarks on Brown's indispensability during COVID. "When the pandemic broke out, we had to pivot to remote within days. LB was our point person on the academic side. He earned respect from everybody on campus with his ability to jump in with calm and poise."
It was Brown's response to the pandemic that led Struppa to also appoint him as Presidential Advisor on Faculty Diversification. "LB is former military, and he shows that experience," says Struppa. "He is always calm under pressure, extremely well organized, has a systematic approach and a remarkable ability to see the big picture. I've put him in charge of a significant budget to help increase the number of faculty of color on campus. He has already been successful with that initiative."
Provost Glenn Pfeiffer agrees regarding Brown's contributions to Chapman. "LB took on a difficult role at a challenging time and responded extremely well. The university has benefited greatly by having someone with his talents working in the Provost's office. His expertise and commitment have been invaluable during the ongoing Covid-19 crisis."
Doctor of Pharmacy
Though becoming an air traffic controller once interested Brown, after serving in the U.S. Air Force as a pharmacy technician following high school, he decided to become a Doctor of Pharmacy. That was after three tours in Asia from 1985 to late 1990 and being called back to serve during Desert Storm in 1991 for a short period.
"At that time in the late 1980s, pharmacy technicians serving overseas did pretty much everything a pharmacist would do stateside, including filling prescriptions and counseling patients about their medication, all of which I enjoyed," he says. That led Brown to earn his Pharm D. (Doctor of Pharmacy) in 1999 from the University of the Pacific in Stockton and his PhD in Social and Administrative Pharmacy in 2003 from the University of Minnesota.
Brown's military service also encouraged an interest in leadership he'd had since high school. "While in pharmacy school, I got involved in opportunities that started me on a path to leadership positions," he says. "This included serving as the Chapter President of the APhA Academy of Student Pharmacists and as a regional officer and then National Speaker of the House." Since those early roles, he has served as a trustee and Speaker of the House of the American Pharmacists Association and as president of the organization in 2015.
Prior to joining the School of Pharmacy's administrative team, Brown was an Associate Professor of Health Outcomes and Policy Research at the University of Tennessee College of Pharmacy in Memphis. There he served in various roles, including Vice-Chair of the Department of Pharmaceutical Sciences, Chair of the Health Outcomes and Policy Research Division, Director of Graduate Studies in Health Outcomes and Policy Research and Director of the UT Center for Medication Therapy Management.
Joining Chapman University
When Brown and his wife, May, and their two daughters left Tennessee so he could join Chapman in 2013, the Chapman University School of Pharmacy (CUSP) was a couple of years from opening its doors. He worked tirelessly to fulfill the school's goal to educate and develop the next generation of pharmacists and pharmaceutical scientists.
"My vision was to give the students a 'Nordstrom' experience," he says. "I want them to leave the university feeling taken care of and as if they have grown and are well-equipped to succeed in the pharmacy field. That focus helped us grow the pharmacy school in a very competitive market. When we opened, there were 11 other pharmacy schools in California students could choose from; today there are 14."
Brown also enjoys keeping abreast of changes in the field of pharmacy. "Pharmacy has changed dramatically since the mid-1990s when pharmacists first began giving patients vaccines," he says. "At that same time, a new model of pharmaceutical care emerged, focusing on a holistic approach that strives to keep patients healthy, rather than just managing disease."
Over his career, Brown has worked to expand pharmacists' roles within the healthcare system to improve patient health. He is an international expert in the area of Medication Therapy Management (MTM), which enables pharmacists to take a more expanded approach to managing patient medications regarding their health. He has given many presentations on MTM throughout the U.S. and world.
Focus on Research
Brown's work in the field of pharmacy has included conducting research. "I've always been fascinated with the concept of the stereotypical view people have of pharmacists," he says. "Most people only know about community pharmacists filling prescriptions, but pharmacists work in many capacities, such as going on rounds with doctors and making medication recommendations. I wondered what people think, for instance, when they see their pharmacist typing on the computer. People often don't know that the pharmacist is looking for vital information while filling prescriptions, such as drug interactions and allergies."
To gauge how aware people are of pharmacist roles and capabilities, Brown conducted regional studies on the consumer view of pharmacists. The results have proven revealing and have the potential for improving the patient experience. His most recent research was a national survey of more than 25,000 consumers. He found that the view of pharmacists is similar in all 50 states.
Whether he's contributing to the field of Pharmacy or acting as Vice Provost, Brown focuses on service. Those who work with him note this penchant to serve the greater good.
"I'm always impressed by LB's commitment and willingness to contribute whenever he can," says Pfeiffer.
Struppa agrees. "LB is a kind, generous man of integrity and character. Our society needs more people like him. As I have told him several times, I know one day I'll be invited to his inauguration as president of some other college or university. His trajectory is clear, and he has what it takes to reach that goal. I can't wait for that day, though I don't want him to leave us too soon."