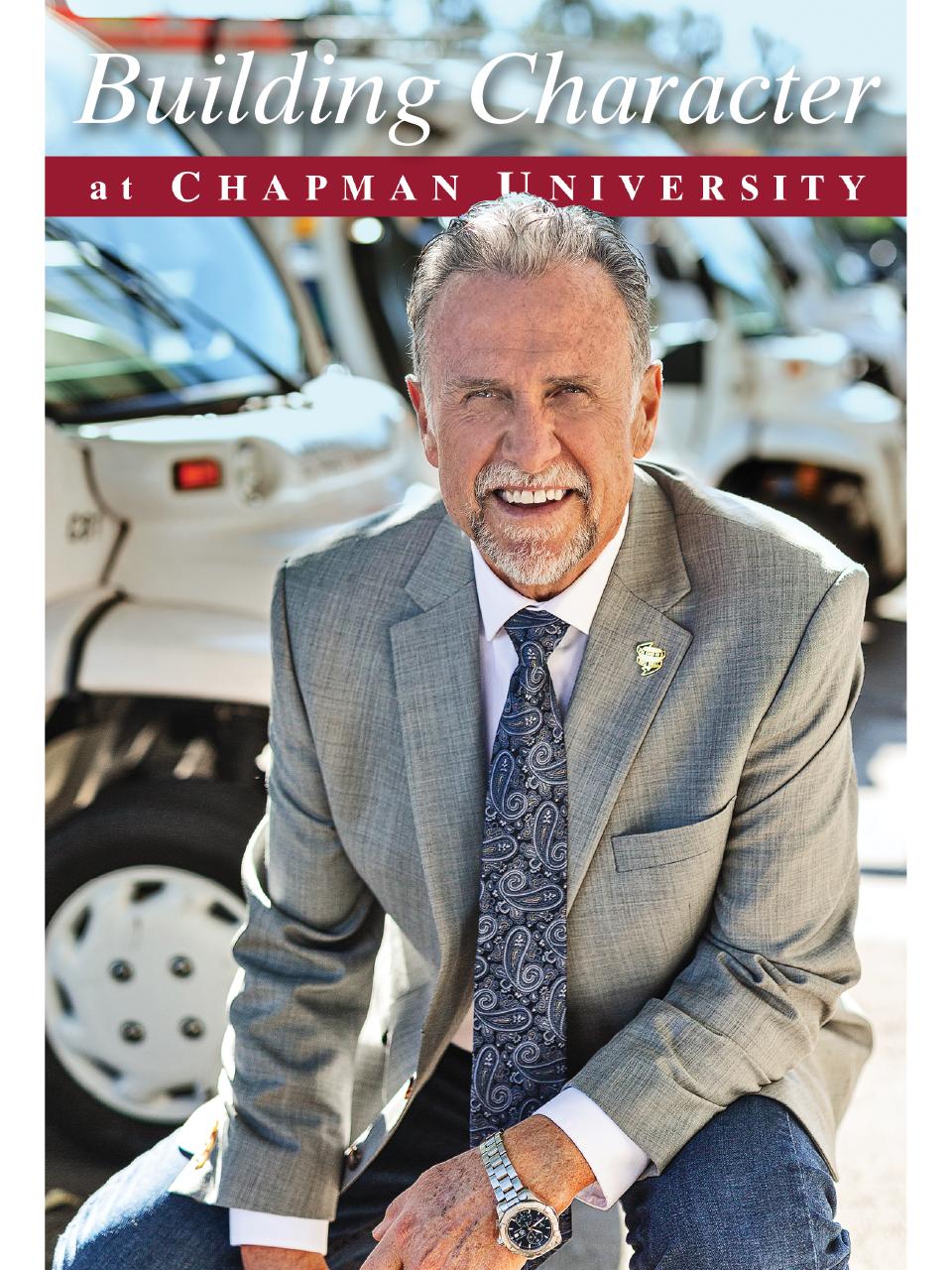 Rick Turner
Rick Turner thrives when given the opportunity to rise to challenges. "I love making things happen," says Chapman University's Vice President of Facilities Management. "I get excited when someone says they have an unusual request."
COVID-19 gave Turner the chance to tackle a multitude of unprecedented challenges. "Facilities management was deemed essential during the pandemic, which meant that we remained on campus to work out the details of ensuring the university was safe from a facility's standpoint," says Turner. "This included prepping the campus with hand sanitizers, bringing improved air quality and air exchange rates, and ensuring that building occupants had 6-foot clearance."
Facilities management during the pandemic was especially demanding, says Collette Creppell, Vice President of Campus Planning and Design at Chapman University. She often works in tandem with Turner on the university's various building projects.
"During the past turbulent two years, Rick did an extraordinary job of bringing everyone safely back to campus (under the "CU Safely Back" campaign here at Chapman)," says Creppell. "He planned and executed our initial shut-down of campus and then our physical return. To accomplish this, he and his team orchestrated an infinite number of details, including informational signage, outdoor tents, new cleaning protocols, distributing masks and more. Rick has responded to every wave of the Covid/Omicron era with grace, can-do spirit and effectiveness."
Facilities Management often Goes Unnoticed
Generally, when you enter a well-run facility, such as one of Chapman's many buildings, you often don't notice the results of the behind-the-scenes work of facility's management—until something stops functioning properly.
"People don't tend to think of certain comforts until they're no longer working, such as when the air-conditioning in a building goes down during a heatwave," says Turner, who began his career in maintenance at the University of Southern California (USC) in 1980 and joined Chapman in 2010. In his current position at Chapman, several departments are under his purview within facilities management, including mechanical, electrical, plumbing, HVAC, groundskeeping and property management. He also oversees the university's mailing services and copy center.
"Facilities management is the quiet work that keeps the entire university running, yet is an under-appreciated art," believes Creppell. "In addition to directing the teams that handle the multitude of daily service calls, Rick engages at the high levels of the university administration to address the long-term view of the operation and maintenance of our facilities. As the facilities portfolio of the university is currently close to 3-million-square-feet of building space and more than 120 acres among our campuses and properties, that is no small feat. He sets the tone and the standard, and there is not a detail his team misses, whether that be fixing a plumbing problem, replacing a compressor on a roof on the hottest day of the year, or cleaning gum off the pavement."
It is such attention to detail that impresses visitors, notes Gail Nishida, Chief Compliance Officer, Institutional Compliance at Chapman University. "Chapman has visitors from all over the world 365 days of the year. One of the first things visitors notice upon arrival is how well maintained the buildings and grounds are," she says.
"First impressions are important," says Turner. "I've had parents fill out surveys and note that what helped sway them toward having their children attend Chapman was the cleanliness of the campus public restrooms. They see that level of detail as a sign that their children will get a high-quality education here."
Southern California Native
Born and raised in Highland Park, a neighborhood in northeast Los Angeles, Turner spent his formative years there from the mid-1960s to the mid-1980s. "I had a typical childhood with two parents, who are still married and just celebrated their 62nd wedding anniversary," he says. "Our roots run deep in Highland Park. I was a third-generation student at my high school."
After graduating in 1980, Turner went to trade school. At the time, he also began working at USC in the maintenance department where he had an apprenticeship in the electrical shop, which he did for four years. He continued in the maintenance and construction division of the university, becoming foreman of the electrical department in his early 20s and continuing to rise through the ranks. Eventually, he became Assistant Director of USC's Mechanical Trades Division for their University Park and Health Sciences campuses.
When Chapman was looking for a Director of Facilities Management, Turner got a cold call from a headhunter about the position. He decided to interview and was offered the job and accepted.
"It's been a fun ride at Chapman," he says. "The move was a great fit for myself and my family." Turner's wife, Lori, is an elementary school teacher. Their two children had the opportunity to attend USC or Chapman, and they both chose to go to school here in Old Towne. "My daughter earned her undergraduate degree in psychology and got a master's in education and is now a special ed teacher, and my son majored in psychology and is embarking on a career in law enforcement," says Turner.
Steward of Chapman University Historic Buildings
In addition to maintaining facilities for students, faculty and staff, Turner conducts needs assessments for the school's buildings, including analyzing how to expand the life expectancy of the various structures.
"Chapman is located in the middle of Old Towne Orange, an area that appears on the National Register of Historic Places," says Turner. "As such, I consider my department as stewards of the many historically significant buildings at Chapman. We look for ways to expand the life expectancy of the university's buildings to ensure they are here and operational for decades to come. Chapman is contributing to the history of the City of Orange, and that is a commitment I take seriously and am quite proud of."
In addition to various historic buildings on campus, Chapman owns approximately 120 historic homes in the area, which the university has worked hard to restore and maintain. "The amount of energy and attention to detail that has gone into restoring the historic homes is incredible," says Turner. "When you've been in the construction industry all your life like me, there is something extremely gratifying about being a part of bringing a home back from the brink of complete annihilation and restoring the structure to its former glory."
Cindy Graves is Assistant Director, Department of Business, Facilities Management. She believes that Turner has elevated the role of facilities management at Chapman.
"Overall, I feel that Rick has given Facilities Management a higher place in the University by engaging in new building planning and renovations. (Which is a plus for maintenance because we have a say in building something that we will be tasked with maintaining). He has also brought a level of confidence with his knowledge and experience with higher education and facilities issues. Rick is a people person and has brought enthusiasm to the department, built relationships within the Chapman Community outside of Facilities Management and embraced partnerships within our group. I feel particularly blessed to have him as our team leader."