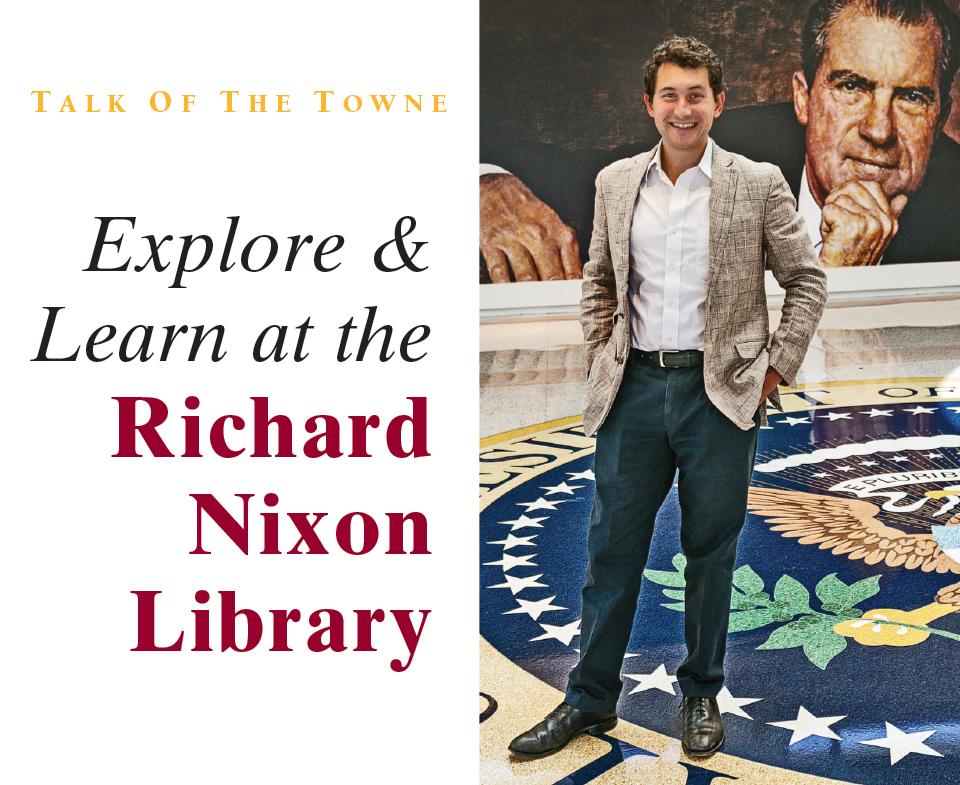 The Nixon Seminar, a program that convenes virtually, aims to "educate the next generation of policy makers and national security specialists," says Jim Byron, Executive Vice President of the Nixon Foundation, which facilitates the monthly seminars.
The Richard Nixon Library and Museum is not your average shrine to a former U.S. leader. Especially since a multi-million-dollar renovation in 2016 brought exhibits up-to-date with modern technology.
"Every word in there was fact checked. Every photo and videoclip was reviewed by an independent panel of four historians," explains Jim Byron, Executive Vice President for the Richard Nixon Foundation, the non-profit organization that runs the Yorba Linda facility alongside the National Archives and Records Administration.
"You can't find that at any other presidential library. We really put together an impartial display that continues to attract an influx of visitors under the age of 40. That's really our target demographic and is the next generation—my generation.
Old Towne resident Sandy Quinn served in various capacities at the foundation, including president, and is currently on the Board of Directors. "We do more week-to-week programming than any other presidential library," he affirms. "We are the performing arts center for public affairs in Orange County."
Byron, a Santa Monica native who lived in Old Towne while obtaining a Bachelor's in Business Administration at Chapman University and now calls Costa Mesa home, first got involved with the Nixon Foundation at a young age.
"Totally by accident," he admits. "I've always been a history buff. I was bored during the summer between eighth grade and starting at Santa Margarita High School. I wrote a letter to the Nixon Library. Much to my surprise, I received a response from Sandy Quinn about an internship."
Quinn, Director of Marketing at the time, immediately saw potential in Byron. "He read everything he could about Nixon and would do anything you asked him to do," recalls Quinn. "A lot of interns don't do that. They want to play videogames. I also noticed Jim was an excellent writer and very well spoken."
Having worked part-time for the foundation throughout high school, Byron graduated from Chapman in 2015 and then moved through different positions at the foundation before ascending to Executive VP four years later. He was buoyed by the library and foundation's impact on both the Yorba Linda and Southern California communities at large.
The influence was acutely felt last year amid the height of COVID-19 when the foundation helped distribute 700,000 face masks to local schools, businesses and first responders, as well as multiple blood drives with the Red Cross.
A future Civic Education Center at the Nixon Library will "rededicate its educational programming efforts to encourage active?citizenship among library visitors and program attendees—particularly our youngest Ameri-cans," says Byron. "That process will unfold in phases over time."
First opened in 1990, the Nixon Library boasts such popular attractions as replicas of the White House Oval Office and East Room (the latter can be rented for weddings and business meetings) and a Marine One helicopter.
Quinn says it is rare for a U.S. presidential library to contain a former chief executive's original birthplace, memorials, galleries and archives all on the same grounds. "Yorba Linda still has a lot of the same atmosphere that it had in 1913, including old homes and trees," says Quinn.
Last May, the facility reopened after a 14-month closure due to COVID-19 with some new exhibits: "The President's Club" (friendships and rivalries) running through October, the outdoor "President and the Planet" (Nixon environmental initiatives) and "Evening the Odds" (Nixon's efforts to advance women in athletics, politics and business).
Looking ahead, the Nixon Library has "A Commitment to Hope," an exhibit marking the 50th Anniversary of President Nixon signing the National Cancer Act, slated for fall. Byron says development of the mRNA technology used in COVID-19 vaccines can be directly traced to the initiative.
Richard Nixon Library & Museum
18001 Yorba Linda Blvd, Yorba Linda CA 92886 / 714-634-1155
A tour package is in the works with Chapman's Hilbert Museum of California Art. Foundation membership is $95-$10,000. The Nixon Library is at 18001 Yorba Linda Blvd. Admission: $23 (18 and over), $19 (62 and over), $17 (ages 12-17), $13 (ages 5-11). Advance online ticketing is encouraged. Hours of operation: 10 am-5 pm daily, except for major holidays. More information: 714-993-5075 or nixonfoundation.org.