At Home in Orange - May / Jun 13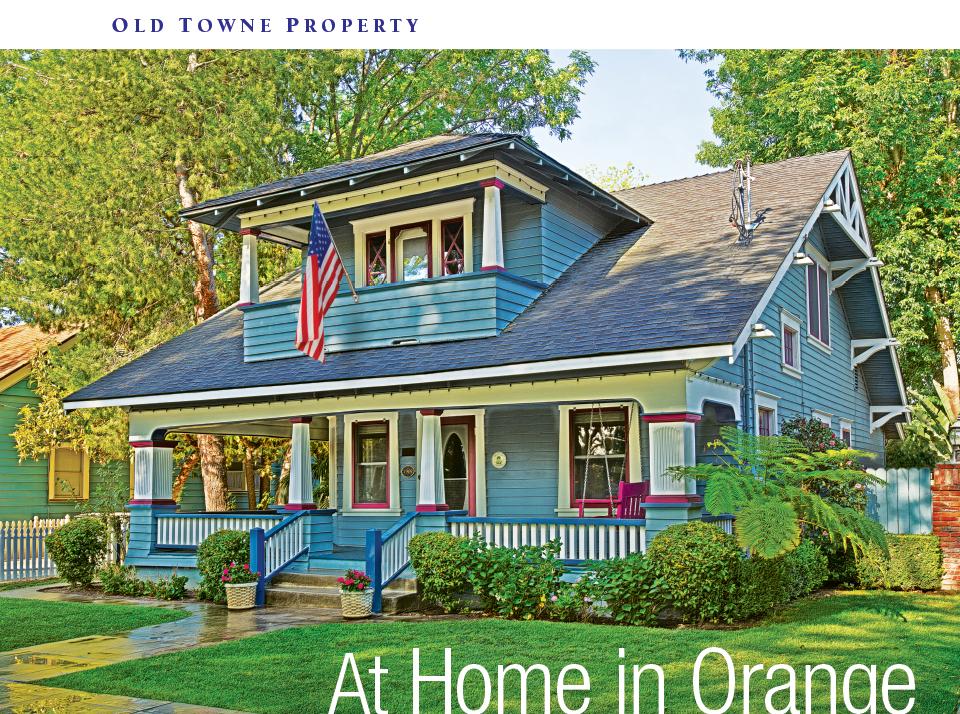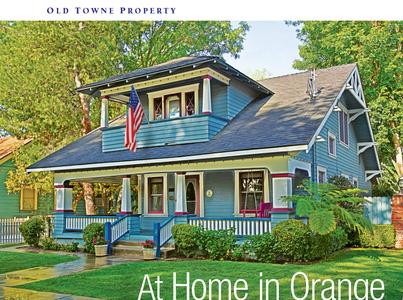 A classic Craftsman built in 1909 has been home to Sandy Quinn for more than a decade, and featured twice on the Old Towne Preservation Association's Home Tour. The wrap-around veranda was a popular design feature reflecting the lifestyle of the era when residents seemed to have more time for neighborhood conversation while sipping ice tea on sunny afternoons.
Patriotism runs deep in Sandy Quinn, so it comes as no surprise that the longtime Old Towne resident painted his historic craftsman home on North Shaffer red, white and blue to match the American flag that hangs from the second-story dormer (a.k.a. "sleeping porch").
The president of the Richard Nixon Foundation at the Richard Nixon Presidential Library & Museum in Yorba Linda, Sandy has spent much of his illustrious career interacting with U.S. presidents, senators, astronauts, military brass, world leaders, dignitaries and a host of fascinating people. Given his passion for history, it was only fitting that Sandy sought to live in a true historic neighborhood like Old Towne.
Sandy moved here from the Hollywood Hills in 1997, looking to shorten his commute to and from work at the Nixon library. Although the North Shaffer property needed a lot of work when he purchased the home in 1999, today the circa-1909 residence is one of the most distinctive homes in Old Towne, thanks to some major restoration and renovation efforts implemented by Sandy.
"I really like old homes," he says. "My mother was from a small town in Georgia, and I've always favored the craftsman architecture that prevails in Old Towne. When I first saw this house, it had a 'sold' sign on it. Then a few days later it fell out of escrow, and I put in an offer."
A collection of memories dresses an antique family table, topped with photographs of Sandy with Nancy Reagan; a favorite German shepherd named Tonto; an autographed shot of country star Roy Rogers; Sandy's parents; and a candid of Sandy with Richard Nixon.
The impressive staircase and heavy bannister so impressed Sandy when he first saw the home that he decided to make an offer on the house. The embroidered floral in rich burgundy was once the fireplace screen in Sandy's childhood home. He removed it from the original stand so it could become a wall decoration.
An empire style sideboard from his childhood has been home to a silver tea service and candleholders since Sandy was born. It was the first piece of furniture his grandparents bought when they were married in the late 1800s.
Before he could move in, however, there was work to be done. The roofline above the porch was sagging, creating a serious structural problem. A team of experts found a way to reposition the roof, as well as recreate new pillars to match the existing ones.
Architecturally distinguished, the home features trim on the doors and windows that widens at the bottom, giving the illusion that the openings are the same dimension as the trim. Sandy enjoys spending time on the expansive wrap-around verandah, which is supported by fluted piers. The front porch still retains the original hanging swing from the early 1900s.
In 2005, he built a "mini me" guesthouse in the backyard modeled after his house. The guesthouse won an award from the Old Towne Preservation Association for "outstanding compatibility with existing historic structures."
"It's got pecan hardwood floor and a vaulted ceiling," he says. "I rent it to a Chapman student."
The inviting, friendly and warm living room features family heirlooms complemented by leather chairs and a sofa from Restoration Hardware. The framed blue-and gold-American Eagle scarf was made by Ann Hand of Washington, a designer of unique Americana jewelry, furniture and accessories. On the coffee table are the first 15 issues of Life Magazine.
Inside the main residence, the original tongue-and-groove flooring sets the stage for heirlooms and antique furnishings passed down through Sandy's family.
"A lot of the pieces here are from my grandmother, and they were passed down to my parents in the home where I was raised," Sandy says. "I like wood and leather. I have a collection of pewter plates from my parents, plus American primitive paintings by Charles Wysocki. I just love his work, because it's pure Americana — the America of my imagination that my parents described to me."
On the walls hang framed photos of people he's worked with or has known through the years, including Billy Graham, Nancy Reagan, Richard and Pat Nixon and Bill Clinton. Patriot art is on display throughout the home, such as American eagle woodcarvings, a framed quilt and artwork from the Rockefeller Museum in Williamsburg. There are even two autographed prints by artist Peter Max that depict George Washington and the Statue of Liberty.
A native Californian, Sandy worked as a campaign manager for U.S. Senator George Murphy (R-CA) in the 1960s. Murphy had been endorsed by Walt Disney at the time, and it wasn't long before Sandy was invited to help open Walt Disney World in Orlando, Florida, where he became head of marketing, advertising, promotions, events, sales and publicity.
The dining room shows off the home's original hardwood floors. The dining table was once Sandy's desk when he was head of marketing at Walt Disney World in Florida. He favors a round table because it allows better conversation for dinner guests. Above the table is an original painting of early America by the late Charles Wysocki.
"I was young, and it was exciting and great fun," he recalls.
Eventually, a group of Disney colleagues formed a marketing company. One of their clients was the Richard Nixon Library. As it turns out, Sandy had actually worked for Richard Nixon when he ran for governor of California in 1962 after Nixon lost his presidential bid against John F. Kennedy.
"My desk was outside his office, and I got to know him real well," Sandy says. "We would travel a lot around California during his campaign. Well, he lost. Years later in Washington, D.C., he introduced me to President George H. W. Bush, and joked: 'Here's the man who worked with me on my California campaign—the one we lost.'"
With Google, his German shepherd pal and protector, Sandy enjoys the tranquility of his old brick patio, large enough to seat 30 guests for a sit-down lunch or dinner party.
These days, Sandy keeps a busy schedule. Whether attending the opening of the George W. Bush Presidential Center in Dallas, traveling with a delegation to China to retrace Nixon's steps, chatting with old pal Diane Sawyer of "ABC News," or organizing the upcoming Vietnam POW Reunion and Dinner at the Nixon library on May 23rd and 24th, Sandy continues to witness history in the making.
When he's not at work, he likes walking his dog, "Google," to the Plaza each morning, or sitting outside on the porch with his laptop and a cup of coffee. A preservationist at heart, he also serves on the board of the Old Towne Preservation Association (OTPA). His beautiful home has been featured on two OTPA home tours and received the 2001 Award for Best Restoration.
"I thank God for the abundance of blessings that I have," says Sandy. "Every day is an exciting day. I truly love my job, and I love living in Old Towne Orange."