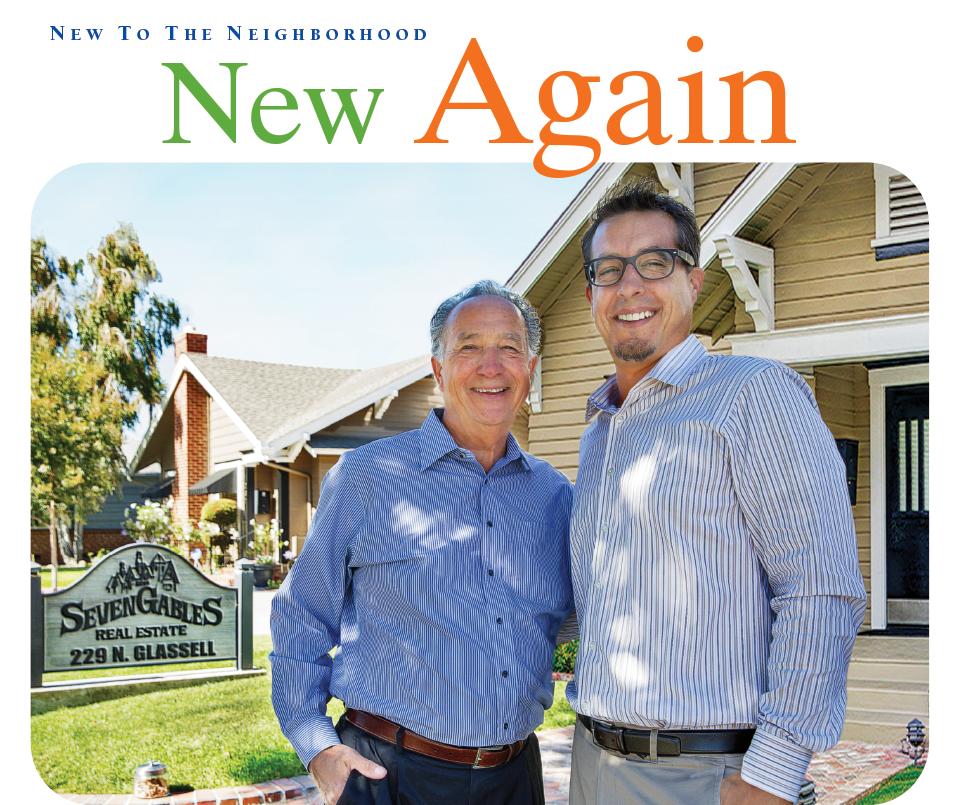 Doug Willits (left) and his son, Ben, an Orange native, recently joined Old Towne's Seven Gables Real Estate team. Both alumnus of Chapman University and active in community service organizations, the duo is well-suited to selling residential real estate in the community they've called home for decades.
- - - -
Willits Real Estate Group
Doug Willits and his son, Ben, may be the newest members of the Seven Gables Real Estate team in Old Towne Orange, but that's not where the story begins. It all started in 1969 when Doug met his future wife and Ben's mother, Susie, on Chapman College's tennis courts.
"We were in the same tennis class and hit it off right away," says Doug, who came to Orange after military service. "Susie says she beat me at tennis, but that's to be debated." What's not to be debated is their marriage during spring break in 1972 and the couple hopping onboard Chapman's World Campus Afloat Program the following fall.
"Susie had just earned her teaching credential from Chapman, and I'd gotten my undergraduate degree in communications with an emphasis in media production when they offered us jobs onboard ship," says Doug. "We spent an extended honeymoon sailing around the world for four months."
Every port the couple stopped in provided an adventure. "We became friends with a photographer who worked for National Geographic. Thanks to him we enjoyed several once-in-a-lifetime opportunities, like an all-expense paid safari, where I took photographs alongside him."
When the Willits returned to Orange, they settled down in Orange Park Acres for 27 years and raised their son, Ben, and daughter, Kelsey, both Lutheran High School graduates. During those years, Doug worked in electronics and traveled extensively internationally.
"One day I decided that I didn't want to travel for business anymore," says Doug, who quit and then consulted with an appraiser about running his company more efficiently. That inspired him to get his own appraiser license. Then he earned his real estate broker license. Prior to joining Seven Gables, Doug worked for another brokerage in Old Towne for almost 10 years.
Ben and Doug recently teamed up after Ben decided to leave Trader Joes management, because climbing the ranks meant moving out of California. Leaving the area wasn't a welcome option for the father of two young daughters with a third child on the way.
"Ben got his license four years ago and had been helping me out," says Doug. "He was good at real estate, and we thought it'd be fun to work together."
Doug and Ben enjoy helping people buy and sell homes—especially first-time homebuyers and seniors interested in downsizing. "I also like the area's quirks," says Doug, who lives in a Mediterranean Revival house in Old Towne. "Kooky real estate challenges like main drain lines running through neighbor's yards and irregular lot lines make selling Old Towne properties an everyday adventure."
Willits Real Estate Group
229 North Glassell St, Old Towne Orange CA 92866 / 714-315-8120