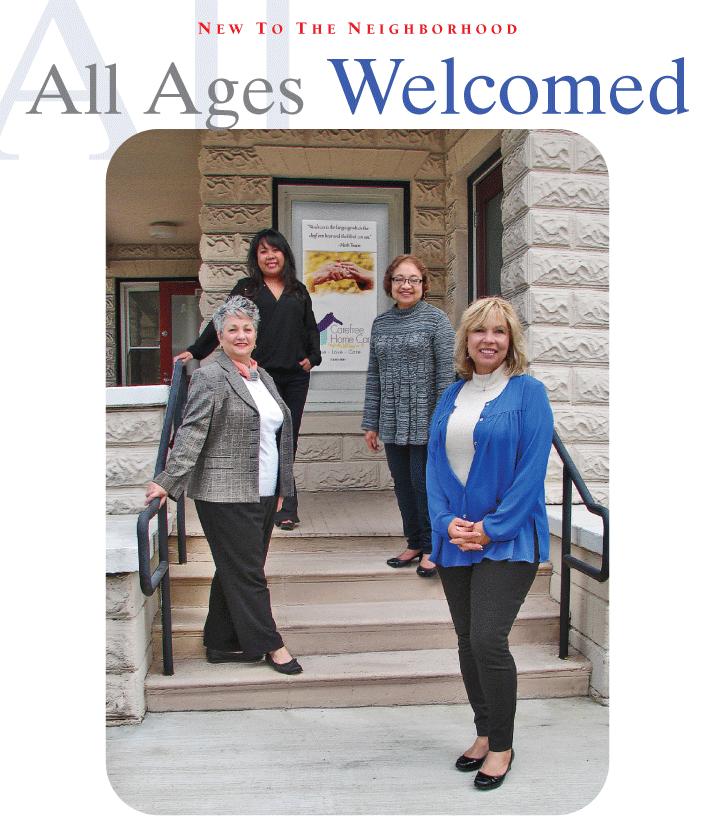 The caring professionals at Carefree Home Care pictured at their new headquarters in Old Towne include (from left): Maureen Tiritilli executive assistant; Jackie Ferrer-Martinez, director of business development; Eleanor Llacar, care manager and Michelle Tagge (front), co-founder.
Carefree Home Care
The peace of mind that comes with being able to care for an aging family member in the comfort of his or her own home can be an undeniable blessing for families. Indeed, studies have shown that the elderly fare much better during the aging process when living in familiar surroundings, compared to an institutionalized setting.
Based in Old Towne Orange, Carefree Home Care provides a highly vetted roster of skilled, compassionate caregivers who assist clients throughout Southern California. Founded in Huntington Beach in 2013, the agency relocated its headquarters last year to a cozy and historic home/office at 419 S. Glassell in Old Towne. The family-owned boutique business puts the focus squarely on quality and heartfelt, compassionate care, explains co-founder Michelle Tagge.
"We look for caregivers who have the hands to serve and the hearts that care," says Michelle. "They must truly care about the senior and have a genuine passion for the job. We assign a care manager for every client to ensure that all needs are met and exceeded. We are there for our clients 100 percent."
Michelle knows first-hand about caring for an aging parent. Shortly after she retired from her 37-year career in the Western Region Human Resources division of UPS, her father suffered a stroke, but eventually recovered. Meanwhile, her sister-in-law and co-founder, Leslie Wulff, a Registered Nurse, had dealt with her own challenges finding the right in-home caregivers for her aging parents.
"We took care of my mom at home for 11 years when the time came to bring in caregivers," says Leslie. "We went through a lot of caregivers before we found the right ones."
After witnessing the many challenges of the home healthcare industry, the two decided to open their own agency.
"Our goal was to provide something meaningful to seniors in need and their families," says Leslie. "We knew we could do it better than what we had experienced. To that point, we aren't looking to be the biggest agency, just the best."
Licensed and bonded, Carefree Home Care offers completely flexible, customized plans tailored individually to each client's needs. Complimentary in-home assessments are included.
For Leslie and Michelle, their combined business, personal and medical backgrounds are the ideal attributes for success.
"We love what we do, and we've had the privilege of meeting and serving some remarkable seniors and families. We've also worked with caring Home Care Aides who go to work each day with caring hearts to make a difference in their clients' days," says Michelle. "The response of gratitude we receive in return from the clients and the families is the reward."
Carefree Home Care
419 South Glassell St, Orange CA 92866 / (714) 501-9801