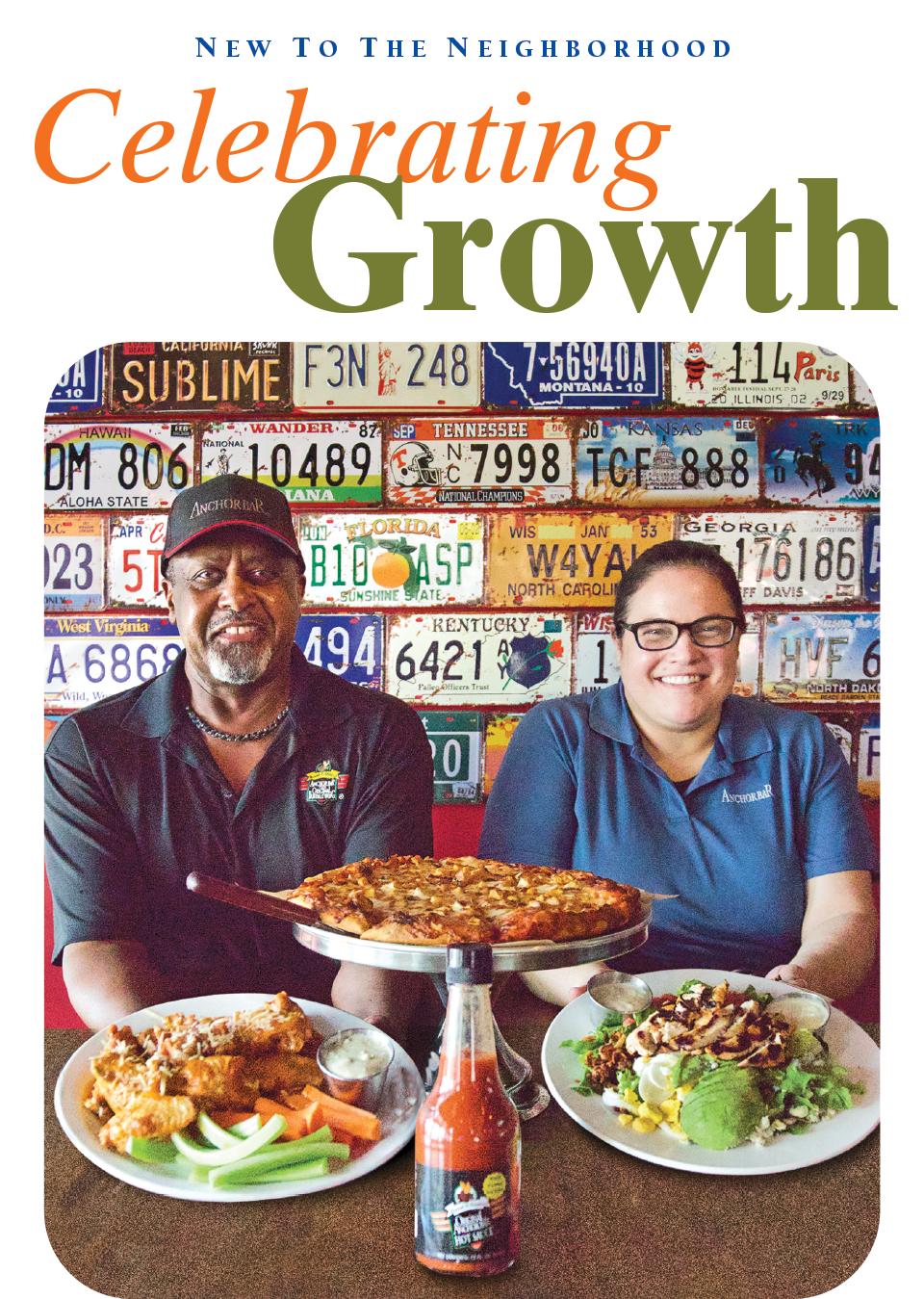 Franchise Owner Mike Looney and General Manager Tiffany Bejar present a few specialties from Anchor Bar's expansive menu. Before opening up in Orange, Looney attended years of franchise conventions in Los Angeles to learn the ins and outs of the industry.
- - - -
Anchor Bar
Just in time to curb your summer cravings, Anchor Bar, Home of the Original Buffalo Chicken Wing since 1964, expanded its world-famous franchise to Orange. The new location on Katella Avenue near the Honda Center is the latest addition to the franchise family.
With 13 other locations across the United States and Canada serving more than five million pounds of chicken wings annually, Anchor Bar is an East Coast sensation that's making its western debut right here in Orange. Owner Mike Looney, a veteran who previously worked in the medical industry, opened the new location with his wife, Dawn.
After a career in the medical field, Looney wanted to enter the restaurant industry and knew a franchise was his ticket in. For years, he attended conventions in Southern California to learn the ins and outs of franchises and how to succeed in the business.
Looney researched a few companies before meeting with the headquarters of Anchor Bar, and ultimately decided that the atmosphere, reputation and distinctive menu were perfect to introduce to the city of Orange. Although he was born and raised in New Jersey, he's been a Fullerton resident for more than two decades and feels passionate about entering the culinary scene in the area.
"I had a good gut feeling about opening Anchor Bar," he says. "I felt like it would be a good fit here in Orange."
Anchor Bar's family friendly menu is filled with American classics like burgers, pizzas and wraps, but the restaurant's real claim to fame is the wings. In 1964, the owner of the Anchor Bar location in Buffalo, New York invented the original buffalo wings, a dish now instantly recognizable at restaurants across the country.
"We're famous for our wings, and we can make them however you like them," says Looney.
With 11 types of wing sauce options and six dry rub offerings, Anchor Bar follows up on its promise. The eatery also serves a meatless wing option, created from a plant-based protein that can be customized with any and all seasoning choices.
After opening in the beginning of January, Looney has practiced and perfected his customer-focused approach to the business. He can often be found greeting guests directly in the restaurant or asking them for honest feedback, hoping to create an entertaining atmosphere that welcomes all diners.
"I want people to come and feel relaxed, like they're at home," he says. "We're here to serve you and give you a great experience."
He's also making sure residents in the local neighborhoods feel comfortable with the new restaurant.
"I'm looking forward to having a good relationship with the community," he says. "I'm in their area, and I want them to like what we're doing."
Even if wings aren't your thing, you're sure to find a dish on Anchor Bar's comprehensive menu that suits your taste buds. But if you're all about the wings, you're certainly in luck.
"We're excited to be bringing our James Beard Gold Medal Award Winning wings to Orange," says Mark Dempsey, CEO of the Anchor Bar Franchise & Development Company. "Our company's long history is built on family, and that's why it's important that every Anchor Bar is run locally by community business owners like Mike and Dawn Looney in the City of Orange.
Anchor Bar
1547 West Katella Ave #102, Orange CA 92867 / 714-944-8034