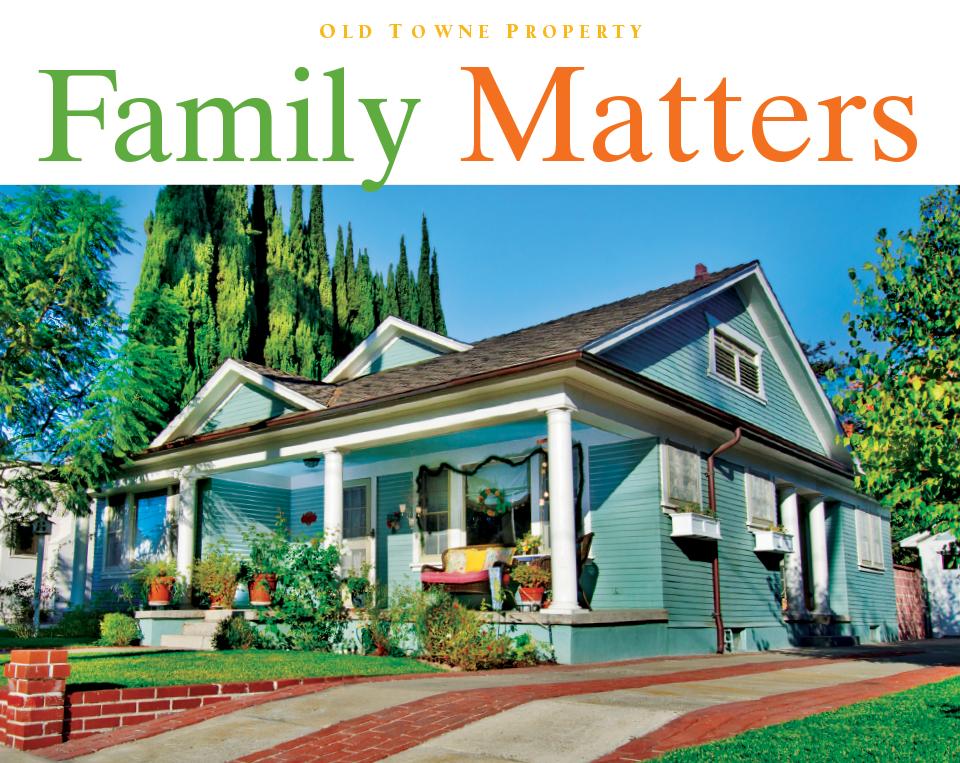 The 1922 Craftsman Bungalow on North Pine is the home and working space of artist Katie Schroeder, whose business, Schroeder Studio Gallery, is also located in Old Towne.
The connections are uncanny, the coincidences beyond belief. Yet for the Schroeder family of Old Towne Orange, acquiring a historic home on North Pine felt like destiny.
Co-owner of Schroeder Studio Gallery on Maple Avenue in Old Towne, Katie Schroeder now lives in a 1922 Craftsman bungalow that her parents purchased in 2012. With roots that run deep in Old Towne, Katie's family has been an integral part of the community for generations. (Walker Hall at St. John's Lutheran Church was named after her great grandfather, Charles K. Walker, for example, and her grandfather, Carl Schroeder, was bank president from 1962 to 1975 at First National Bank, now Wells Fargo.)
Katie creates original, fused-glass art pieces, including abstract tiles and backsplashes. Raised in an artistic family, Katie co-owns her gallery with her mother, Judy, an accomplished artist and watercolor teacher.
The centerpiece with natural elements, including oranges, comes courtesy of Michelle Jackson of Design and Details. Michelle and her husband Bret were Katie's first landlords in town.
But it came as a complete shock when Katie found out that the same person who built her bungalow in the early 1920s also had a business in the exact building where her gallery is now located.
"His name was Edgar M. Chapman and he owned Citrus Tire and Truck Company in town," says Katie. "When I discovered his history at the Orange County Archives, I couldn't get over the fact that he and I were living in the same house while working in the same building exactly 92 years apart! It's really amazing."
The light-filled living room includes a settee and chair from the home of Katie's great-grandparents, Edward and Magdalena Schroeder, who moved to Orange in the 1920s. The original built-in cabinetry that surrounds the fireplace provides a lovely focal point in the room.
But the coincidences don't end there. The home, as it turns out, is located just three doors down and across the street from her grandparents' first home that they built in 1936. What's more, Katie learned that her childhood neighbors, the Sturdevant family had a connection with Edgar as well.
"Virian Zirkle-Sturdevant was like an adopted grandmother to me," she says. "I recently found out that she actually attended Orange Union High School in 1925 with Edgar's son, Harold! These connections with Edgar keep on happening. It's why I feel that we were supposed to have this house."
The original owner, Edgar M. Chapman, built the home in 1922. Katie tracked down this vintage photo of Edgar pictured with his wife, Etta.
Serendipity played a part in bringing the home to her family, says Katie, who runs the gallery with her mother Judy. The previous homeowner, Fran Brown, was Judy's watercolor student and travel friend. When Fran decided she wanted to move to San Diego to be closer to her grandchildren, Judy took a look at the house and immediately fell in love with it.
Featuring two bedrooms and one bath, the 1,246-square-foot bungalow includes a basement, bay window, front porch and glass-paneled doors, all original.
Katie with her grandmother, Lydia Katherine Caroline Walker Schroeder, who first came to Orange in 1920. Katie is named for Lydia, who celebrated her 101st birthday last April. Amazingly, Lydia lived across the street from the Chapmans in 1936!
fter purchasing the home, the Schroeders did a number of renovations, including hiring local contractor Kevin Hockenberry to add a back porch with shingled roof, redwood railings and wide steps leading to the backyard. The installation of a new hot water heater turned out to be a major undertaking after the plumber discovered aging insulation on the old pipes.
"There were scorch marks but never a fire," Katie says. "The plumber said it was a miracle that this house never burned down."
The original claw foot tub takes center stage in the bathroom, which also features built-in cabinetry and a cushioned bench.
The dining room showcases glass-front built-ins and elegant crown molding. Katie's friend Lisa Ackerman, of A&P Collectibles, helped create the table setting. She is an expert on china, crystal and silver.
The vintage residence brims with original architectural elements, including swirled cement ceilings, crown moulding, wavy pane glass and old-fashioned picture rails. In the kitchen, the ceramic farmhouse sink is original to the home, as is the fireplace in the living room.
"There are beautiful, oak built-ins that flank the fireplace mantel, and they have stained glass in them," says Katie, a glass artist. "I can tell by looking at it that it was a lot of work."
A family gathering takes place on Katie's front porch with her aunt, Carol Schroeder Wold; Katie's mother Judy and father Jack Schroeder.
Specializing in fused glass, including abstract-floral tiles and backsplash accents for kitchens and baths, Katie has situated her glass-making studio inside the old carriage house on the property. To the family's surprise, the electrical in the carriage house was still the original "knob and tube" system. Katie said that if she had plugged in a kiln or even a floor fan, she would have knocked out the circuit breaker.
"We had Lowell Martin, an electrician in town whose business is in the same building as the gallery, come in and fix the carriage house. It's been great being able to create art at home instead of at the gallery. I fire the kiln at night, and in the morning I have a new piece."
In the kitchen, oranges abound in the form of paintings, prints, crate labels, pottery and plates. The Christmas decorations also reflect Katie's affection for the iconic fruit.
Decorating the interiors with her favorite paintings, art glass, ceramics and artworks, Katie admits there's not a bare wall in the house. Her largest collection showcases paintings by family friend Lucy Burns, a painting partner of her mother's who traveled with Judy to Samoa and Tahiti on art treks.
In the kitchen, the Schroeders plan to add some extra countertops made from a vintage slab of marble that came from the old bank building where her grandfather worked.
The festive dining room table, complete with orange-themed centerpiece, invites conversation between Katie, Lisa Ackerman, Lydia, Carol, and Lydia's caretaker, Leticia Valencia.
Outside, Katie placed a copper weather vane on top of the carriage house. The lush backyard includes lemon, avocado and redwood trees, a 60-year-old palm, roses, hydrangeas, plus a tangelo tree loaded with fruit.
A history buff and board member with the Orange Community Historical Society, Katie relishes the opportunity to live in a home that has such personal and historic connections.
"I feel so honored and blessed to be here," she says. "It's such a treasure. When people walk into the house they tell me they get the same warm feeling they do when they walk into the gallery. I want to care for this home like Edgar would want it to be cared for. I feel this connection with him as though he is our extended family. It's beautiful."