Artists in Orange - Jan / Feb 12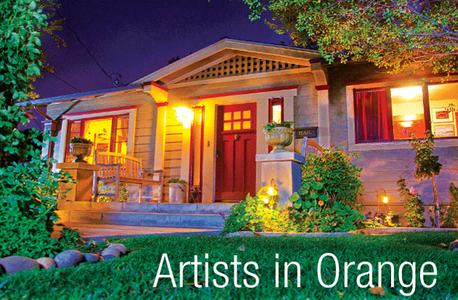 A stop on this year's
Old Towne Orange
home tour, the historic bungalow on South Grand features a multi-gable roof and wide lap siding.
When Dave and Lora Royster welcomed more than 1,300 people to their home during the 2011 Old Towne Orange Home Tour, they relished the opportunity to share the history of their 1923 California bungalow with visitors and neighbors alike.
"I enjoy going on home tours myself, so it was great to meet people who appreciate older homes," Lora said. "It was a fun and positive experience."
Known as the Handley Home, the Royster's bungalow at 320 South Grand was originally built for Lenora Handley in the early 1920s. Various members of Lenora's family occupied the home until 1945, followed by James Marta and his wife, who lived there through 1964. (James was a mechanic for the Olive Heights Citrus Association in the 1950s.)
Art teachers at Anaheim High School, Dave and Lora have cultivated a collection of artwork, flea market finds, antiques and architectural pieces, as showcased in the living room, pictured above. The room was added to the original bungalow in the 1940s.
Characterized by wide lap siding and a multi-gable roof with shallow pitch, the 1,500-square-foot bungalow includes two bedrooms and one-and-a-half baths. There's also a large basement that serves as an art studio for the couple. Both Dave and Lora teach art at Anaheim Union High School.
Although the home was in great shape when they purchased it in 2006, the Roysters determined that the previously updated kitchen needed to be brought back to a vintage look more reflective of the era. They removed the granite countertop, modern cabinets and Mediterranean-style tile, opting for a farmhouse-style kitchen that now features seafoam-green linoleum flooring, a duel porcelain sink, plain white cabinets and a 1940s Western Holly gas stove.
"We actually went on Craigslist and found a guy in Whittier who had two gas stoves for sale," Lora said. "Our stove is very old-fashioned looking, with porthole windows on the doors. For the fridge, we chose a Big Chill model in white. It really does look vintage. We have a Big Chill dishwasher too."
The Roysters relied on the expertise of their contractor, Chuck Kinsicki, of Good Home Construction. To replace the granite, he installed a soapstone look-alike, Caesar stone, which perfectly complements the country farmhouse sink and cottage feel of the kitchen.
During the remodel, volunteers from Habitat for Humanity came out to help remove the granite, cabinets and appliances, all of which were donated to the organization.
When the Roysters acquired the home in 2006, they decided to re-do the kitchen, which had been modernized by a previous owner. They removed the granite and added a farmhouse sink, linoleum flooring, white cabinets and a vintage gas stove to make it more reflective of the era.
"That was such a great experience working with the Habitat volunteers and employees," Lora said.
According to Lora, the home had been added onto over the years. Behind the kitchen is a large room that extends the width of the house. The couple installed oak flooring with a pickle-barrel finish for a whitewashed look.
"When we first moved in, we heard a knock on the door," Lora said. "It was an elderly man in his 80s here for the Orange High School reunion. He told us that his father was the person who built the addition in the back, and that his siblings slept in the basement during the hot summer months. It was really nice to make the connection."
Additionally, the home's most recent owner completed a lot of fine woodworking throughout, said Lora. His handcrafted trim, frame work and entertainment center are all in keeping with the Craftsman style. Another practical addition, the 12-foot-long bench/window seats feature extensive space for storage underneath. Unfortunately, the upgraded bathroom did not match the vintage feel of the home, but the Roysters plan to renovate it in the near future.
Lora Royster's birdcage collection hangs alongside the garage.
More vintage decorative items add cheer to the Royster's backyard on South Grand. "The sun/moon was a gift from our neighbor," Lora said.
"When we first moved in, we decided to use the front bedroom for an office/guest room," Lora said. "It had an awkward closet with bulky drawers that didn't work very well. We knew we needed another bathroom, so we converted a portion of the closet into an actual water closet. We added seafoam mosaic marble tiles on the floor, plus a Mission-style wainscot."
A teacher of photography and three-dimensional design for 30 years at Anaheim Union High School, Dave dabbles in carved sculptures as well as assemblage pieces made with found objects. His art is on display in their home, along with Lora's drawings and paintings, as well as art acquired from friends, family and local artists.
The couple's collection of personal artwork blends well with their eclectic mix of art and antiques. Many of their pieces came from antique shops in Old Towne, including the shabby chic armoire from Country Roads. In the master bedroom, the night table is actually an antique washboard stand from Lora's family in Kansas.
For the exterior, Lora began collecting architectural pieces including corbels (wood brackets), garden gates and iron headboards that function as ornamental pieces in the yard. A large, arched iron trellis is covered with flowering sweet pea vine. Rose bushes, hydrangeas and camellias grace the property.
Previously living in Placentia for 17 years in the home that Lora grew up in, the Roysters have embraced their new life in Old Towne.
"We love living in a small town," Lora said. "Every night, we walk our dogs around the neighborhood, and we also enjoy walking to dinner in the Plaza with friends and family. We've always been avid antique shoppers, and Old Towne was a favorite destination for us before we moved here. Now we get to be here full time and walk wherever we want to go. It's just wonderful!"
Dave and Lora Royster, in their backyard on South Grand. A collection of garden gates and iron headboards serve as ornamental pieces near the fence, while rose bushes, hydrangeas and camellias grow in abundance on the property. The couple's golden retriever, Luck, enjoys the lounging in the yard, which features an arched iron trellis covered in flowering sweet pea vine.
---
Published in the
Jan / Feb 12
edition of the Old Towne Orange Plaza Review Article Written by Karen Anderson, photos provided by Jeanine Hill
View More Articles