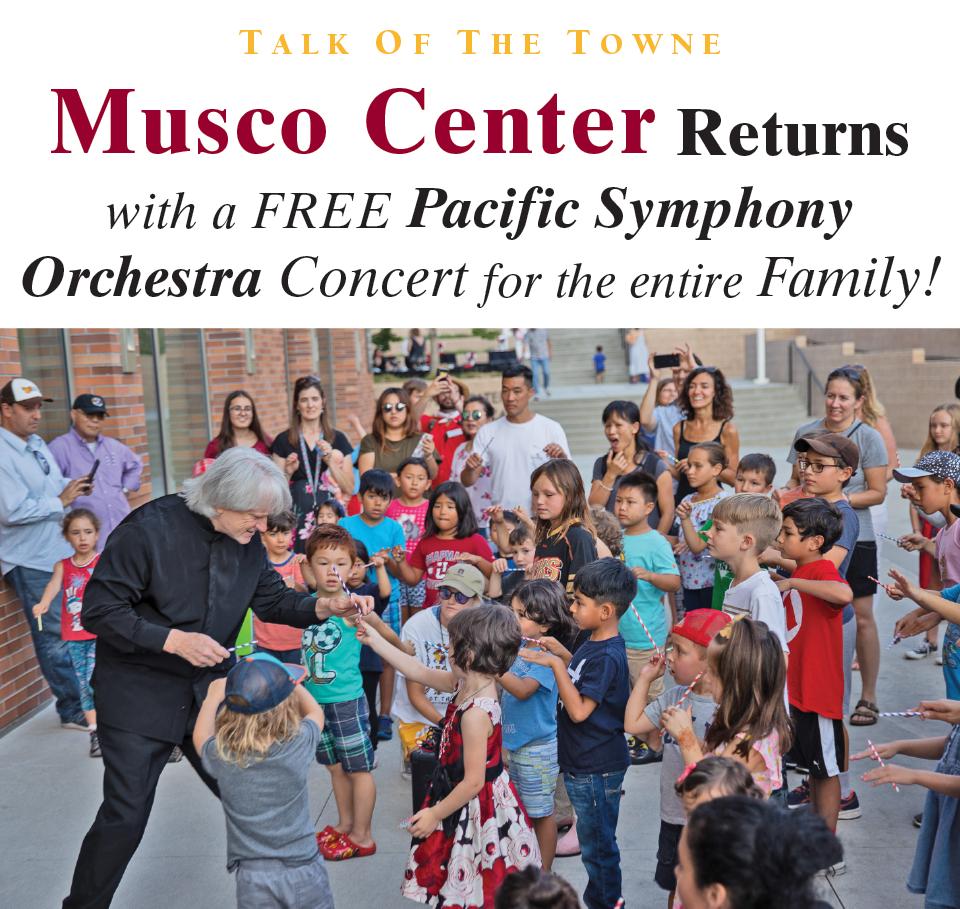 Like the anticipation that washes over an audience as an orchestra begins to tune, Richard Bryant has felt a growing excitement in Old Towne Orange. During Bryant's near-daily walks to the Orange Plaza, he has witnessed that shift in the days leading up to the state's reopening on June 15.
"The community is buzzing," he says. "It's coming back fast. You can feel it."
Bryant, Executive Director for the Musco Center for the Arts, has been working with his staff to bring back something the community has been missing—in-person performing arts events.
The Musco Center will kick off this return with a free Pacific Symphony Orchestra concert at Chapman University's Aitken Arts Plaza on August 22. The outdoor performance is part of the orchestra's "Symphony in the Cities" series.
Additional outdoor events will be unveiled for fall and spring 2022, Bryant says. Indoor events will resume in October.
The Musco Center adapted to the pandemic by providing a robust selection of virtual performing arts and other programming for the community during the last year. They addressed cultural equity issues through performances and discussions with artists such as Kishi Bashi, Black Violin, Amythyst Kiah and American Patchwork Quartet, among others. The virtual shows—34 in all—generated more than 60,000 views.
"I was proud to see the Musco Center team work together to support each other and reconfigure their work around virtual performances," says Bryant. "The way they were able to remain engaged with our audiences is the proudest moment for me."
Kaoru Ishibashi, who performs as Kishi Bashi, is set to return for concert residency at the Musco Center October 19-24. He says he is looking forward to being back on stage before a live audience. "I'm excited. I miss my fans so much!" he says. "I can't wait to perform again. I know how much my music means to many listeners."
Ishibashi says he will likely be performing with Mike Savino, also known as Tall Tall Trees, as well as a large string section comprised of professional musicians and advanced students from Chapman. "I performed with a string quartet last time, and I really enjoyed connecting with the university and its community here," Ishibashi says.
COVID-19 put the world of live entertainment on hold for more than a year, but the artistic community will recover, Bryant says. That will play a large role in restoring a sense of normalcy to Orange.
"As a highly visible Orange County landmark and exemplar of Chapman's creative spirit, Musco Center and the return of our student and professional artists and our audiences is central to any concept of normalcy—old or new," Bryant says.
Bill Richardson, a regular to Musco Center events, says the community will definitely rejoice with the return of events that they can attend at the center.
"The free outdoor music events at Musco, including 'Heartbeat of Mexico,' draw people from the neighborhood, fostering positive relationships with our neighbors."
People who have not attended one of the Musco Center's events might consider the Symphony in the Cities concert a great opportunity to revisit Orange's culture.
"Thanks to the concert being no cost, it can serve as an introduction to the broad range of activities that take place at Musco," Richardson says.
Bryant agrees. "It's art. It's inspiring, and it's beautiful because it celebrates life and being alive and it has the power to reveal, change and heal."
To learn more about the Musco Center and purchase tickets, visit www.muscocenter.org.