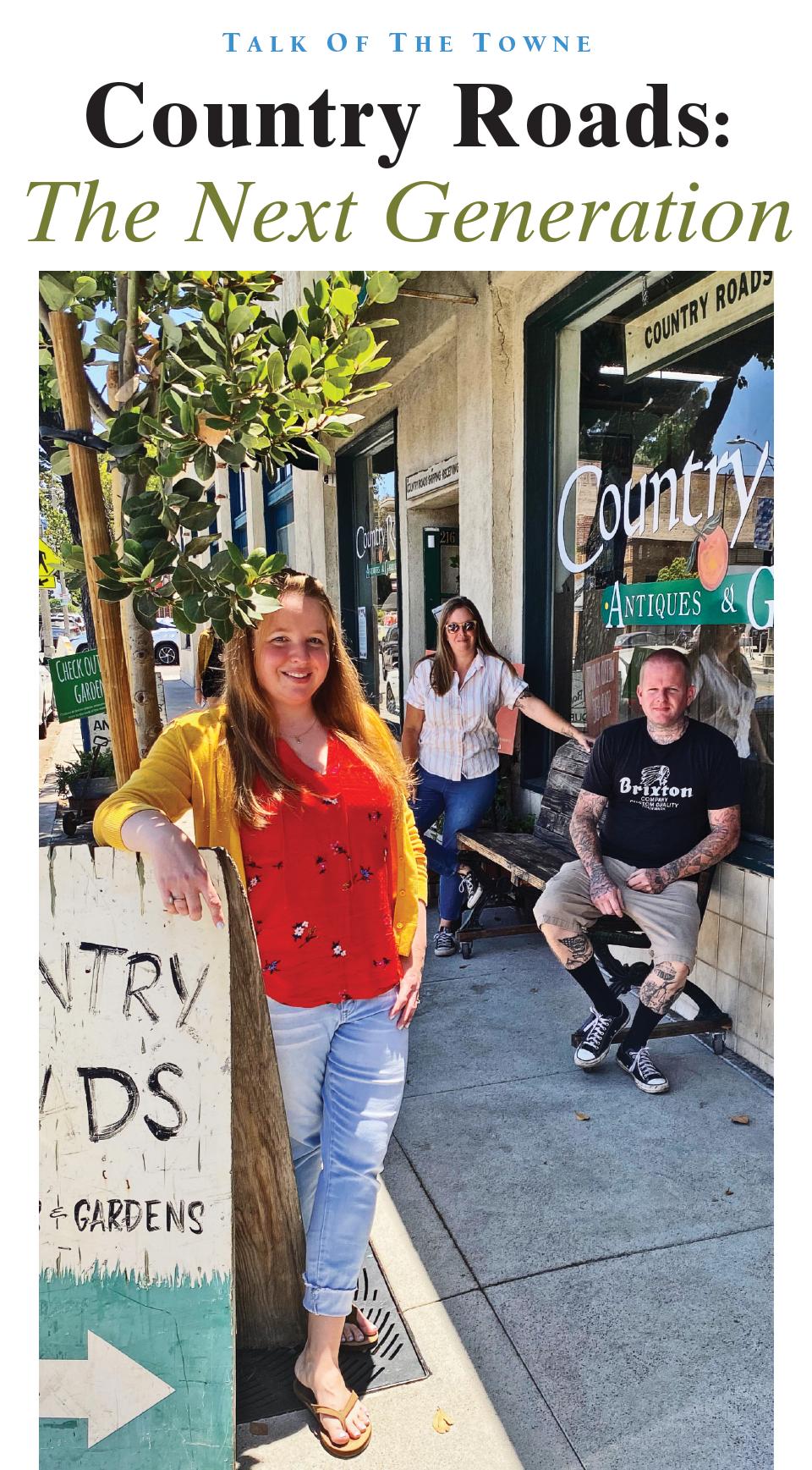 The late Sue Jackson, founder of Old Towne's Country Roads Antiques, left the store she founded in 1993 in capable hands. Intent on honoring their mother's legacy, her children, Katie (front), Brande and Bryce, have taken over where their mother left off.
- - - -
Those who knew the late Sue Jackson, founder of the iconic Country Roads, know how fiercely and deeply she loved. This included her children, grandchildren, longtime employees and Country Roads itself.
Since Sue's passing in November 2020, her family has done their best to ensure her legacy lives on at the antiques store Sue founded in January 1993 in Old Towne. The task has been a challenging one. Just two months after Sue's death, they were informed they had to vacate the location the store had held for 28 years. Recently, Country Roads downsized and moved one door down.
Despite the ups and downs of the last few months, the Jackson clan, including Sue's three children, have made the best of a tough situation. As they have navigated the legacy built by their mother, they've been overcome by memories, bittersweet, yet comforting.
"Our mom would have been heartbroken over losing the space that meant so much to her, but we have tried to make the best out of the situation," says Sue's daughter Katie. "I know she is happy that the three of us (Katie and siblings Brande and Bryce) worked together to follow through on our promise to her in her last days to keep the business that meant so much to her going."
For Sue's son, Bryce, moving the business that his mother loved gave him an even greater appreciation of what she built over nearly three decades. "As much as it sucked to take the store apart, the process of dismantling made me appreciate the design and detail my mom brought to the store," he says. "I was able to recreate what she had done in our smaller space using the skills I developed working at the store since I was young."
Sue's daughter Brande also found the move to be a difficult one, but she forged on like her mom would. "It was heartbreaking to dismantle things we'd spent decades building," she says. "The radical revamping is something we all felt very deeply, but my mom was very big on 'do what you gotta do.' She faced some big challenges in her life, but she always managed to roll with the punches."
During the move, Brande found comfort focusing on the shop's garden, Johnnye Merle's, introduced at Country Roads in 2005 in honor of her grandmother and Sue's mom. "My grandmother and mom both loved to garden, so in a lot of ways, I feel really connected to them out there," she says. (The garden is still at Country Roads, just in a smaller capacity.)
Sue's kids also find solace in the antique collections inspired by their mother.
"My mom's collections reflected her and her style, but in a lot of ways, they were a reflection of her kids," says Brande. "Each of us has connections to some of her collections. I always loved her Yellow Ware. I have some of the bowls and pitchers in my house and made sure Carol (a part of the store for 20+ years) also took a few pieces, as they originally inspired Carol to fall in love with antiques."
Brande also took home Sue's vintage advertising sign collection. "It was almost eerie how perfectly the collection fit into my place," she says. "I love looking at old family photos and seeing those signs in living rooms we once shared."
Collector's items that Bryce enjoyed with his mom include old industrial pieces. "My house now has an industrial medical cabinet that she loved," he says. "I also have this old top of a milk truck that she turned into a table years ago."
For Katie, family memories with her mom are woven into a big blue farm table Sue bought more than three decades ago. "We lugged the table to several different places that mom lived—even into super tiny spaces," says Katie. "Somehow, she always made it fit. We had decades of family dinners on it, and all the memories that come with that. Just like her, I somehow made it fit in my dining room."
As the next generation at Country Roads marches on, Sue's legacy is palatable. "I think my mom would be happy with what we have done," says Brande. "The spirit of the store is still here. We kept just about everything, and almost all our vendors remained. Some people might say that it's just a store, but that's the thing with small businesses. It's the people, the memories, the passion, the livelihood and the commitment. Like Sue, that will all endure."
Country Roads Antiques & Gardens
204 West Chapman Ave, Old Towne Orange, CA 92866 / 714-532-3041
Open Daily 10 am - 5 pm